Kentucky has yet to match up well with older teams or bigger teams this year. The way this Arizona State team is set up, the Wildcats may be in for a fight.
The Sun Devils are one of the most experienced team in the country. Their main front court players, Eric Jacobsen and Obinna Oleka, are upperclassmen. The combination of experienced size verses Kentucky's front court, which has struggled early on, could cause problems.
Kentucky's back court is also out-matched in the experience department, but it's safe to say the Wildcats still have the upper hand. The trio of Tyler Ulis, Jamal Murray and Isaiah Briscoe always have at least one stand-out player among the bunch and it would be shocking if that changed in this game.
The Sun Devils don't have anyone quite the size of Kentucky's Ulis other than 6'0 guard Austin Witherill. Ulis will speed and agility to find holes in the defense like he did in his eight assist performance against Eastern Kentucky.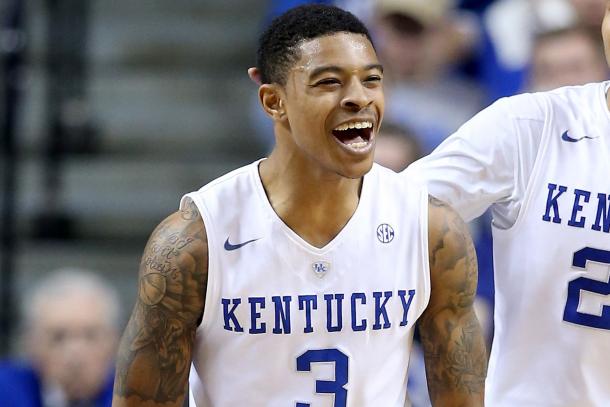 Photo by Andy Lyons - Getty Images
Murray and Briscoe are needed defensively as, once again, Ulis is much smaller than the guards. Despite being up against juniors and seniors, the two freshmen of Kentucky need to shine in order for the Wildcats to cruise to a win.
A huge key factor for the 'Cats will be how many rebounds will this team be able to get against a respectable team down low. They out-rebounded Eastern Kentucky 50-25 on Wednesday but the Colonels only had one player coming to 6'10.
Winning the boards won't be easy for Kentucky, they'll need their big men to go to the rim with a vengeance. Marcus Lee, a reliable rebounder so far this year, will have to carry a heavy load on his shoulders.
Alex Poythress was a concern after his disappearance at UCLA, but his last outing proved he can be at the level of any other player in the NCAA when he wants. Lee and Poythress are not the concern in the front court for the Wildcats.
Skal Labissiere is nowhere.
Labissiere has had seven rebounds in the last three games. If the freshmen from Haiti continues his cold streak on the board against this Arizona State team, it could mean trouble for the Wildcats.
Once again, Kentucky has everything to lose. The Sun Devils will get their shot at a critiqued Kentucky team.
Players to Watch
Alex Poythress- Poythress absolutely went off in the game against Eastern Kentucky. Now a year removed from his ACL injury, the senior had 21 points and 13 rebounds in his first complete game since his return. Poythress seemed offended at the idea people believed Kentucky to be "soft" after their loss to UCLA, and he will continue to use these comments to back up his performance.
Willie Atwood- Atwood's height and experience could give this Kentucky team fits. Coming it at 6'7 he will likely be guarded by the lone senior Poythress or Derek Willis at times. No matter who it may be, it will be hard to contain the explosiveness of the older Atwood.