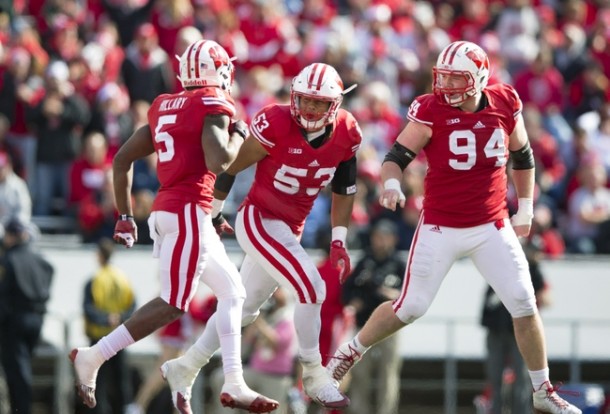 Throughout the entire 2015 season, the Wisconsin Badgers had one of the best defensive units in all of college football. From stopping the run to the pass and holding opponents to NCAA-best 13.1 points per game, Wisconsin simply shut down opposing offenses. But when they meet the USC Trojans in the Holiday Bowl, they will be tested especially through the air.
Redshirt Senior Cody Kessler has played at a high level for most of the season. He ranks 15th nationally in passing efficiency with a 154.3 mark and his 3,315 yards is good enough for 24th in the country as well. His touchdown-to-interception ratio of 28 to six is one of the better ones amongst quarterbacks and his completion percentage of 67.6% is ninth at the national level. Kessler can throw for a bunch of yards in any given game, but the one thing about him is he knows how to take care of the football.
As dangerous as Kessler can be with his arm, it's star wideout JuJu Smith-Schuster that Wisconsin needs to worry about. The Sophomore has compiled 85 receptions for 1,389 yards (sixth-best in the country) and 10 touchdowns. He's a game-changing type player that could easily take over a game and Wisconsin's secondary, especially cornerback Darius Hillary, will have to make sure he doesn't't get any rhythm going in the Holiday Bowl.
Hillary will be the guy called upon to slow down Smith-Schuster for the Badgers. The redshirt Senior has slowed down some of the better wideouts during the past couple of the seasons and will have the biggest matchup of his career when he faces off against the Trojans' second-team All-American wideout.
As dominant as this Wisconsin defense has been in 2015, they have not faced an offense quite like USC. Beside the Alabama Crimson Tide and Iowa Hawkeyes, Wisconsin has been fortunate enough to have a relatively weak schedule and have not really faced too many high-powered offenses. The Trojans can score points in bunches and rank 30th in the country in scoring offense. Of the top 75 scoring offenses in the country, Wisconsin faced just three of those teams this season in Alabama, Iowa and the Nebraska Cornhuskers. The secondary of Wisconsin will be tested early and often Wednesday night.
An explosive offense like the Trojans have is something not seen often by the Badgers during Big Ten play, especially with the soft schedule they have had the past two seasons. If Wisconsin's defense can slow down Kessler and company they will have a good shot of coming away with a victory. If not, it could be a long night in San Diego for the Badger faithful.