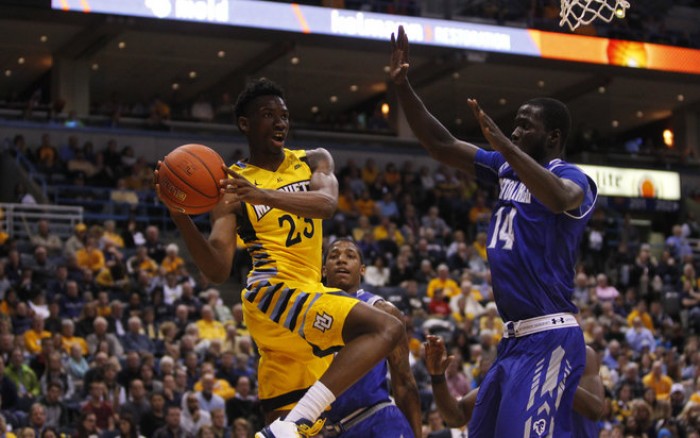 The Seton Hall Pirates got off to a winning start in Big East play on Wednesday night with an 83-63 victory over the Marquette Golden Eagles at the BMO Harris Bradley Center. The victory ends Marquette's win streak at nine games, and strengthens doubts about whether or not they are for real.
Although they had won nine in a row before this one started, many were questioning just how good the Golden Eagles were because of the lackluster competition they'd faced. They may have had victories over LSU, Arizona State and Wisconsin over the course of the win streak, but the overall quality of opposition was lacking, and many thought that was the only reason for their terrific nonconference record.
Over the first six minutes of the game, it felt like those doubters would be proven right. The Pirates got off to a flying start, and quickly built up a commanding lead. Desi Rodriguez, Isaiah Whitehead, Khadeen Carrington and Derrick Gordon came out firing and before Marquette had grown into the game Seton Hall was ahead 17-6.
It was an early tipping point for this young Golden Eagles team; would they crumble under the pressure, or would they respond?
They responded.
A sequence of short scoring spurts gradually brought them back into the game, and baskets from Haanif Cheatham, Henry Ellenson, Luke Fischer and Duane Wilson were crucial. Cheatham missed just one first half field goal and had 15 points at the break after getting to the basket at will. His strong play keyed the Marquette fightback.
The Golden Eagles finally tied the game up at 32-32 with five minutes left in the first half, and headed to the locker room at the break with a 40-39 lead.
As is so often the case, the opening five minutes of the second half were pivotal. Although the score stayed tight, Marquette struggled to score and began playing some really poor defense as they fell behind 47-44.
Seton Hall would retain a comfortable though not commanding lead for the next few game minutes, prompting Marquette head coach Steve Wojciechowski to become frustrated. Yet, he struggled to prompt a response from his players.
Both Fischer and Ellenson struggled throughout the second period, missing inside shots and turning the ball over. However, the problem was not unique to them-the whole team was having a hard time getting and converting good looks, and the situation began to feel dire for the Golden Eagles when they headed to the under-8 minute TV timeout after Gordon hit a three-pointer to stretch Seton Hall's lead to 63-52.
The game finally spiraled out of control for Marquette after a controversial offensive foul call on Ellenson with just over five minutes left in the game. Seton Hall proceeded to come downcourt and get a powerful dunk from Ismael Sanogo which extended their lead to 67-54.
Although Marquette was able to respond early in the game when they came under pressure, they did not late on. The Golden Eagles went more than five minutes without a basket, and went on to slump to a disappointing defeat by a score of 83-63.
With the victory, Seton Hall improves to 11-2 (1-0 Big East) and will look to continue their good start to the Big East season on Saturday when they host DePaul. On the other hand, the Golden Eagles will need to regroup after this disappointing loss which drops them to 10-3 (0-1 Big East) before traveling to Georgetown on Saturday.