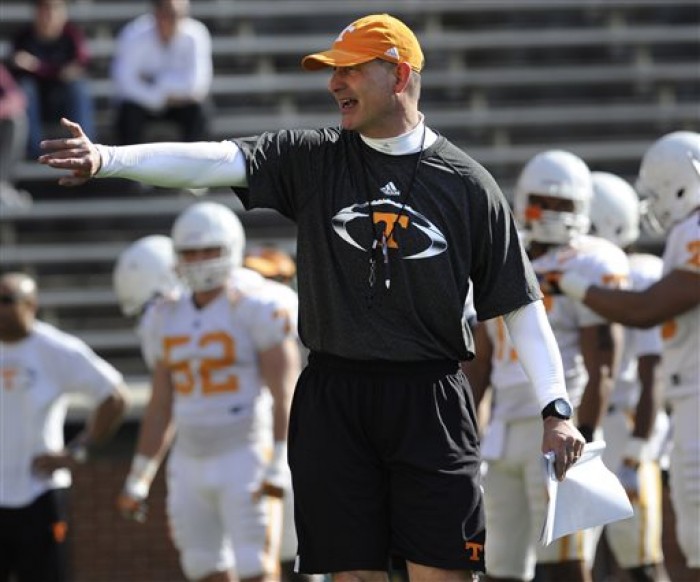 Three years ago, Butch Jones decided to make long-time defensive coach John Jancek the Tennessee Volunteers defensive coordinator.
Three years later, the two sides mutually decided to part ways, leaving the SEC with eight schools that will have a new defensive coordinator for the 2016 season, one year after having seven new defensive coordinators.
Jancek's defense in the 2015-16 season allowed an average of 21.3 points per game (25th in the nation) and 370 yards per game (46th in the nation). The Volunteers 25th ranked scoring defense is an improvement over their 2014 season results when the Volunteers ranked 40th overall, with an average of 23.9 points per game. Their yards per game, however, went up in 2015 from 2014 when the team averaged 360 yards allowed per game.
While no names have come to the front running for the vacancy just yet, there a few names to watch for.
Bob Shoop - Penn State
Depending on who you ask, Penn State's defensive coordinator Bob Shoop may be one of the most underrated defensive coordinators in the country.
In his two years at Penn State, the Nittany Lions have had stout defenses despite what some numbers may say. With a limited amount of scholarships and depth, Shoop continued Penn State's strong defensive legacy.
In his two years at Penn State so far, Shoop's defenses ranked second and 14th respectively in total defense, allowing an average of 270 yards per game in 2014 and 324 yards in 2015. In scoring defense, Penn State allowed 17.7 points per game in 2014 and 30th in 2015 with 21.7 points per game.
Shoop is easily one of the highest paid assistants in the college football and has already turned down offers from LSU, Auburn, and other big time SEC programs.
According to FootballScoop.com on Twitter, they do not believe anything between Tennessee and Bob Shoop are in the works despite rumors.
Mike Hankwitz - Northwestern
Yes, this one is a reach especially with Tennessee running all over Northwestern just this past week but it can still happen.
Though Northwestern's record has not always shown it, one thing Northwestern has always done under head coach Pat Fitzgerald is play defense.
Fitzgerald could thank Mike Hankwitz for that. Hankwitz has been Fitzgerald's defensive coordinator since 2008. Since being at Northwestern, Hankwitz has done nothing but been consistent, with Northwestern often having a top 30 defense in the country.
In the Wildcats season opener against Stanford this year, Hankwitz's defense kept Heisman runner-up Christian McCaffery to just 89 total yards on offense on 17 total touches (12 carries, five receptions). It was the only time in 2015 that McCaffery was kept under 100 total yards on offense.
Again, this is a reach but Hankwitz certainly has the track record to get the job done.
Todd Orlando - Houston
A more unknown name to the casual college football fan, Todd Orlando has had very impressive resume over a relatively short time.
Orlando got his coaching start at Pittsburgh Central Catholic High School in 1994 and has ever since jumped his way up to Division One college football. His defenses at Utah State and Houston have all ranked in the top thirty over the last three years.
His defenses are known for creating a lot of turnovers and sacks, where his defenses have ranked at the top over the last three years as well. Orlando could be a name that comes up for the job.
Those are only three names that are potential candidates for the Tennessee job. There are many other candidates out there and chances are it's not one of these three coaches, but they're here to get some names out there of possibilities. The decision looks to be made soon, as Tennessee has already contacted coaches and looks to fill the opening by the end of next week.