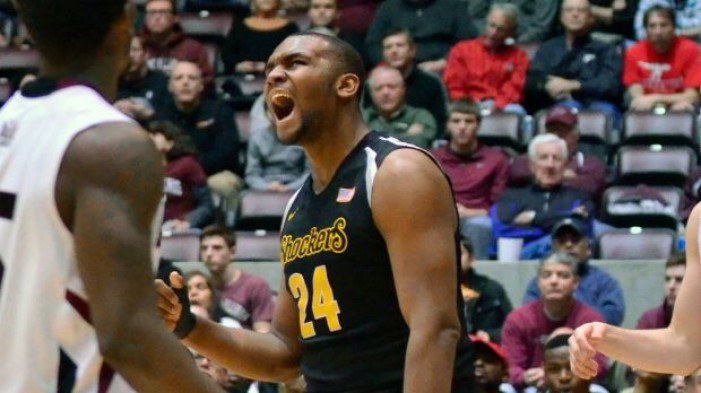 CARBONDALE, ILLINOIS---And then there was two.
Because of Indiana State's home victory over Illinois State, when 3 PM local time rolled around in Carbondale, Illinois, the Wichita State Shockers and Southern Illinois Salukis were the only two Missouri Valley Conference unbeatens in regard to conference play. And obviously, after the conclusion of their showdown, one would sit alone at the top of the standings. Who would it be?
The notorious Wichita State Shockers!
With 14 points from Kansas transfer Conner Frankamp and 10 by "fab freshman" Markis McDuffie to go along Ron Baker's game-high 18, the Shockers destroyed and demoralized Southern Illinois by the score of 83-58.
With both ties transpiring in the first 105 seconds, this matchup was only close for arguably the first eight minutes as Wichita State's Shaquille Morris capitalized on an "and one" to extend his squad's lead from 15-6 to 17-6.
Although Salukis "star senior" Anthony Beane nailed a triple to pull his team back within single-digits, a 10-1 domination by Wichita State for the next two minutes, spurred by five from Frankamp, re-upped the lead while extending it to a then game-high 18 (28-10 WSU).
Again, the Salukis did come limping back, for they netted 9 in the same span Gregg Marshall's team posted 3 to make it 31-19.
Nevertheless, Wichita State's four seniors (Ron Baker, Fred Van Vleet, Anton Grady, and Evan Wessel) went on a spurt of their own (13-6), to re-possess an 18-point edge with 1:42 remaining until halftime. The Shockers were looking to put the nail in the coffin early. Unfortunately if you are a fan of the "black and yellow," they were unable to.
Attempting to snatch momentum for the second half, Southern Illinois chipped in four points, two from each Ibby Djimde and Bola Olaniyan, which concluded the first twenty minutes at the score of 43-29.
Going back to the previously mentioned momentum, SIU entered the second half with the game's last four points. However, the next 18 of 21 would be put into the basket by the Shockers.
Starting the second twenty minutes with a Morris slam and then capping off their run with two treys by Frankamp, Wichita State more than doubled their halftime lead in just over eight minutes (61-32 WSU)!
The sold out maroon crowd in Carbondale was absolutely stunned, as their time to assert themselves as the new powerhouse in the MVC had gone up in flames. Better luck next time SIU. But remember, "you don't want to go to war with the Shockers."
Best Backcourt in the MVC?
Constantly contrasted to Indiana State's Devonte Brown, Brenton Scott, and Khristian Smith, Wichita State's Ron Baker (18 points & 5 rebounds), Fred Van Vleet (6 points, 12 rebounds, & 6 assists), and Conner Frankamp (14 points) possibly just ended the debate of which guard trio is best in the Missouri Valley Conference. How? Each individual in the Shockers' backcourts has a different skill set that, when put together with the other two, makes them nearly unstoppable. On everyone's radar since he made four treys in the second half versus Stanford in the 2014 NCAA Tournament for Kansas, Frankamp is obviously head coach Gregg Marshall's sharpshooter. What is Baker you ask? An offensive first guard that is capable of nailing long threes or taking the ball to the rim. And that leaves us with Fred Van Vleet, who can truly do it all. Drain threes? No sweat! Take the ball to the hole? Of course! How about rebound the basketball and find open teammates for assists? You know it! What can Fred Van Vleet not do? Well, today he became just the second player in MVC history to reach 1,000 points, 500 assists, and 400 rebounds for his career, so you may mark that off his list. Hmm, well he hasn't won a National Championship yet. Which brings up the question: Is 2016 Wichita State's year? We will find out in March!
Frustrating Beane
Entering Saturday afternoon holding the opposition's leading scorer to 10.3 points per game (40.7%) in conference play, fans knew Wichita State would key and shut down SIU star Anthony Beane. Objective completed! Although Beane scored 16 points (most by a team's leading scorer in the last four games), he was very inefficient as he made only 3 of 14 attempts. Moreover, the Shockers' "Play Angry" defense caused four turnovers from the 6'2" guard. 10-5 (4-0) Wichita State will finish up a two-game road trip in Springfield, Missouri, as they take on the hot Missouri State Bears on Wednesday.
A Productive Option
If the Southern Illinois Salukis were looking for another weapon (which they are), they may have just found one in the form of Bola Olaniyan. Olaniyan, a 6'7" center from Nigeria, had a fantastic game today against the clear cut leader in "The Valley" as he contributed a season-high 11 points and 8 rebounds. So he had one good game? So what! That's the thing, he was not only very good today but has been in conference play! Including today, he is averaging 8.8 points and 10.3 rebounds per contest in four games. 14-3 (3-1) Southern Illinois will look to rebound against fellow 3-1 in conference play Illinois State at home Tuesday evening.