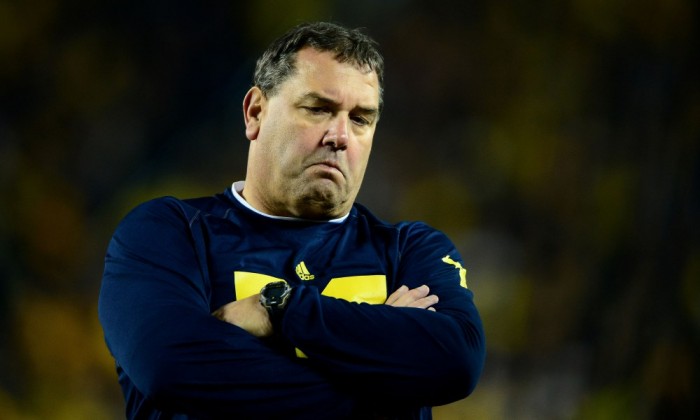 Michigan Wolverines fans remember Brady Hoke's four season era as a downward roller coaster. He started off with a Sugar Bowl victory, which was followed by a trip to the Outback Bowl. However, that quickly gave way to the miserable, mediocre years, which had only a loss in the Buffalo Wild Wings Bowl to show for themselves before the 5-7 team that brought many Wolverine fans in disappointment. Quite frankly, the only bright spot might have been the recruitment of Jabrill Peppers. 
Relief felt after he left Ann Arbor
When Hoke was fired just a few weeks after the Wolverine's season had ended, Michigan fans felt a bit of a reprieve due to the fact that now two straight coaches who had brought mediocrity to such a storied program were gone. They especially began to feel better after the announcement that Jim Harbaugh would be taking over as Head Coach.
What will he see in the Northwest?
Brady Hoke will be joining a quite successful program in Oregon under Head Coach Mark Helfrich. He is quite lucky to be receiving this opportunity, especially after all the incidents that occurred, specifically the decision to keep Shane Morris in after his concussion against Minnesota. There were also other incidents related to giving playing time to players who were recovering from traumas to the head. 
Hoke's future
Perhaps if Hoke proves himself, he may get another opportunity to be the Head Coach at a Power Five school. For Hoke to earn that once again, he will need to earn Helfrich's trust along with the trust of the AD. By doing this, he will need to make sure that Oregon is not only known for winning big games because of their supreme offense, as was the case in the Marcus Mariota and Chip Kelly era. Oregon has been lacking on the defensive side in the past few years, and if Hoke can resurrect that side of the ball for the Ducks, we may see Oregon be a National Championship contender very shortly.