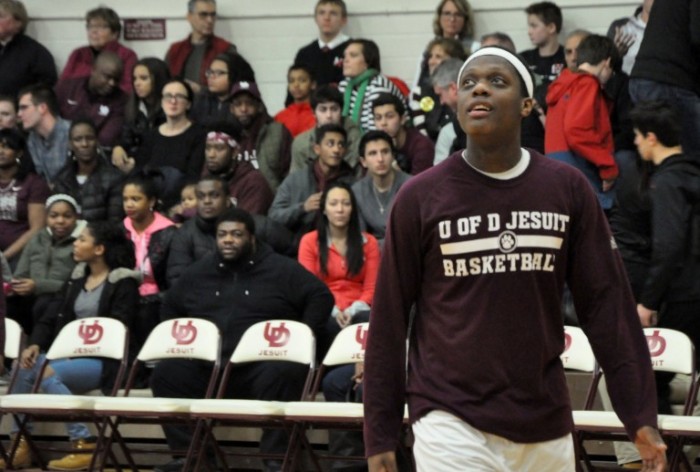 The Michigan State Spartans have a few outstanding recruits on their hands and two of them made the McDonald's All-American game, but one was snubbed by the selection committee.
Cassius Winston was one of the recruits headed to Michigan State that was left off the roster for the big game on the big stage. The native of Detroit, Michigan has led his team, the University of Detroit Jesuit Cubs, to a 10-0 start to the season and is a four-star prospect with a grade of 89-of-100, according to ESPN. Winston is 29th on the ESPN 100 and is ranked the third best basketball player of the 2016 class in Michigan. It was a huge mistake that the committee looked past the superstar point guard and did not elect him to the roster.
"I thought I had a potential chance," Winston said in a one-on-one interview with VAVEL USA's Evan Petzold. "The fact that I did not finish my summer the way I would have liked probably hurt my chances."
Winston broke his left wrist at a Nike Elite Youth Basketball League in May 2015 after helping his high school reach the Class-A state semifinals the last two seasons, which he averaged 22.4 points, 7.1 assists and 5.2 rebounds. The injury to Winston's left wrist put a damper on his summer.
Right now, Winston is worried about helping his team win a state championship. It is the "only thing in mind right now" for the point guard.
Two future teammates of Winston, Miles Bridges and Josh Langford made the McDonald's All-American game. The trio will be freshman at Michigan State next season under head coach Tom Izzo with intentions of bringing an NCAA National Championship to East Lansing.
"I am extremely proud to see my brothers take on that huge accomplishment. I think them playing in the game will allow them to see that they can compete with the best in the country," Winston mentioned.
Even though some of his future teammates made the game, Winston will not suffer any setbacks because he was left off the roster. The six foot guard is already ready to look toward the future and prove the committee wrong.
"I just have more to prove to show that I can play with the best," Winston said. "[I am] just going to keep working and keep grinding with that chip on my shoulder."
Since Cassius will not be playing on March 30, 2016 in Chicago, Illinois in the McDonald's All-American game, he can be seen next season all across the country on a nation level with Michigan State. He signed with the Big Ten Conference school on September 17, 2015.
"MSU just felt like family to me," the point guard said. "They play together, they work together, and they win together. That is exactly what I see myself in and I am going to do whatever it takes for us to win. Whatever my contribution to the team is, that is what I am going to try and perfect."
----------
The McDonald's All-American game will feature: Jayson Tatum (Duke), Miles Bridges (Michigan State), De'Aaron Fox (Kentucky), Bam Adebayo (Kentucky), Udoka Azubuike, Tony Bradley (North Carolina), Terrance Ferguson (Alabama), Markelle Fultz (Washington), Andrew Jones (Texas), Sacha Killeya-Jones (Kentucky), V.J. King (Louisville), Kobi Simmons (Arizona), Josh Jackson, Malik Monk (Kentucky), Lonzo Ball (UCLA), T.J. Leaf (UCLA), Kyle Guy (Virginia), Jarrett Allen, Marques Bolden, Zach Collins (Gonzaga), Alterique Gilbert (UConn), Dewan Huell (Miami), Frank Jackson (Duke) and Josh Langford (Michigan State), but no Winston, who is arguably the best point guard in the nation at the high school level.
Only 4-of-24 players have yet to commit to a college. The Kentucky Wildcats led the nation with four All-Americans this season after setting a record with six All-Americans in 2013.
Harry Giles, who is the top overall player in the 2016 class and is committed to the Duke Blue Devils, did not make the roster because of a torn ACL that is keeping him out of his senior season.
----------
Josh Jackson is a small forward and a senior at Prolific Prep in Southfield, Michigan and is highly considering Michigan State. Jackson made the McDonald's All-American game and is very close friends with Winston, which could play a huge factor into his college decision.