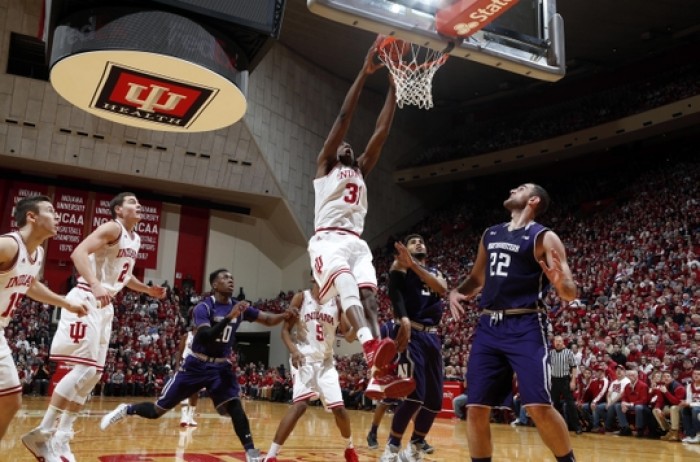 The clock read 20:00, the ref threw it up, Thomas Bryant won the tip, and off the Indiana Hoosiers went en route to another big win, this time coming against the Northwestern Wildcats.
The Hoosiers controlled this game from the opening tip to the final buzzer, and they just would not be stopped once again at Assembly Hall.
Hoosiers Fast Start
A Collin Hartman layup on the first possession followed by two straight three-pointers, first from Robert Johnson then another by Hartman, and then a big slam by Collin Hartman finished off a 10-0 run to start the game for the Hoosiers in the first 3:18. That forced Wildcats coach Chris Collins to burn an early timeout, but timeouts weren't going to stop the Hoosiers on this day.
Northwestern got it back down to four a few minutes later, but after that, they couldn't get back below a seven point game.
Following a basket by Bryant McIntosh with 4:46 to play until halftime, the first basket scored by the Wildcats by a player not named Alex Olah or Tre Demps, got it back down to single digits at 30-22. From there, Indiana finished the half on a 13-4 run, and Northwestern was in a hole probably too deep to climb out of.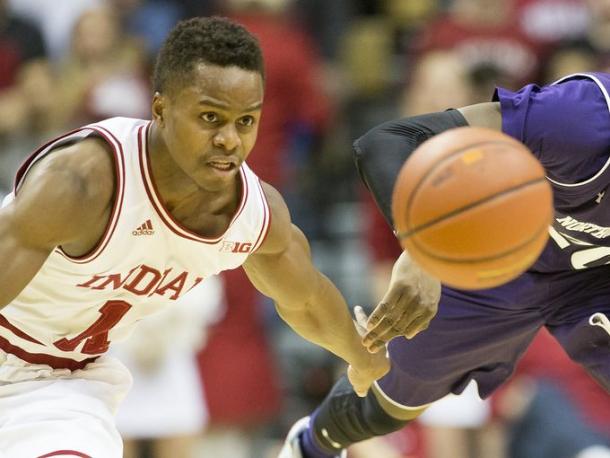 Yogi Ferrell continued his incredible play and coach Tom Crean had nothing but praise for him after the game.
"Today I called a timeout and gave him the huddle," Crean said. "I feel comfortable doing that, but it has to be his idea. One of the smartest players I've ever coached."
Indiana's Defensive Mindset
Coming into the season, everyone knew that the strength of this Hoosiers team was their offense. However, since their trip to Maui for the Maui Invitational in November, they have completely turned it around and now are now playing some high level defense.
"I feel like on the court we have a lot of confidence; especially defensively," Ferrell said. "We're definitely going to need that defensive mindset to win on the road."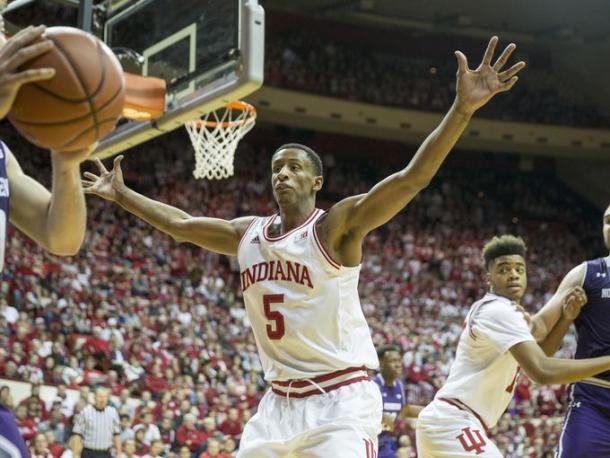 Winning on the road will be very important coming up with three of the next four games on the road. Indiana has yet to lose at Assembly Hall and seem to play their best basketball when playing in front of their fans.
Yogi said it best, that playing defense on the road will be very important. In their three road conference games, they have had to battle and step up on defense when their offense wasn't necessarily there.
"It's a mindset," Hartman said. "You have to come in with the right mindset. You have to be aggressive."
Northwestern Gets Run Out Of The Gym
In the second half, Indiana opened the half on a 10-4 run to put Northwestern to bed. The Hoosiers had it all going on shooting 53 percent from the field including having 21 assists on 30 made shots.
From behind the arc, the Hoosiers are hitting at a very good rate. They hit 53 percent of their shots from behind the arc on Tuesday versus Illinois and came back Saturday shooting 46 percent.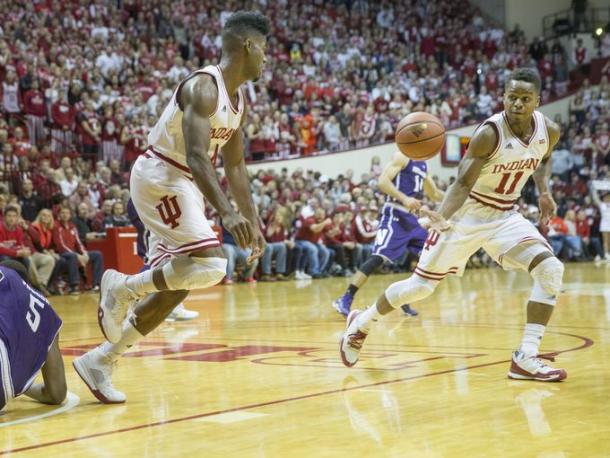 "We definitely cut our practice time back, but not the shooting," coach Tom Crean said. "The more simple we can make our passing, the more active we are in our cutting, the better we are. If we're accurate with our ball movement, we're going to get good looks."
Northwestern is one of the best rebounding teams in the conference and Crean was pleased with his team's effort. That was best exemplified from the 14-0 differential in second chance points.
"Wanted to keep them off the glass and having the FT differential and rebounding differential were huge," Crean said. "Our guys are really locked in to getting better during the week."
Wildcats coach Chris Collins seemed out of answers when he met the media, and that isn't a new thing for opposing head coaches after a game at Assembly Hall this season, as this is the first time that Indiana has had three straight Big Ten home wins by 25+ points since the 1987-88 season.
Players of Note
Northwestern was led by Alex Olah and Tre Demps as they scored the first 20 points for the Wildcats. Olah finished with 19 while Demps had 17.
As for Indiana, they were led by Ferrell who had 17 while Max Bielfeldt had 13 and Hartman chipped in 11 as well.
What's Next
The Hoosiers now hit the road for Wisconsin on Wednesday while the Wildcats host Michigan State on Thursday.