 Kentucky held a 6-point lead at the half, but from the help of free throws and a clutch three at the end of regulation, Kansas keeps their streak alive with the win.
Intensity
Kentucky played with a sense of urgency. They knew this game was a game they wanted and needed to win to get a good seed come March.
They held a small lead for most of the first half and the majority of the second half. The Wildcats and Jayhawks then began going back and forth near the end.
A three from Devonte Graham gave Kansas a 75-74 lead with 30 seconds remaining. Kentucky would respond with freshman Jamal Murray getting inside for the easy floater.
On the other end, Marcus Lee was whistled for his 5th foul and became the second UK player to foul out. Perry Ellis went to the line and made one free throw to send it to overtime and set Kansas up to win it against a broken Kentucky frontcourt.
Free Throws
Kentucky was manhandled at the charity stripe. Kansas shot a season high 47 from the line; the most they have shot since 1996. Kentucky only attempted 22, and over half of those attempts were by 36% free throw shooter Isaiah Briscoe.
The Jayhawks made more than UK attempted. They had 31 makes at the line, as UK couldn't even attempt to match their free throw total.
All four of Kentucky's big men ended up fouling out. Derek Willis, Lee, Alex Poythress and Skal Labissiere all were sitting by the time the final buzzer sounded. Lee and Willis didn't get to play a second of overtime and Labissiere played just over a minute in OT.
The reffing could have been called a bit spotty, but Kentucky's breakdowns near the end also cost them the game.
The Flu Game 2.0
Tyler Ulis contracted a flu this past week and found himself in the worst position for any player with a sickness. He had to lead his team on the road against a top 10 team with the flu. He turned out to be nothing short of amazing again.
The scrappy point guard finished with a career high 26 points, eight assists and three steals while playing every second of the ball game.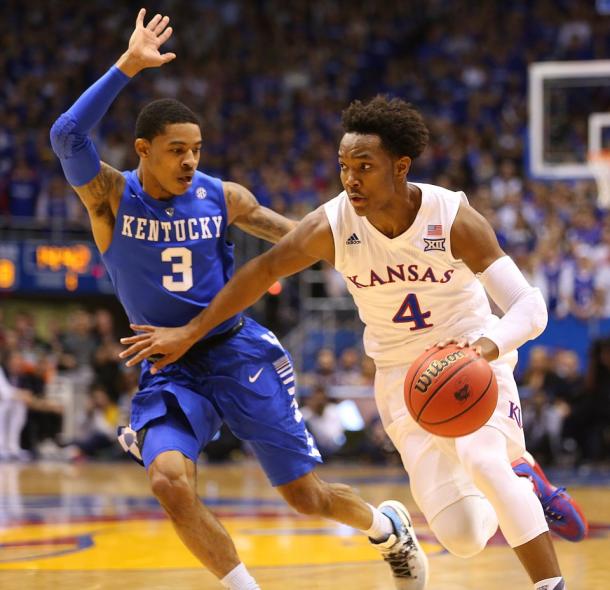 He left the press conference early due to his flu symptoms getting the best of him. His last words were "...I have to throw up." before getting up and leaving the table.
There's no doubt this sophomore is one of the best players in the country. This game is a heartbreaking way for people to realize that about him.
No Moral Victories
Kentucky's John Calipari doesn't believe in moral victories; a loss is a loss. He does, however, allow you to learn from your losses.
Learning and growing is exactly what Kentucky is doing. They have played fantastic basketball since their loss to Auburn and even in this loss, they played great.
If Kentucky played like they did a month ago, they would have been destroyed by Kansas. The new Kentucky is a team that fights and wants to prove their worth.
They did everything they could to try to prove it in this one, but the buzzer sounded too soon. Head-hanging would be an understatement, but Kentucky must move on and learn from this experience.
Player Statistics
Wayne Selden Jr.- Kentucky had no answer for him all game long. He hit the long ball, contested two layups, and even got fouled and went to the line plenty of times. Selden Jr. is easily the Player of the Game with 33 points on 12-20 shooting.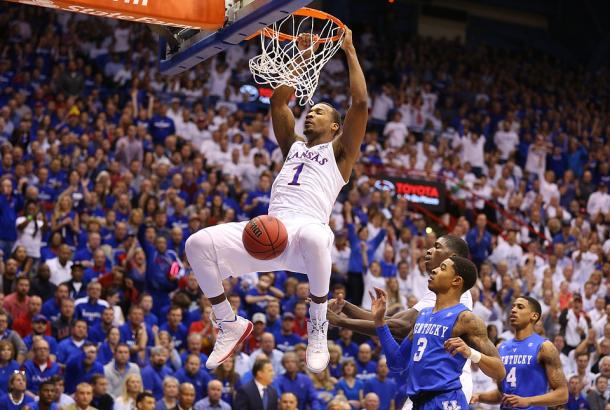 Tyler Ulis- Ulis is a close second for Player of the Game after putting in 26 points, eight assists and three steals. His sickness did not get the better of him despite not touching the bench for even a second in this game.
Jamal Murray- Murray hit that all important shot at the end of regulation to give UK the lead but went silent in overtime. He continues his 3-point streak after hitting just one outside shot and scoring 15 points with six rebounds.
Frank Mason III- Mason III might not have gotten the job done on the defensive end, but he sure made clutch shots. He made sure important threes went down, and the 5'11 player grabbed eight boards to go with 13 points and four assists.
Upcoming Schedule
#20 Kentucky at Tennessee 2/2/16
Kansas State at #4 Kansas 2/3/16