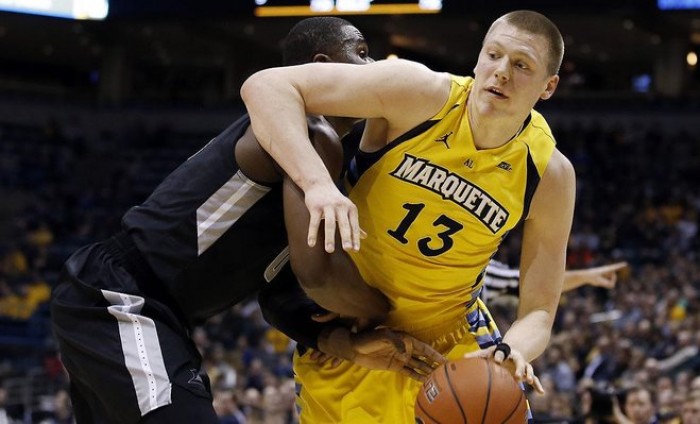 MILWAUKEE—On Wednesday night, the Marquette Golden Eagles reminded the city of Milwaukee what Big East basketball looks like. It's been a few years since Marquette exuded the trappings of a proper Big East team, but all were on display at the BMO Harris Bradley Center as they defeated the Providence Friars 96-91 in a classic encounter after double overtime.
Twice, once in regulation and once in the first overtime period, the Golden Eagles looked like they had Providence beaten. Yet, each time the Friars clawed their way back, thanks in large part to a 42 point performance from Ben Bentil. However, Marquette, who had five players in double figures, managed to complete the double over the Friars.
"I feel like I played in it, haha. That's one of those games where you get in the ice bath, get an IV… what an amazing college basketball game, from both teams. A lot of wow moments-a lot of wow good, and a lot of wow… not so good," said Marquette head coach Steve Wojciechowski after the game.
Sense of occasion
From the off, there was a sense of occasion around this game. It featured highly touted freshman Henry Ellenson of Marquette, who finished with 26 points, in addition to Providence's Bentil and Kris Dunn. That triumvirate attracted 26 NBA scouts to the game, and all provided performances accordingly.
Thanks to some strong early play from Luke Fischer underneath, the Golden Eagles opened up a 13-6 lead. They were packing the paint on defense, and looking to pound the ball inside at every opportunity. However, in a very quiet arena, they struggled to keep up the level of intensity. Back-to-back turnovers from Traci Carter earned him a place on the bench, and the two teams quickly found themselves trading baskets.
Foul trouble for Fischer
Initially, it looked like Marquette's plan to slow down the 1-2 combo of Dunn and Bentil was to throw bodies into the lane, and make the Friars beat them from outside. However, that was forced to change at the midway point of the first half when Fischer picked up his second foul.
Providence immediately stepped up their level, and began to dominate the boards. Dunn suddenly looked more creative, and began to find more open men. That eventually led to the first lead of the game for the team from Rhode Island, who found themselves ahead 22-21. However, Marquette hit back and the game became the back and forth tilt which it was always going to be.
Fischer soon picked up his third foul, and Providence wasted no time in capitalizing on the absence, and looked to the get the more to Bentil more and more. The Big East's leading scorer seemed unstoppable in the first period, and went to the break with 18 points.
The two teams headed back down the tunnel with Providence in the lead 36-31, having thoroughly dominated the Fischer-less spell at the end of the half.
Second half continues in same vein
The Friars came out of the break looking the far better team, and in spite of seeing Dunn head to the bench after picking up his third foul, they soon had a 44-37 lead which had Wojciechowski worried enough to call a timeout. The stoppage worked wonders for Marquette, and they quickly cut the gap to one point after a three-pointer from Traci Carter.
Both teams evidently raised their level, and the intensity of the crowd, which had been quite quiet up to that point. A tip-in from Ellenson was quickly followed by a coast-to-coast lay-up from Haanif Cheatham, before Bentil hit back with a three. However, Ellenson continued to impress the NBA scouts in attendance, and converted an and-1.
Game becomes a mano a mano battle
The intensity did not waver from the Golden Eagles, and their run quickly became a nine-point spurt. Friars head coach Ed Cooley was forced to call a timeout when the lead had stretched to 60-51. As is so often the case in college basketball, the stoppage worked wonders, and the Friars responded with a 6-0 burst of their own as these two teams continued to battle back and forth.
As the clock ran down, it was not the Dunn v Ellenson show that many predicted. Instead, it was Ellenson v Bentil, and neither was giving an inch. When Ellenson got into the lane with two minutes and change left to hit a floater, it seemed the arena might explode. However, Bentil responded immediately, hitting a three to tie the game up.
Although Bentil will grab the headlines, Dunn still had a role to play; he sunk a huge three with 1:20 left to put Providence up by one, and got to the line on their next trip down the floor where he went one of two from the line with just over thirty seconds left. It seemed the game might be slipping away from Marquette, only for Carter to score his biggest basket of the season to this point by hitting a lay-up to tie the game at 72.
Providence can't find a winning bucket
In spite of his clutch three, Dunn was unable to ultimately provide a winning intervention. The Friars had come downcourt and set up a play for him with less than 15 seconds on the clock, but the star guard threw the ball away with two ticks remaining. Thus, the Golden Eagles had a chance late for a miracle shot. They got the ball in to Ellenson, who had 24 points in regulation, but he could only do his best Gordon Hayward impression and bank a halfcourt shot off the rim at the buzzer, sending the game to overtime.
Overtime can't find a winner
In the first bonus period, the game continued to ebb and flow. Bentil hit a turnaround jumper before Carter converted a circus shot and-1. Sandy Cohen picked Dunn's pocket before hitting a breakaway bucket, and the highly touted guard proceeded to foul out while hacking Cheatham. The freshman converted a lay-up as the contact happened, and he hit the ensuing free throw with just over 40 seconds remaining. Yet, just when the game seemed over, Bentil was fouled while shooting a three, and he knocked down all three from the line to cut the lead to 81-79 with 32.2 on the clock.
Marquette headed downcourt, where they botched back-to-back short looks. Providence got the rebound, and came down looking to tie or take the lead. Bentil had a three for the win which rattled out, and his rebound was corralled by Jalen Lindsey, who was fouled by Cohen. Lindsey stepped up and hit two critical free throws to tie the game with 8.5 seconds left. Marquette then had a chance to win, but Carter saw his lay-up at the buzzer blocked, sending the game to double OT.
Bentil refuses to give in, can't win by himself
Ellenson struck the first blow of double OT with a baseline jumper before Junior Lomomba responded with a reverse lay-up. After the teams traded poor possessions, Jajuan Johnson hit two clutch free throws to give Marquette an 85-83 lead. Another defensive stop followed before Cheatham made a stunning reverse lay-in to give the Golden Eagles an 87-83 advantage with 2:01 left.
Johnson soon hit a three to stretch the Marquette lead to 90-85, and Providence found themselves once again down by five with less than a minute left. Bentil was then unable to convert a lay-up, but Marquette turned the ball over off the ensuing inbound. Yet, Bentil missed yet another three before Duane Wilson went 2-2 from the line to extend the lead to 92-85 with 41.3 seconds on the clock. Still, Providence refused to go away; Bentil made one from distance to cut the lead to four points again. Further free throws from Wilson made it a six point game before Bentil hit again, cutting it to 94-91. Cohen then went 0-2 from the line, giving the Friars further hope. However, respite arrived for the Golden Eagles as Bentil missed from deep before two free throws from Carter iced the game, giving Marquette a 96-91 victory.
Ellenson reacts
When asked what the victory means for Marquette as the season progresses by VAVEL USA's Liam McMahon, Ellenson remarked that, "it depends on how we build off it. We've had big wins before in this conference, so it's a matter of bringing it to the next game against Creighton."
As Ellenson stated, Marquette will now get ready for a visit from Creighton on Saturday night after improving to 16-9 (5-7 Big East). They need all the wins they can get if they hope to get into the NCAA Tournament. Meanwhile, Providence drops to 18-7 (6-6 Big East), and will have to try and regroup before hosting Georgetown this weekend.