 After a crazy Thursday night in Bloomington that saw the Indiana Hoosiers take down number four Iowa, the Hoosiers have a quick turnaround before heading to East Lansing and the Breslin Center to face the Michigan State Spartans.
The Hoosiers proved they belonged in the Big Ten title race with the Iowa win, but now have a chance for an even bigger statement win on the road against the Spartans.
Last Time Out
Indiana is coming off of an 85-78 win over Iowa in which they played arguably their best game of the season. The Hoosiers had it rolling with five players in double figures including 28 points off of the bench. That win puts Indiana in a three-way tie for first place in the Big Ten with Iowa and Maryland.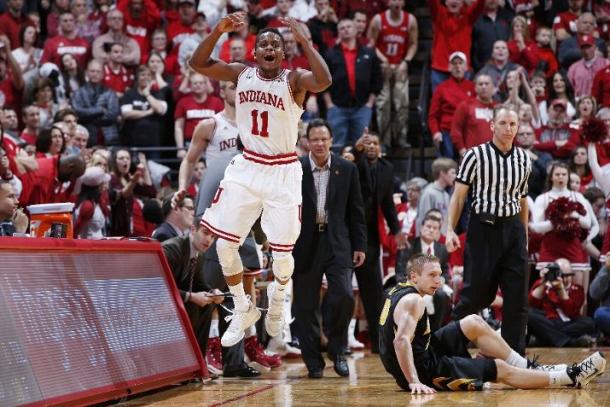 Michigan State had a tough road test at Purdue on Tuesday as they ended up losing by one in overtime. The Spartans were down 16 at halftime, but had a big second half to force overtime, but the Boilermakers were just a bit too much. Sparty now sits in the middle of the Big Ten with a 7-5 conference record.
Scouting Report: Michigan State
When you look at Michigan State's conference record, it may be a bit misleading when you compare it to their top ten ranking. They sit at 7-5, but went on a three-game losing streak while their best player in Denzel Valentine was out because of injury. Since his return, they have gotten back on track and coach Tom Izzo has this team moving in the right direction.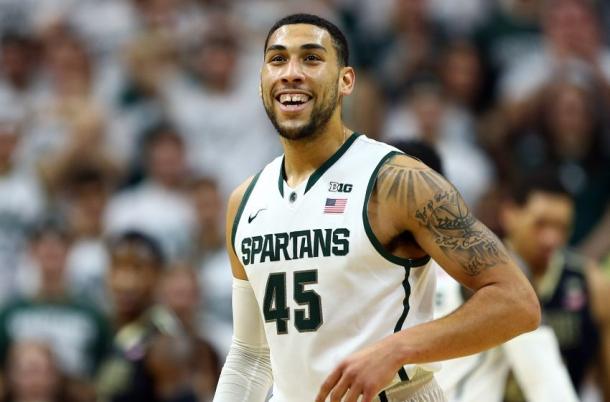 Looking at this team, it isn't a secret where this team gets their production. Denzel Valentine is a star not just on this team, but in college basketball as a whole. He can get it done in more ways than one as he averages 19 points per game, nearly eight rebounds per game and seven assists. A triple-double is never out of the question for Valentine. Playing Valentine on Valentine's Day seems like an eerie predicament for the Hoosiers.
This team also has a nice supporting cast behind him. On the front line are forwards Deyonta Davis along with Matt Costello. Davis has been bursting on to the scene as of late and is a nice piece for the Spartans as he averages 7.8 points per game, 5.6 rebounds per game, and is the team leader is blocked shots with 1.9 per contest. Costello is the team's leading rebounder with 8.2 per game and is a big source of energy for the Spartans. He also gets his fair share of points as he averages 9.9 points per game.
In the back court with Valentine are guards Bryn Forbes and Eron Harris. Both of these player's roles have expanded with the absence of Lourawls "Tum Tum" Nairn Jr. who is out with a foot injury. Forbes is the team's second leading scorer with 14 points per game while Harris averages just under 10 points per game. Forbes can be lethal with the three ball as he is shooting 48 percent overall, but behind the arc, Forbes shoots 49 percent.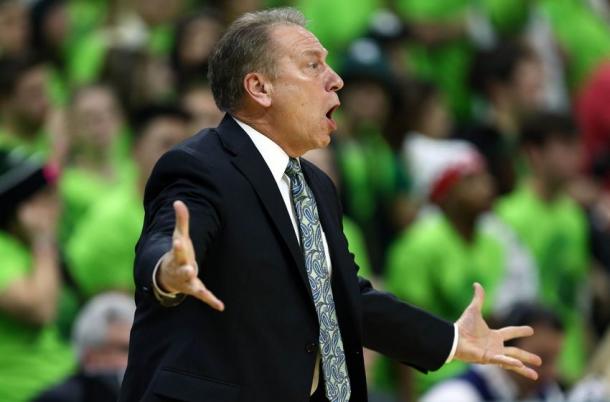 This is a well-rounded team as they score nearly 80 points per contest while they also rank 15th in the country in points allowed at 63.6. The Spartans love the share the basketball as they are first in the country with 20.4 assists per game. Crashing the boards is also another bright spot as they third in the country with 42.6 rebounds per game.
What The Hoosiers Need to Do
Going up to East Lansing is never an easy task and it has not been kind to the Hoosiers in the recent past. This time around will be no different.
It is going to take a similar performance from Thursday night to have a chance to knock off the Spartans on their home floor. If the Hoosiers can replicate their 20-6 run from the first half and sustain that throughout a good portion of the game, they will be right in the game.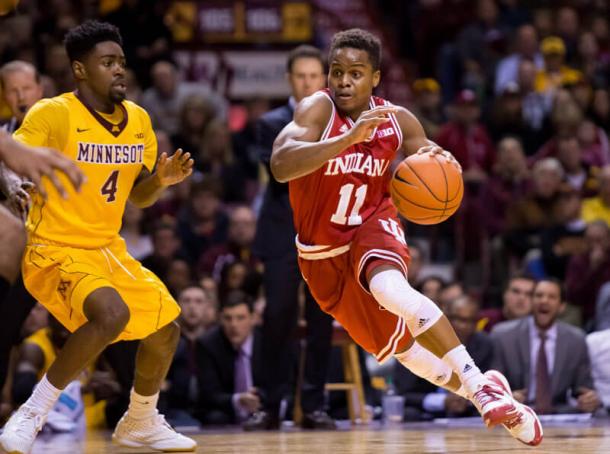 What the Hoosiers cannot do is get down early. The Breslin Center is a hostile environment and if Michigan State has the crowd behind them and all of the momentum, it will make it quite difficult for Indiana. That is when a leader like Yogi Ferrell will have to step up and shake off whatever funk he was in Thursday night and get his team back on track.
Having the bench score 28 points would also be a welcoming sight for Indiana as they will need all hands on deck to take down Denzel Valentine and the Spartans.
What to Expect
Indiana looks like they are true contenders in the Big Ten and every game is important from here on out, but this isn't necessarily a must win game. What Indiana cannot do is go in and flop like they did at Penn State; a competitive performance is a must.
KenPom gives Indiana just a 22 percent chance to win and has the score at 80-72. Both of these teams can score, but the big question will be if the Hoosiers can get enough stops to stay in this throughout.
A win at Michigan State would be massive for the rest of the season and their tournament resume, but those are hard to come by. The Hoosiers haven't won in East Lansing since 2013, which isn't all that long ago, but it has still given the Hoosiers fits exemplified by their 20-point loss there a year ago. It should be a fun matchup, but at the same time, a tough one at that.
Prediction:
Michigan State 84, Indiana 77
Game Info:
First tip is scheduled for 1:00 pm EST on CBS at the Breslin Center.