Kentucky responded to the ejection of John Calipari by looking dazed, but their sophomore point guard soon took over and began calling the plays. The Wildcats went off to begin the second half and sank the Gamecocks into submission.
Calipari Blows Up
Calipari went absolutely insane on the sidelines when he thought refs weren't calling fouls on South Carolina on offensive rebounds. The head coach believed his players were getting banged up down low and the officials were doing nothing about it.
He likely said some choice words in his first encounter with the referee Doug Sirmons. Sirmons called the technical and Calipari made his way toward the official to confront him again. Kentucky guard Jamal Murray did his best to hold back his head coach, but Sirmons had already called the second technical and ejected the Hall of Fame coach.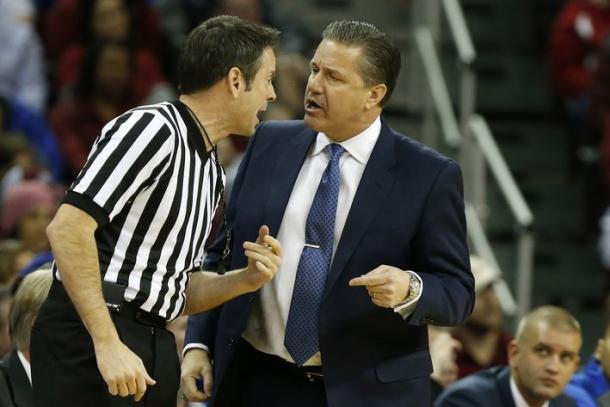 This is the second time in two years Calipari has been ejected from Colonial Life Arena. Last time came in 2014 when Julius Randle and his Wildcat teammates stormed back after the ejection before losing 67-72.
Calipari obviously let his team down by not staying and coaching them to a win. But a big win for this Kentucky team will help take some critique off the head coach.
Ulis Has Career Day
Tyler Ulis set career highs in both the points and assists category for the Wildcats. The 5'9" guard led his team to the win with 27 points and 12 assists.
John Robic and Kenny Payne, Kentucky assistant coaches, told Ulis early on that he could run his own plays. This game was won by Ulis, as he proved he's not only a great player, but a great on-floor coach.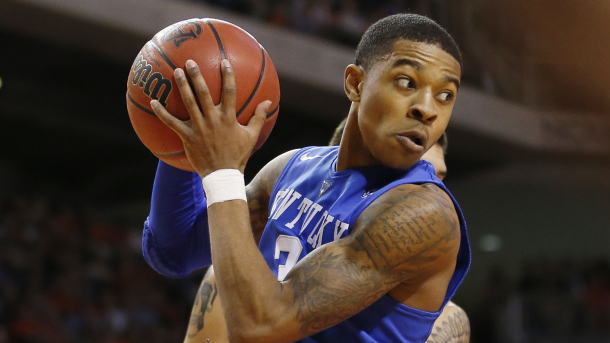 He gave his team the energy they've needed on the road all year long. He made plays such as a lob off the backboard in transition that led to a poster slam for Marcus Lee over Michael Carrera.
There's no doubt Ulis is one of the best guards in the country. An argument can easily be made for why he's the best point guard in Men's Division I after this performance.
Wildcats Light Up From Downtown
The Wildcats hit 11-25 from deep against a poor 3-point defending team. Kentucky has struggled to knock down the long ball, but when Murray and Derek Willis are wide open; it's automatic.
Murray hit four threes while Willis sank 3-4 from the perimeter. Ulis matched Murray's four with his own four, albeit with a little more flair.
Ulis hit his threes with the shot clock running down and a defender in his face. A 5'9 guard should have difficulty getting that shot off, unless his name is Tyler Ulis.
With a 44% mark from deep the Wildcats can become unstoppable, especially when their big men show up.
Kentucky Rebounds
This big win not only propels Kentucky forward after two straight losses a week ago, but they also showed they can attack the glass.
South Carolina is one of the best offensive rebounding teams in the country and often relies on second and third chances. Kentucky lost the rebound battle 32-34, but they kept the Gamecocks at bay.
They held South Carolina to first chances the majority of the time, and defended well when the Gamecocks got second chances. The post play was for Kentucky was phenomenal despite missing an elite defender in Poythress and foul trouble early.
Kentucky's Marcus Lee, the energy guy, showed up after playing poorly all through SEC play. The big man scored 11 points, pulled down 13 rebounds, and only fouled twice to help out his guards.
As for the rest of the season, this game tells a lot about how the Wildcats can finish. With Ulis being the play-caller, some adjustments will have to be made, and Calipari may have to take a step back after seeing how Ulis ran this team.
If Kentucky can play like this every game, they will be hard to beat.
Player Statistics
Tyler Ulis- In the blink of an eye he can score 20 points. Ulis has his 11th 20-point game of the season at 27 points to go with 12 assists; both new career highs for the guard.
Jamal Murray- Murray matches his last two performances by scoring 26 points and five rebounds highlighted by a poster dunk over Justin McKie. Murray has scored 85 points in his last three games.
Michael Carrera- Carrera tried to push his team to a comeback by scoring 25 points and grabbing 10 boards. The senior hit 11-15 shots from the line; three misses came from the two technicals called on Calipari.
Marcus Lee- Lee was needed with the absence of Poythress and he showed up. He grabbed 13 rebounds and scored 11 points to help his team in the paint.
Upcoming Schedule
Tennessee at #22 Kentucky 2/18/16
South Carolina at Missouri 2/16/16