After the Maryland Terrapins lost on Saturday to the Wisconsin Badgers, the Iowa Hawkeyes grabbed a firm lead in the Big Ten standings. As a team that has lost to only two teams outside of the top 25 all year (Dayton and Indiana, both likely NCAA Tournament teams), Iowa was expected to take it to the Nittany Lions tonight.
However, Penn State pulled a fast one on the Hawkeyes. Literally. The Nittany Lions were quick going up and down the court, using Donovon Jack's 19 points off of the bench to pull off the massive upset over Iowa, 79-75.
Donovon Jack Goes Off, Changes The Game For PSU
If Penn State was going to beat Iowa, they needed someone to attack the paint with authority. Often a non-factor off of the bench this season for PSU, the big man from Reading went 8-9 in the game. All of his made baskets were down low, jostling for position against Iowa's Jarrod Uthoff. Jack also grabbed 5 rebounds and blocked 2 shots.
Jack gave Penn State the opportunity for a balanced offense. With him as a threat in the paint, the Iowa defense had to focus on the senior. This allowed PSU to fool the Hawkeye defense and kick out for the three. Brandon Taylor and Shep Garner combined for 7 treys as both ended with 18 points on the night. Head Coach Patrick Chambers truly looked like a genius as he gave Jack 22 minutes, and the forward gave it all he had.
Iowa Racks Up The Points, But So Does Penn State
Iowa didn't have too rough of a time scoring. Floor general Peter Jok was energetic tonight, burying 4 three-pointers and getting to the free throw line for 10 points. Star forward Jarrod Uthoff also put in his usual effort, scoring 19, 7 of those points from the charity stripe.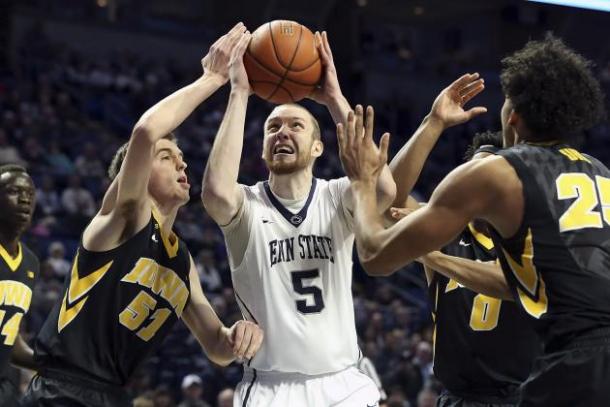 However, not everything came up roses for the Hawkeyes. A late first half 18-3 run by Penn State, keyed by long balls by Shep Garner, Payton Banks, and Brandon Taylor, gave the Nittany Lions a 7 point lead at the half. In the 2nd half, PSU answered every Iowa run with consistent scoring all over the court.
Going Forward
When Iowa faced off against Penn State in Iowa City earlier this year, the Hawkeyes only allowed 49 points. Donovon Jack only scored 4 points in that game. Clearly Penn State has made some great adjustments for this game despite being without facilitator Devin Foster. They are on the right track going forward and are searching for an NIT bid. Their next 2 games are against easier opponents, at Rutgers on Saturday and in Happy Valley vs Nebraska next Thursday.
The Hawkeyes are now tied with Indiana for the Big Ten lead. Indiana, though, has the tiebreaker with a victory on hand vs. Iowa. Things do not get much easier for Fran McCaffery's team as they take on a hungry Wisconsin team next Wednesday.