The Kentucky Wildcats's last loss came at the hands of the Tennessee Volunteers in one of the worst ways possible. Their 21-point lead was obliterated by the Volunteer guards. Kentucky responded to that loss by focusing more on defense and winning three straight against some of the SEC's best.
Kentucky Kryptonite
Tennessee's Kevin Punter; a guard who spent the summer changing his shooting form used his new release to comeback on the 'Cats. Punter hit shot after shot and racked up 27 points in their win over the Wildcats. Whenever Kentucky looked to be gaining some rhythm back, he'd sink a deep ball or get fouled and stop the clock.
Kentucky's Jamal Murray had the assignment of guarding Punter in that game, and was disappointed in himself after the game because of his poor defensive outing. That game may have sparked something inside Murray that caused him to become the best version of himself.
Murray's Hot Hand
Murray has had 85 points in his last three games; all resulting in Kentucky wins by 15+ points. He has also hit 18 3-point shots in that same span.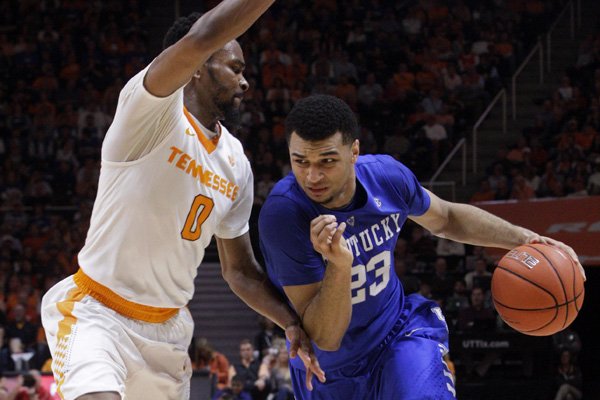 An average of 28.3 points and six threes a game isn't too shabby for one of the NCAA's youngest players. But Murray was expected to produce on offense, it was his defense he was unhappy with.
Murray joined both Tyler Ulis and Isaiah Briscoe the last three games by becoming a better on-ball defender. Murray has learned to stay in front of his man more and doesn't allow as many drives to the basket.
Kentucky's three main guards being able to defend the ball with pressure allows their under-manned front court to relax a little.
Since The Last Meeting...
Since Kentucky lost to Tennessee on Feb. 2 the Wildcats are on a 3-game winning streak with wins against Florida, Georgia and South Carolina.
Kentucky won those games by 19, 34 and 27 respectively. The Wildcats are now alone at #1 in the SEC after LSU suffered a home loss to Alabama.
Tennessee has lost two of their last three since beating Kentucky; an 18-point loss to Arkansas and a 9-point loss to the worst team in the SEC in Missouri. Their lone win was a 71-45 win over Auburn.
The Volunteers are in 10th place in the SEC and at 12-13, they cannot afford to look anything less than impressive to end the season if they hope to make the NCAA Tournament field.
Return of Poythress?
Kentucky has been without senior forward Alex Poythress their last three games after he suffered an injury to his non-surgically repaired knee in warm-ups against Florida.
Kentucky's John Calipari gave an estimated return of two weeks for the senior. With the season coming to a close and a big away game coming up for the 'Cats, it wouldn't be surprising to see Calipari ease him back into the lineup.
Players to Watch
Tyler Ulis- Ulis is on the verge of possibly becoming SEC Player of the Year and with a revenge game coming up, he won't be slowing down. After Calipari got ejected against South Carolina, Ulis stepped up and lead his team to an emotional win, expect near the same in a heated game between the 'Cats and Vols.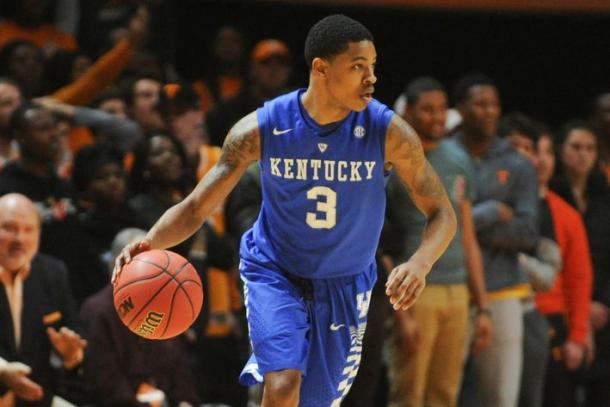 Armani Moore- Last time it was Punter, now it's Moore. Without Poythress, Kentucky lacks a big man without enough strength to guard Moore in the post. Freshmen Isaac Humphries will likely be used to try to stop the senior in the paint.