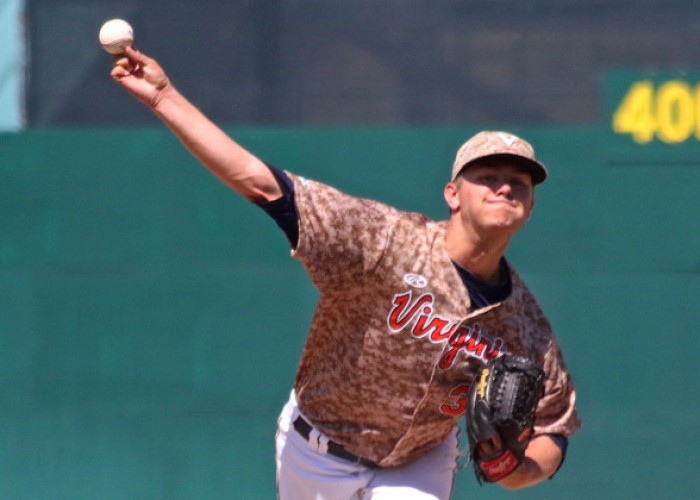 The Virginia Cavaliers entered the ninth inning of their first game of the college baseball season leading Kent State 8-0 and looking on their way to an easy victory.
But, because this is baseball, and anything can happen, it took the Cavaliers three pitchers and 11 batters to escape the Golden Flashes on Friday evening, before finally topping the underdogs 8-6.
Virginia was led on offense by three hits apiece from Ernie Clement and Matt Thaiss. Clement recorded a pair of RBI, as did All-American Pavin Smith.
The Golden Flashes managed just four hits on offense through eight innings; Dylan Rosa's two hits were the only multi-hit performance for Kent State. They got three RBI from freshman Pete Schuler.
Virginia Can't Quite Break Through In First 3 Innings
It took a while for the Cavaliers to get their bats untracked, as they failed to score in the first three innings, despite putting runners on base in every frame and loading the bases in the first frame. A single, error, and walk filled the bases in the first inning with two outs, but Kent State starter Eric Lauer recorded a strikeout for the inning's final out.
Lauer used a double play to get around a one-out walk in the second inning and got Virginia's Daniel Pinero to foul out with runners on first and second and two outs in the third inning.
Lauer did pitch well for the Golden Flashes, going five innings, his only blemish being a three-run fourth inning by Virginia. Unfortunately, he was thoroughly outperformed by his counterpart in Connor Jones, who cruised through seven scoreless innings.
Virginia Uses Two Big Innings To Build Big Lead
The fourth inning saw the Cavaliers in a familiar place: Two runners on, with two outs. However, this time, Virginia capitalized.
A walk loaded the bases, before a wild pitch by Lauer brought in Virginia's first run of the season. Clement then came through for the Cavaliers, stroking a two-run single for a 3-0 lead.
Virginia notched a single run in the seventh inning on a Pavin Smith RBI single, before getting another big inning in the eighth. Cameron Simmons began the run parade with a deep home run to left center field. The Cavaliers followed up with three singles - with a fielder's choice in between - to load the bases with one out. A passed ball scored one run, Smith's single scored another, and Pinero's sacrifice fly rounded out Virginia's scoring for an 8-0 lead.
The game appeared to be over, but Kent State had other thoughts.
Kent State Stages Huge Rally; Leaves Tying Run On First
Huge rallies can be started by the littlest things, and Kent State proved that when they got their ninth inning started with a fairly innocent infield single. Mason Mamarella followed up with a double to put a pair of runners in scoring position. Luke Burch grounded a single up the middle to score both runners, and Kent State had ruined the shutout. But they were far from done.
A walk ended the night of Virginia's Chesdin Harrington, who failed to record an out. David Rosenberger entered and recorded two quick outs, apparently squashing the rally, but the Golden Flashes had one last gasp. Dom Iero knocked in one run with a single to cut the deficit to 8-3. Rosa was hit by the pitch to load the bases, bringing up Schuler.
The freshman came up big for Kent State with a bases-clearing double that made the score 8-6. What had been a laugher had become a nail-biter. Alec Bettinger entered and immediately hit a batter, putting the tying run on base. However, he recovered to make Mamarella ground into a fielder's choice, ending the game.
The Dominance of Connor Jones
The stud pitching of Virginia's All-American Connor Jones would have certainly been the storyline of tonight's game, had it not been for Kent State's huge rally. Jones cruised through seven scoreless frames, allowing just three hits and striking out eight.
He began his outing with two perfect innings, before hitting a brief snag in the third inning when he gave up a pair of singles. However, after escaping the mini-jam, it was all smooth-sailing from there for Jones, who gave up just one single the rest of the way. Jones clearly showed why he is the ace of the Virginia staff, and he displayed why he was a preseason All-American. If he performs like this throughout the season, Virginia should be all set for their Friday night games.
Up Next
This game was part of the Caravelle Resort Tournament, so these two squads will not meet again tomorrow. Instead, Virginia will play Appalachian State, while the Golden Flashes take on Old Dominion.