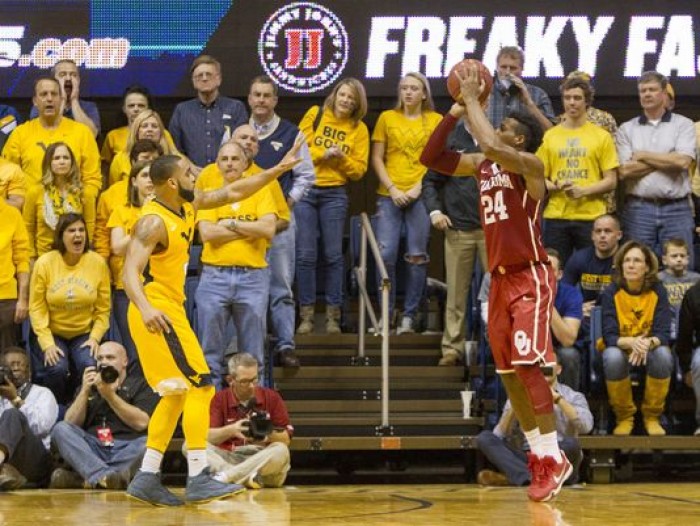 Buddy Hield continues to improve his resume for Player of the Year with yet another dominant performance. The senior guard, who is also the nation's top scorer, dropped a game-high 29 points while shooting 9-21 from the field. The Oklahoma Sooners improved to 20-5 on the season and continue to play like the top seed they could be in the NCAA tournament.
Meanwhile, the West Virginia Mountaineers drop to 20-7 on the year, yet they are still in a three-way tie for second place in the Big 12 with Oklahoma and Baylor. The Mountaineers stay home to take on Iowa State, another ranked Big 12 team, on Monday night.
Sooners Respond In Big Way
Oklahoma made a statement win against a Top-10 team after back-to-back losses. The Sooners lost to Texas Tech on the road by two and Kansas at home by four, all within the past week. Oklahoma plays Oklahoma State, Texas and Baylor before finishing the regular season at TCU.
Lon Kruger's team remains in the conversation for a number 1 seed come tournament time, and a legit threat to run the table. Buddy Hield has been unstoppable nearly all season long, and continues to dominate.
Isaiah Cousins added 12 points, eight rebounds and five assists on the night, while Khadeem Lattin had nine points and 13 boards. Jordan Woodard had 11 points and six assists as well, as the Sooners guards dominated yet again. Ryan Spangler had eight points and six rebounds as the Sooners shot 40 percent from the field and out-rebounded West Virginia, 46-33.
The Sooners also had more assists, steals, and blocks on Saturday night, and used a 48 point second half to storm past the Mountaineers.
West Virginia Swept By Oklahoma
West Virginia falls to 0-2 against Oklahoma on the season, but remain tied with them for second in the Big 12. The Mountaineers have now lost three games in their last four, just a couple of weeks after sitting atop the Big 12 Conference.
Tarik Phillip had 17 points off the bench to lead all West Virginia scorers. Jaysean Paige added 13 points on just 4-16 from the field off of the bench as well while Jonathan Holton finished with nine points and 11 boards.
The Mountaineers bench outscored the starters 39-23 on the night. Jevon Carter and Devin Williams combined to go 5-21 from the field with just 14 points and 6 assists. Guard Daxter Miles Jr. missed his second consecutive game as he nursed that strained right hamstring.
West Virginia was outrebounded 48-37 and shot just 33 percent from the field.
Next Up
Next up for Oklahoma is a match-up with in-state rival Oklahoma State on Wednesday at home. West Virginia will stay at home to face another Top 25 team with Iowa State coming to town.