The Kentucky Wildcats and Alabama Crimson Tide met once this year already, resulting in a 77-61 win for the Wildcats in Coleman Coliseum on Jan. 9. Both of these teams have improved since their last meeting and will likely have a more competitive game at Rupp Arena.
Missing Components
Kentucky is a different team from the one in January in both positive and negative aspects. Unfortunately for Kentucky, those negatives seem to outweigh the strides the Wildcats have made in the last month.
One of the Wildcats' sharp-shooters Derek Willis rolled his ankle in the loss to the Texas A&M Aggies. The junior was seen wearing a boot on his foot and applying no weight to the foot while on crutches.
While Willis was not a key factor in the previous game between these two, Kentucky's Alex Poythress was. Poythress scored a career high 25 points in the win over Alabama in January. However, Kentucky's senior has been sidelined with a knee injury for over two weeks.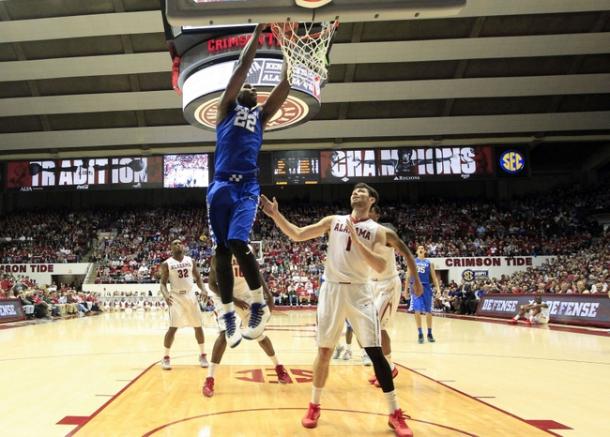 Without two of Kentucky's best rebounders and scorers against a team that has been hot, the Wildcats will need to find some significant contribution elsewhere.
Bubble Busting
While Kentucky is in the range for a 3-6 seed in the NCAA Tournament depending on how they finish the season, Alabama isn't as lucky. The Crimson Tide have won five of their last six games and sit firmly on the bubble. Coming off a home loss to a weak Mississippi State, Alabama cannot afford to lose a game like this.
Alabama gets to travel to Lexington and have a shot at knocking off a #16 ranked Kentucky team struggling with injuries. They are in perfect position to solidify a spot for themselves in the tournament.
Kentucky, on the other hand, needs to win not for their tournament hopes, but for confidence. They are a broken team coming off a controversial loss, and they need a win to let themselves know they will be fine.
Kentucky's SEC Dominance
Most Kentucky fans deem any year that doesn't result in a championship a failure. But before Kentucky gets a shot at being the last team standing, they have another title they need to win. The SEC regular season title has been won by Kentucky a total number of 45 times. The second closest to Kentucky is LSU with 11.
This year, there's no dominance from any team in the league. Kentucky was seconds away from a 2-game lead on the rest of the SEC, but remain in first place with a 1-game lead over three other teams (South Carolina, Texas A&M, LSU). Kentucky has four games left on the regular season and they're all against bubble teams. The Wildcats have to finish strong if they want to win at least a share of the SEC regular season title.
The Tide Rolling
The Alabama Crimson Tide were 2-6 in the SEC and 11-9 on the season going into the month of February. Once the new month hit, the Crimson Tide couldn't lose.
Alabama beat some of the SEC's better teams in Texas A&M and two tough road games back-to-back at Florida and at LSU.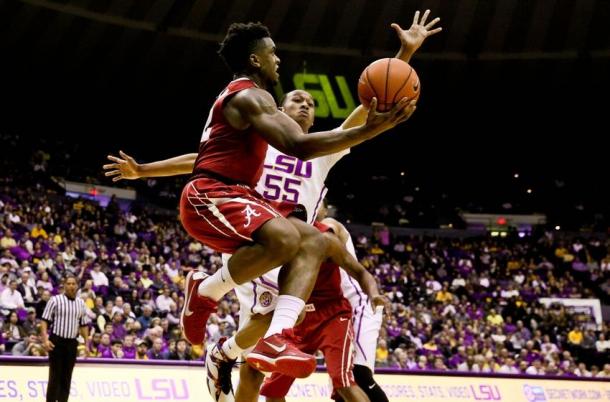 The Crimson Tide are still only 7-7 in the SEC. But with a record like that in this wild year, they can still earn a top 4 seed in the SEC Tournament.
Players to Watch
Jamal Murray - With the injury to Willis, Murray will have to step up even more than he already has. The freshmen has hit his stride from deep lately and will have to hit even more deep balls to keep Kentucky rolling.
Retin Obasohan - Obasohan has had some success against Kentucky in his time at Alabama and with his speed and size, he can work the UK defenders. Isaiah Briscoe is a great on-ball defender but will have his hands full with Obasohan's ability to draw fouls.