 It was a big game on No. 19 Baylor's (20-8, 9-6 Big 12) schedule as they tried to get revenge on No. 2 Kansas (24-4, 12-3) at home after Kansas cruised to a 102-74 victory at Allen Fieldhouse on January 3rd.
This game was a completely different story, but Kansas prevailed.
Kansas defeated Baylor 66-60 at the Ferrell Center in Waco, Texas on Tuesday. It was a back and forth game, and Kansas came together at the end. Kansas was led by their defense all night long as the Jayhawks limited Baylor to 36.1% from the floor. There were 17 lead changes throughout the game. Frank Mason III played terrific as the junior tallied 19 points, four rebounds, and three assists.
Rough Offensive Day For Both Teams
Both teams are known for their scoring, but they did not have the best offensive performances in today's game. Baylor ranks 57th in the nation in points at 77.9, including a 100 point outburst against No. 17 Iowa State last Tuesday. Baylor struggled all night especially towards the end of the second half. The Bears shot 28.6% for the half, including a horrific drought that lasted more than four minutes.
Kansas also had a terrible offensive day. The Jayhawks ranked 19th in scoring at 81.2 PPG. The Jayhawks shot a strong 50% shooting percentage, but were outperformed in the paint. Kansas had just 12 offensive rebounds to Baylor's 20, and they lost the rebound battle 33-28. The Jayhawks also coughed up 12 turnovers. KU was able to squeak out the win, but it was not pretty by any means.
Missed Opportunities For Baylor
Baylor had plenty of opportunities all game, but did not convert. They had all the momentum heading into the second half, as Ish Wainwright delivered a beautiful full-court pass to teammate Rico Gathers to hit a buzzer-beater three pointer to finish the half leading 36-33. Baylor looked ready to carry all the momentum into the second half, and they did just that.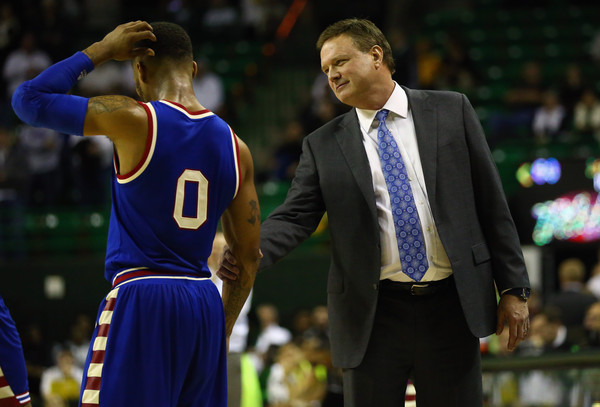 Baylor got out to an 11-4 start in the second half and led 47-39 with 13:42 left in the half. Al Freeman played a big role in the run, and he finished with 17 points and three rebounds. Baylor had the opportunity to run away with the game, but they just could not get it done.
Baylor went cold and had a very difficult time scoring in the second half. Kansas went on a 9-0 run after Baylor led by eight, KU battled their way to the end. Both teams did not score for roughly four minutes. A 52-51 Baylor lead lasted from 7:59 to 4:47 remaining in the half. The Bears had a terrific chance to take advantage there, and had they done so, it would have been difficult for Kansas to catch up. The teams stayed with each other until the end, but Wayne Selden Jr. hit a huge layup with 30 seconds left to extend a Kansas lead to 62-57.
Kansas enjoyed a great performance from Mason, but they also received contributions from Perry Ellis and Devonte Graham. They tallied 15 points and 11 points, respectively. Taurean Prince dropped 12 for Baylor.
What's Next For The Two Teams?
If they weren't already before, Kansas looks to be a lock for a one seed in March. Bill Self and company are 7-3 against Top 25 teams this season, including two huge wins versus Oklahoma. Kansas, however, still has two ranked teams left on their schedule, including No. 25 Texas and No. 17 Iowa State. They play at home first against red hot Texas Tech on Saturday.
Baylor now sits alone in fourth in the Big 12, behind Kansas, West Virginia, and Oklahoma. Baylor's ranking should not take too much of a hit, as they fought all the way to the end against a tough Kansas team. Baylor may be looking at a five or six seed for the tournament, but they have a huge stretch coming up. After a meeting with last-place TCU, Baylor will travel to No. 3 Oklahoma and a home game versus No. 14 West Virginia. The last two games could make or break Baylor's season, and they will have to prove themselves they are a legitimate team come March.