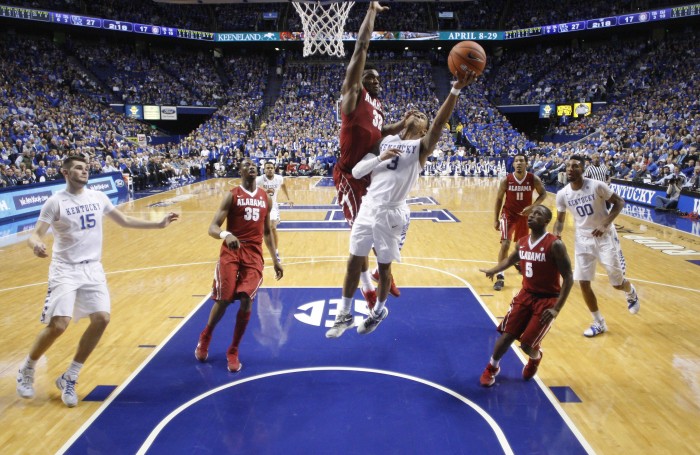 The Kentucky Wildcats showed that they have improved since January with their blowout win at home over the Alabama Crimson Tide. The Wildcats used stiff defense and their passing ability to control this game.
Tide Can't Stop Poythress
Alex Poythress recorded his career high, 25 points, in the first meeting between these two and went right back at the defense of Alabama to begin this one. Poythress had six points in the early going for Kentucky and played limited minutes. He got into foul trouble in the first half, but building back stamina is the reason for playing only 17 minutes in the game. Had Poythress played his normal amount of time, he may have gone off on the Crimson Tide. The senior was able to collect 14 points in his 17 minutes and attacked the basket whenever he touched the ball.
To see Poythress get off to a hot start in his return to action is a good sign for this Kentucky team. They will need their senior leader as the season comes to a close.
Obasohan Going Off
Kentucky was able to hold every Alabama player to only three field goals or less except for a seemingly unstoppable force in red. Retin Obasohan went right at the heart of the Kentucky defense whenever possible as he amassed 29 points on 9-13 shooting.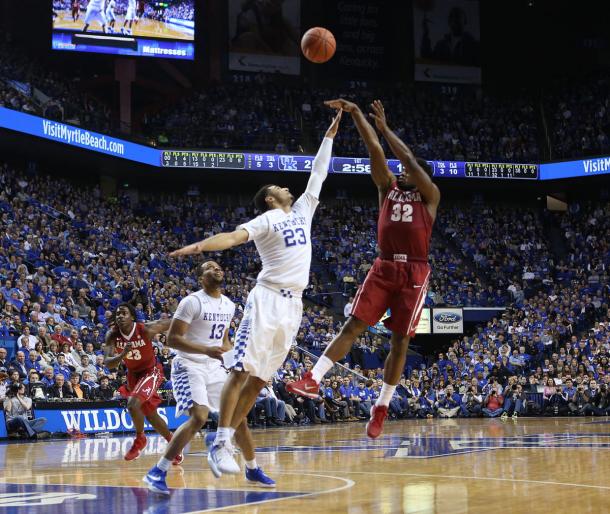 It's not unusual to see a player have their career night in Rupp Arena, but the way Obasohan did it was different. Most opponents have their best shooting night from deep or get fouled every time down. Obasohan used his speed and got shots over taller defenders, and got fouled all game long. Alabama has quite the centerpiece to their offense when he's on the court.
Birthday Brownies
Jamal Murray was celebrating his 19th birthday in the win over Alabama. There's no way of knowing what he got, but he definitely gave something in his birthday performance.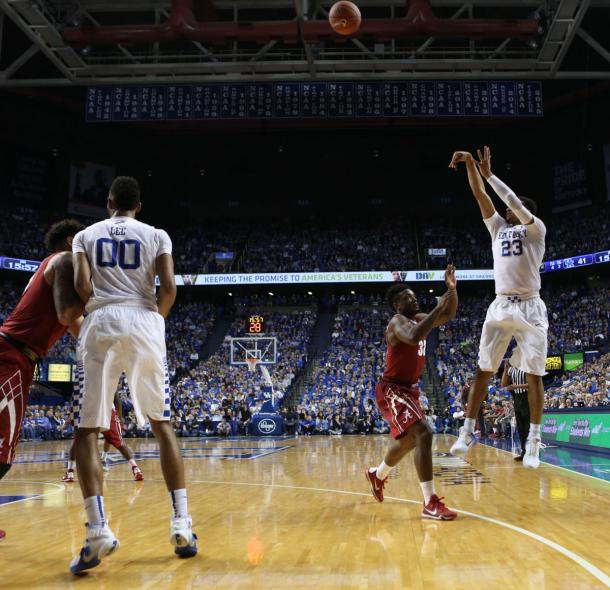 His shooting wasn't on display, but he still nailed two deep balls. The rest came from his new arsenal of moves he's improved upon since getting to Kentucky. He slashed and drove his way to a solid 23 points on 7-14 shooting. He played all but three minutes of the game, a stat likely to stay the same with the injury to Derek Willis.
After his performance it's almost a guarantee Murray can relax and eat his brownies he'll be getting from Mrs. Calipari.
Finish Strong
Kentucky is sitting firmly at the four seed, but has some tests in their final three games as they travel to both Vanderbilt and Florida before finishing at home against LSU.
For Kentucky, winning-out is not needed. The Wildcats do want to win-out as those three teams are current bubble teams for the NCAA Tournament and would boost their seeding.
For Alabama, there is no room for error anymore. Losing to Kentucky was the last loss the team could take and still make the tournament. Alabama has home games against rival Auburn and Arkansas before finishing on the road against Georgia. One loss from now until the end of the season could ruin Alabama's hopes at dancing in March.
Player Statistics
Retin Obasohan - Obasohan tried dropping 30 on the 'Cats but fell one point short in an amazing game for the senior. Normally, a player comes into Rupp Arena and drops 30 and upsets Kentucky, but when Obasohan outscores the rest of his team by five ponts, not so much.
Jamal Murray - Murray is enjoying turning 19 and averaging a little over that same amount on the season. In this game, we got over his average with 23 points and four rebounds with an emphatic block in transition.
Tyler Ulis - Ulis looked like the regular floor general he is and nearly had his 13th 20-point game of the season. He finished with 19 points, 10 assists, five rebounds and three steals for his sixth double-double of the year.
Alex Poythress - Poythress made his return a good one as he racked up 14 points but was only able to grab one board. The senior is just getting back on his feet and has to finish his season off strong to help his team win games.
Upcoming Schedule
#16 Kentucky at Vanderbilt 2/27/16
Auburn at Alabama 2/27/16