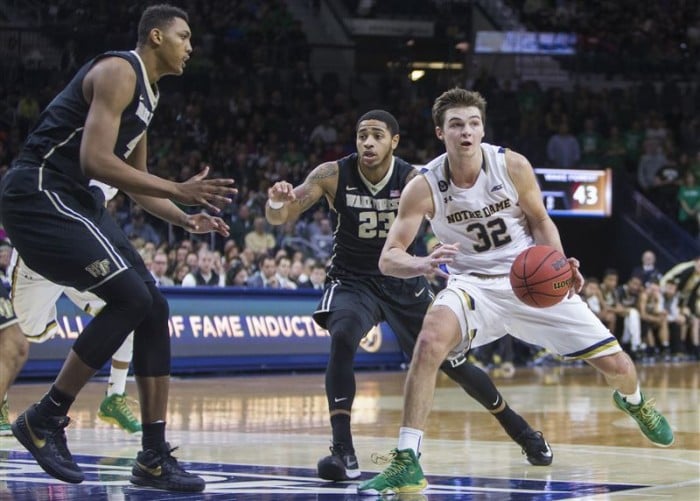 That'll do it for our live coverage of Wake Forest - Notre Dame here at VAVEL. Thanks for joining us. Our final once again Notre Dame 69 Wake Forest 58
Manning: "The effort on the offensive glass was good"
Manning: "I thought our two freshman bigs did a very good job"
Danny Manning: "Jackson took over the ball game"
Notre Dame's next game will be at Florida State on Saturday at 4:00 PM EST
Mike Brey: "Jackson and Auguste were flat-out fabulous"
Wake Forest's next game will be Senior Day against Virginia Tech on Sunday at 6:30 PM EST
Notre Dame had no foul shots in the first half. In the second half, they had 20
Wake only shot 31.4% from the field.
Collins led the Demon Deacons with 16 points
Zach Auguste ended the game as Notre Dame's leading scorer with 18 points.
Final Notre Dame hangs on. ND 69 WF 58
0:05 Beachem will get two foul shots now. He also makes both
0:18 Jackson to the line again. Makes both to go up 9
0:19 Collins fouled for a third straight time. Makes just one again
0:32 Miller-McIntyre fouls Jackson. Makes both
Rebounding exactly even right now 42-42.
0:40 Collins fouled again. Misses the first. Makes the second.
0:50 Collins fouled. Makes one, but a jump ball is called on the rebound. WF ball
0:57 Auguste gets fouled. Makes both again
2:01 Auguste to the line now for a one and one. Makes both
2:18 Timeout Notre Dame
3:18 Beachem at the line for a one and one. Misses it.
3:18 Collins gets called for the foul. Official Timeout ND 59 WF 55
3:33 Collins gets two more
3:54 Auguste gets the lay-up
4:19 Collins gets the basket and the foul. Converts the and-one
4:39 Beachem gets the easy fast break dunk
5:38 Watson gets two shots and makes one, but Wake gets the rebound
5:38 Watson fouled on the shot. Referees will take a look to see if the shot was a three or not
6:06 Colson gets the basket and the foul. Misses the shot
6:27 Mitoglou gets the rebound and puts it back for two
6:44 Ryan gets his fourth personal foul
7:26 Jackson at the line. Makes just one
7:26 Official Timeout ND 52 WF 47
8:01 Moore answers for WF
8:23 Jackson scores again
8:56 Mitoglou at the line. Makes both
9:02 Jackson scores off the jump shot.
10:15 Watson gets a three for Wake
10:47 Collins gets the dunk
11:17 Official Timeout ND 48 WF 38
11:36 Jackson increases the Irish lead to 10
12:20 Huge block by Moore
13:01 Vasturia gets the three just before the shot clock expires
13:36 Mitoglou gets another three for the Deacons
13:48 Vasturia fouled on the drive. Makes both
14:14 Wilbekin gets a three for Wake
14:40 Vasturia hits a three to push the lead to 9
15:03 Moore gets the lay-up to fall
15:58 Auguste to the line. Makes both
15:58 Official Timeout ND 36 WF 30
16:30 Jackson makes the fast break lay-up
17:30 Crawford ends the run
17:41 Auguste scores again
18:03 Jackson increases the lead to four
18:54 Auguste to the line. Makes both
19:43 Wilbekin opens up the 2nd half with a game tying three
At the Half Steve Vasturia leads Notre Dame with 8.
At the Half Doral Moore leads Wake Forest with 9 points
0:00 With a good final few minutes, Wake Forest has cut the lead to just three at the half. Wake Forest 25 Notre Dame 28
0:01 Crawford fouled on the last second drive. Makes both. Timeout Wake Forest
0:38 Moore with the tremendous dunk cuts the lead to five
1:01 Timeout Notre Dame
1:39 Crawford with the quick drive gets the hook shot to fall
2:27 Official Timeout ND 28 WF 19
2:40 Auguste answers for the Irish
3:01 Moore gets the easy basket for the Deacons
3:40 Vasturia scores once again
4:06 McClinton gets his first basket of the game
4:48 Moore fouled. Makes just one
5:43 Auguste gets a post hook to fall
6:25 Miller-McIntyre scores for WF
6:50 Vasturia with the great cut to the basket and lay-up
7:25 Official Timeout ND 20 WF 12
7:30 Vasturia scores to increase the lead to 8
7:59 Colson gets another basket for the Irish
9:03 Collins answers right back
9:18 Ryan hits another three
9:45 Moore answers with a nice post hook
10:07 Ryan gets a 3 for ND
10:41 Watson fouled on the drive. Misses both
11:22 Official Timeout ND 10 WF 8
11:46 Moore puts it back with a slam dunk! WF down just 2 now
12:17 Auguste scores on the lay-up
12:51 Beachem with the floater, gives ND the lead
13:42 Beachem scores off a short jumper
14:05 Official Timeout Wake has used offensive rebounds and good defense to take an early 6-4 lead
14:29 Collins misses but gets his own rebound and scores
16:00 Crawford with the steal and the made jumper to tie the game back up
16:13 Vasturia with the great drive
19:11 Collins scores on the alley-oop pass
19:50 Colson scores off a quick dunk
1st Half 20:00 ND wins the tip and we are underway in Winston-Salem
9:02 Collins, Crawford, Wilbekin, Mitoglou, Miller-McIntyre for Wake
9:01 Beachem, Jackson, Vasturia, Auguste and Colson starting for Notre Dame
8:50 PM John Collins will get the start at forward for Wake Forest
8:30 PM Wake Forest leads the all-time series 3-2 against Notre Dame
Konstantinos Mitoglou has the ability to stretch the floor from the forward position for Wake Forest. He has a great three point shot, especially from the corners. Notre Dame will need to be focused at all times to prevent Mitoglou from finding his shot early. If he gets hot, Wake can use the three point shot to keep pace with Notre Dame and get an unlikely upset.
Moore will most likely get the start again for the Deacons and the 7'1" freshman will look to build upon his great game against Boston College. He may still have limited minutes, but can make the most of his time on the court. He could be a good match-up for Zach Auguste. If he can make some electrifying dunks early on in the game, the crowd will get more involved and the Deacons can use that energy to their advantage.
Demetrius Jackson is the Irish's leading scorer and their assists leader. He will most likely account for the most points for the team. The Deacons will need to put a lot of pressure on him. They also need to play close to him off the ball so they can try to limit him being open for passes.
The Deacons are rated the worst in the ACC in turnovers per game. They average over 14 turnovers every given night. This gives themselves less opportunities to score while often giving their opponent free baskets on the fast break. Wake needs to make sure they make the most of all of their opportunities against a high scoring Notre Dame team.
The Irish will look to control the rebounding game in the absence of Devin Thomas. Doral Moore is a great freshman talent, but he has not started against a player like Zach Auguste. If Auguste and the rest of the Irish can be aggressive on the boards and cause trouble for Moore and John Collins, Wake will have a very tough time.
In the absence of Devin Thomas, Doral Moore was stellar in 20 minutes played. He had 19 points, 7 rebounds and 3 blocks. Moore proved that he can easily fit in the Wake starting lineup and has certainly earned more playing time for the rest of the year. The future looks very bright for the Demon Deacons as they got a look of what their team would be like without senior Devin Thomas and the team didn't skip a beat.
The Irish lost their last game in a tough way. Georgia Tech G Marcus Georges-Hunt scored in traffic with just 2 seconds left to give Georgia Tech a one point lead over the Irish. Notre Dame's last buzzer beater attempt failed and the upset stood, Georgia Tech won 63-62. As a result of this surprising loss, Notre Dame dropped in the national rankings from 19 to 23.
Wake Forest F Devin Thomas will be serving the second and final game of his suspension. G Cornelius Hudson was also dismissed from the team for violations of athletic department policy. Thomas currently is the team leader in points per game, rebounds per game and blocks per game. Although Boston College could not break through and play well in Thomas' absence, Notre Dame is a tournament team and will be far more difficult to play against than the Eagles.
Wake Forest and Notre Dame have already played this year, and it was a much happier day for Notre Dame than it was for the Demon Deacons. Zach Auguste led the Irish with a double-double; he had 21 points and 12 rebounds. Auguste was also 70% from the field in that game. Freshman Bryant Crawford scored 20 points in the game to lead the Deacons in their losing effort.
Wake Forest is finally out of their long eleven-game losing streak after a great performance against a struggling Boston College team on Sunday. Starting with a 37-4 lead in the first half, Wake Forest cruised to a 74-48 win to get their second ACC victory of the year. Boston College, however, still has yet to win in conference play this season.
Welcome to VAVEL USA's LIVE Coverage of the Notre Dame Fighting Irish vs Wake Forest Demon Deacons in College Basketball in the ACC. I am Jordan Hansgen and I will be providing minute to minute updates, commentary and results of the game LIVE from the LJVM Coliseum in Winston-Salem, North Carolina. The contest starts at 9:00 PM EST and there will be coverage pregame, mid-game and postgame.