The Kentucky Wildcats used their streak of hot shooting to blow out the Commodores in late January at Rupp Arena, but now the Wildcats have to travel to Memorial Gymnasium; a place Kentucky hasn't lost in since 2011.
Memorial Magic
This was the year all that rebuilding lead up to for Vanderbilt, and it hasn't quite lived up to the hype. The Commodores are 3-8 on the road and only 9-6 in conference play, the only silver lining is that they are a solid 12-2 at home. They take pride in having one of the most unique gyms in basketball. If the fact that their cheerleaders sit sideline and the benches are on the baseline doesn't throw a player off, the fans at eye level of the court will.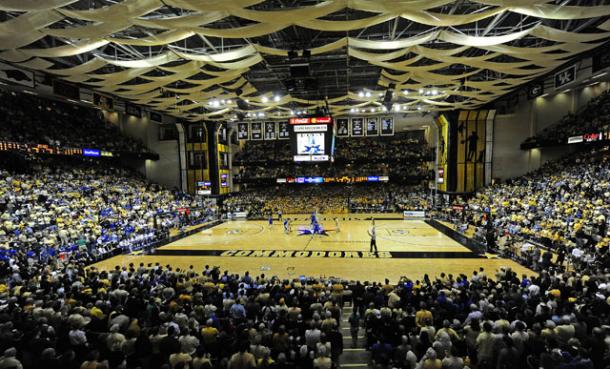 Vanderbilt has built quite a reputation at home due to their odd techniques and styles, but it is called "home-court advantage" for a reason.
Clutch Cats In Nashville
Kentucky has found themselves making Nashville their second home, mostly due to the SEC Tournament taking place there so often. Or, it could be because of the late-game situations the Wildcats have found themselves in while facing the Commodores. Kentucky and Vanderbilt have decided their games by nine points or less in every game played in Memorial Gymnasium since 2009, Kentucky holds a 4-2 record in that span. If the Wildcats find themselves in another game-clinching situation in Nashville, they will need to find that ability to finish a close game they have yet to find all season.
Shooting VS The Paint
Kentucky has been on a hot streak from deep lately, but their 3-point shooting may have declined after an unfortunate injury. Derek Willis is expected to be sidelined for some time with his foot in a boot after rolling it in the loss to Texas A&M. Without Willis, Kentucky will need to change their offense once again. In their one game since Willis' absence, the Wildcats have already shown their weakness from deep. Jamal Murray was the only player to hit a three in the game against Alabama. The difference in that Alabama game is the Wildcats showed up in the paint. Kentucky's Alex Poythress made his return and put up 14 points in just 17 minutes of action.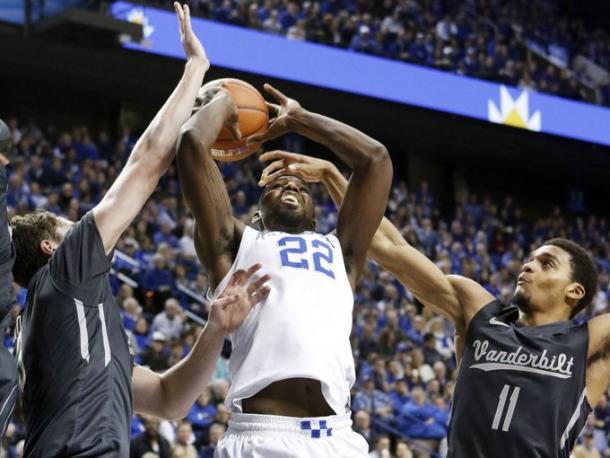 With the size and athleticism Vanderbilt has down low, expect Poythress to play some more minutes and get points in the paint for Kentucky.
Road Leadership
Kentucky has had problems winning on the road with just a 3-6 record on the season. Their biggest issue while away from Lexington; leadership. In their road wins, Kentucky's older players have shown great leadership. Their point guard Tyler Ulis can be given the a lot credit in that department. Ulis has been the heart of this Kentucky team, he's seen running the entire offense at times. A 5'9 sophomore made leaps from a back up to Kentucky's most important player. Poythress has either dominated or disappeared in road games and the outcome of the game usually depends on which one he does. If Poythress gets into foul trouble early against the Commodores, it could mean trouble for the Wildcats without a full rotation on hand.
Players to Watch
Damian Jones- Jones was the top scorer for the Commodores in their last meeting with the Wildcats with 13 points to go with nine boards and two blocks. Jones will step it up even more at home to try to give his team a resume building win.
Tyler Ulis- Ulis always finds a way to kick his game into a different gear while playing in an away game. The sophomore had 21 points with five assists against Vanderbilt in January and will have no trouble putting up those numbers again.