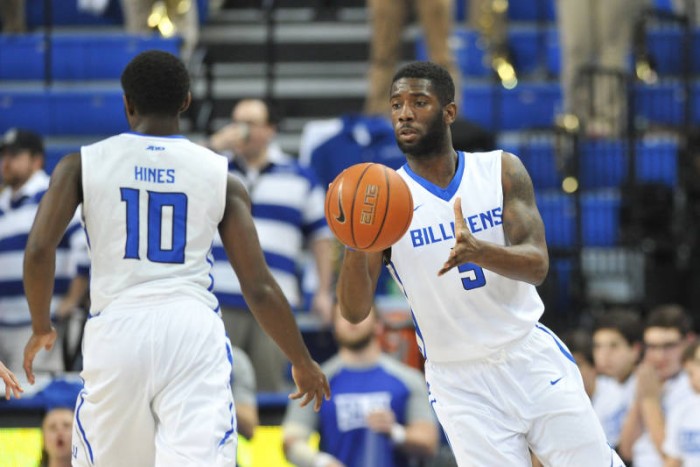 PHILADELPHIA, Pa. — On senior night at Tom Gola Arena, the struggling La Salle University Explorers were able to grab a satisfying conference victory over the Saint Louis Billikens. Behind Cleon Roberts' big 23-point night, coach Tom Giannini's squad came out with a 76-68 win to improve to 8-20 overall and 4-13 in the A-10.
"We beat a really good team," said Giannini after the game. "Our turnovers would have been low [if not for 'a couple turnovers where La Salle forced some sets after timeouts'], our defense was good, and that's a formula to win."
Roberts shot 6-9 from beyond the arc and 8-12 overall, and added five rebounds to cap off his stellar performance. The Explorers have now won seven out of their last eight senior night games.
"I didn't really notice I hit that many [threes]," Roberts noted at his press conference. "Coach said to shoot the ball, and I just shot with confidence."
La Salle Finishes Tough First Half With The Slight Edge
It was a slow start on both sides of the floor, but Saint Louis was able to get points on the board first, jumping out to a 5-0 lead after two minutes of play. La Salle seniors O.J. Lewis and Rohan Brown scored the first points for the Explorers, helping cut the lead to 7-5 two minutes later.
After a silent three or so minutes scoring-wise, Cleon Roberts knocked down a shot from long range to take La Salle's first lead of the game. The two sides then traded baskets up to a 20-18 scoreline in the Billikens' favor with just under seven minutes to go in the first.
Johnnie Shuler's three pointer sparked a bit of an Explorers spurt, as the home side scored eight unanswered and closed the half on a 13-5 run overall to finish the first period with a 31-25 lead over their A-10 Conference foes. Roberts led all scorers at halftime, tallying nine points on a trio of field goals from beyond the arc for La Salle.
While Saint Louis held the clear edge physically in the first half, the Explorers were able to force nine turnovers and score 12 resulting points, giving them the edge to reward the high tempo they employed after the dry spell they saw the first five-to-ten minutes.
Explorers Build Commanding-Enough Lead To Seal The Win
La Salle took the game's first double-digit lead three minutes into the second half. Mike Crawford took the control for the Billikens, scoring Saint Louis' first 11 second-half points and helping cut the deficit to three at the 14-minute mark.
The Explorers pushed the lead back out and grabbed a 12-point advantage only a minute later, with back-to-back-to-back threes, two from Roberts and one from Shuler, to put the score at 51-39. It was later extended further to 58-41 as Roberts kept in his rhythm and La Salle controlled play.
Saint Louis began to close the gap quickly and efficiently, cutting the lead to 60-51 on an and-one by Davell Roby to finish off a fastbreak. The margin hovered around the ten-point mark as the clock slowly wound down, and for each key shot that dropped in for Saint Louis, it seemed as if La Salle answered right away each time with just as big a basket on their offensive end.
An awkward three-pointer zoomed in for Roby at the 1:50 mark to cut the lead to six, the scoreboard reading 69-63. The Billikens applied full-court pressure following the subsequent break in action, and it didn't immediately bode well, with Tony Washington recording one of his numerous and-ones of the night on a ferocious dunk inside.
But the Billikens didn't give in, cutting the lead to just five with 50 seconds to go following another Roby three. La Salle held up against the press, making it to the line to maintain its slim lead. It seemed like Saint Louis was missing everything in the final minute, as the luck didn't fall the Billikens' way and the result ended in the Explorers' favor, 76-68.
Final Stats
To go along with the big contributions from Roberts, La Salle saw three other players finish in double figures. Shuler had 15, Jordan Price scored 14, and Washington added an electrifying 11 points and six boards. Amar Stukes played an all-around solid game, scoring six points to go along with a career-high nine assists and seven rebounds.
Leading the way for Saint Louis in the losing effort was Roby, who finished with 16. Jermaine Bishop dropped 15 on 5-16 shooting and Crawford shot his way to 14 points as well. Reggie Agbeko had a solid game in the point, finishing with eight points and 13 rebounds.
La Salle looks good heading into A-10 tournament play, at least coach Giannini believes so.
"We just beat a couple good teams and we've won three of our last four," he said. "I think the facts speak for themselves."