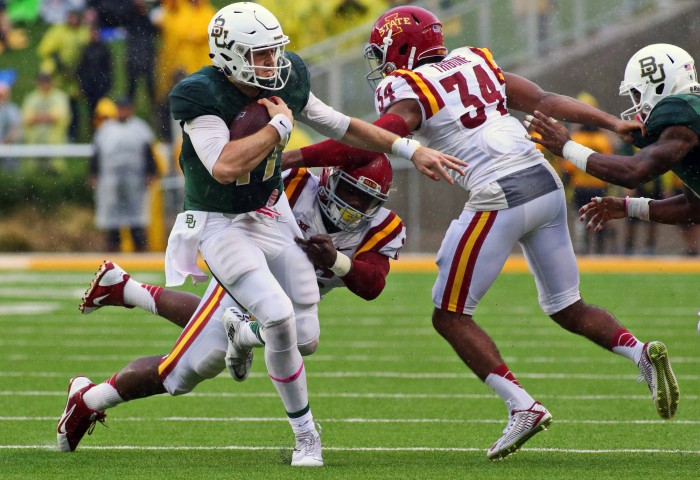 1. Baker Mayfield Oklahoma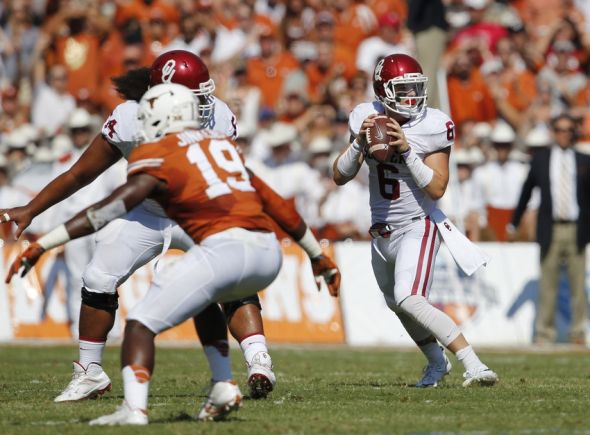 Heisman Trophy finalist, Baker Mayfield, is head and shoulders above the rest of the Big 12 competition. Mayfield left Texas Tech with a chip on his shoulder and it showed in his first year at Oklahoma.
The underrated and under recruited quarterback threw for 3,700 yards, 36 touchdowns and seven interceptions while adding 405 yards and seven touchdowns on the ground. The Sooners went 8-5 in 2014 and put up poor team passing numbers throwing the same amount of interceptions (17) as touchdowns (17).
It took just one season and a quarterback change to make the Sooners contenders. Oklahoma won the Big 12 Championship, went 11-2 and earned a College Football Playoff bid under Mayfield in 2015. His leadership, production and play making ability are rivaled by one other quarterback in college football, DeShaun Watson. Unfortunately for Oklahoma, he will be back as well. Regardless, the Sooners should be in contention once again for the national title in 2016. The roster returns too many pieces to not contend. And Mayfield has been the most reliable Sooner quarterback since Sam Bradford.
2. Patrick Mahomes Texas Tech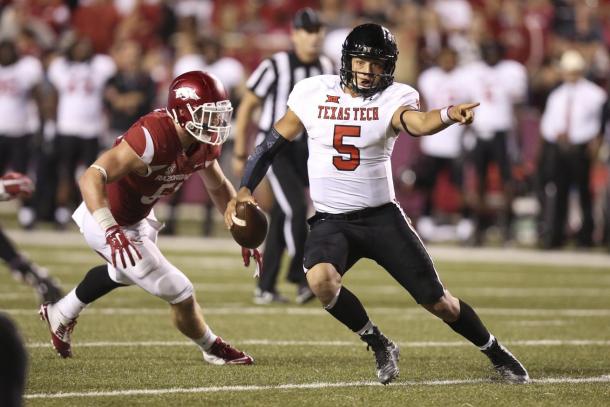 Texas Tech signal caller, Patrick Mahomes, isn't the winningest quarterback in the Big 12, but he is the most productive. Mahomes torched defenses through the air and on the ground. The west Texas gun slinger threw for 4,653 yards, 36 touchdowns and 15 interceptions.
His dual threat ability separated him from the rest of the pack rushing for 456 yards and 10 scores. His highlight reel ability put the Red Raiders on the right track in 2015. Texas Tech went 4-8 in 2014, the school's worst record since 1991. Mahomes changed that quick getting the Red Raiders back into a bowl game in his first full year under center.
The junior quarterback should be a player to watch for next season. If he can cut back on the turnovers and keep Tech in games the Red Raiders could be the surprise in the conference. However he is losing sawed-off wide out, Jakeem Grant. Grant was responsible for 15 touchdowns last season including a team-leading 90 catches for 1,268 yards and 10 receiving touchdowns. The flashy sophomore needs to mature into a efficient veteran to keep Tech relevant in the Big 12.
3. Seth Russell / Jarrett Stidham Baylor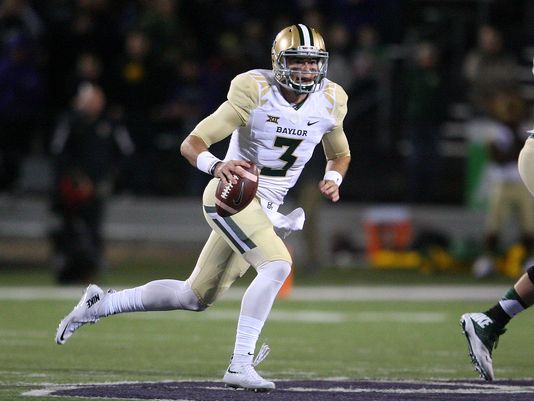 The Baylor Bears have a great problem to solve this offseason. Should the Bears stick with senior experienced starter Seth Russell or move on to the future in true sophomore Jarrett Stidham?
Both ended the season injured but showed the Bears could be successful regardless of who's under center. Russell has won every single start in his career. However, he played just two bowl eligible teams in his seven starts last season. He piled on huge numbers against poor to mediocre teams. But it is tough to ignore his production. He threw 29 touchdowns and rushed for six touchdowns in just seven games. Russell's resume backs him up well.
But, Jarrett Stidham is not a backup caliber quarterback especially after his solid freshman campaign. Stidham played like a savvy veteran throwing for 1,265 yards, 12 touchdowns and just two interceptions at a 68.8 completion percentage. He also added two more scores on the ground.
The major hole in Stidham's resume is experience. He only started three games and has less years under Baylor's offense than Russell. On the other hand, his three starts came against three bowl eligible teams including Oklahoma and Oklahoma State. He played brilliantly and his lone loss came to a stacked Sooners squad. He has the all the tools to succeed. The best part for Baylor is that there is no wrong decision.
The only reason these two weren't ranked higher is their value to the team. Mahomes and Mayfield mean more to their squads, while the system and play makers are what make the Bears go. This isn't a knock on either quarterback its more praise to numbers one and two.