 While playing like this, it'll be difficult for anyone to slow down the Xavier Musketeers. They didn't just defeat the Marquette Golden Eagles on Thursday in the Big East Tournament Quarterfinals. They didn't just dominate Marquette. They eviscerated the number seven seed, winning 90-72.
Xavier Starts Hot
The Musketeers raced out to an 11-2 lead, and quickly got sophomore guard Trevon Bluiett going. He didn't stop all game long, and went on to lead all scorers with 24 points. Meanwhile, Marquette's star freshman Henry Ellenson quickly picked up two fouls, and saw his minutes significantly limited. The Big East Freshman of the Year did nothing to help himself, picking up a third foul before the end of the period for an intentional trip on Bluiett.
In spite of that, the Golden Eagles clawed their way back into the game. They stayed within touching distance over the next several minutes, and twice cut the deficit to five points at 26-21 and 30-25. However, the Musketeers' class soon shone through.
Xavier Pulls Away
From that point on, the number-five team in the country showed exactly why they're in the conversation for a number one seed. They rattled off a 16-5 run, which included the intentional foul from Ellenson, to close out the first period, and opened the second on a 10-3 spurt to extend their lead to 56-33. The lead eventually got as large as 28 points.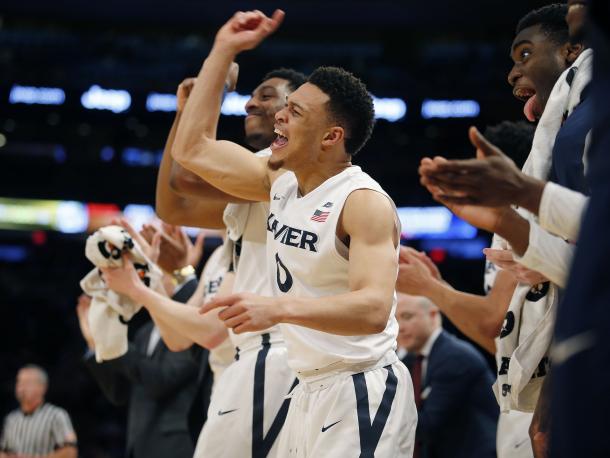 Although Bluiett led the way for the Musketeers, he was far from the only player clad in white who was terrific. J.P. Macura, James Farr, Jalen Reynolds and Edmond Sumner all scored in double figures, illustrating the depth of this National Championship contender.
The Golden Eagles were unable to put together a coherent fight back, and never got within 17 points again.
Marquette Not Without Strong Performances
Although the Golden Eagles were thoroughly outplayed, they were led by a terrific performance from Jajuan Johnson, who has showed impressive growth over the last several weeks. He led Marquette with 19 points while Haanif Cheatham, Ellenson and Luke Fischer all scored in double figures, although Ellenson and Fischer didn't have their typical impact.
What Comes Next?
With the victory, Xavier advances to the Big East Tournament Semifinals, where they will take on the Creighton Bluejays. The Musketeers will fancy themselves as potential winners of the Big East Tournament at this point. Should they manage to win, especially if they manage to defeat Villanova, they'd hope for a number one overall seed. Should those two teams meet in the Tournament Final, the game would become a referendum to determine which Big East side will be a number one seed. Conversely, Marquette has undoubtedly said goodbye to any remaining hopes of an NCAA Tournament bid, and will now hope for a lifeline from the NIT.