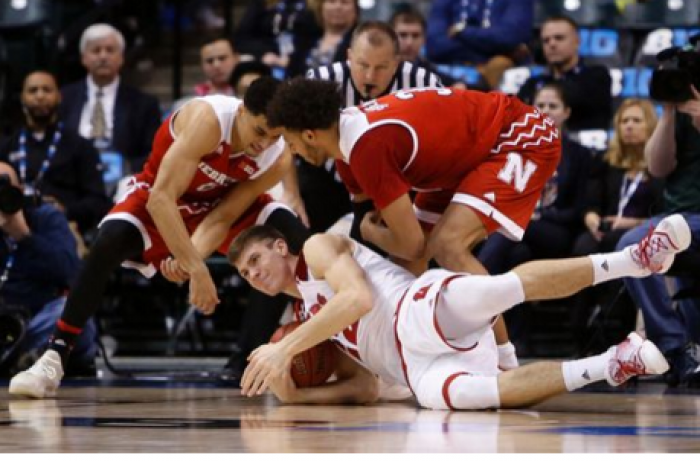 The Wisconsin Badgers came into the game against the Nebraska Cornhuskers looking to defend their 2015 Big Ten Championship, but they were upended in an improbable upset, 70-58.
The last time these two teams faced each other on February 10, the Badgers had their best three-point shooting effort of the season, converting on 11-of-18 shots from beyond the arc in a 72-61 victory. This time poor shooting from the Badgers (16-of-53, 30 percent) doomed them from the start while Nebraska shot 23-of-49 (47 percent), making just enough baskets to knock off a dangerous Wisconsin team.
Shavon Shields led Nebraska in scoring with 20 points and nine rebounds while Benny Parker chipped in with 12 points and Andrew White accounted for 10. As for Wisconsin, Ethan Happ led the team with points and seven rebounds while Vitto Brown had 16 points and eight boards. Bronson Koenig shot 3-of-12 for 11 points, but Nigel Hayes had the worst night going 2-of-15 (0-of-6 from downtown) for just 10 points.
Poor Shooting First Half
To start off the first half, Nebraska briefly held a 5-3 lead, but a Happ basket and a Brown three vaulted the Badgers ahead 8-5. Later, with the scored tied at nine at 12:50, Wisconsin was shooting 3-of-8 (2-of-7 from downtown) and Nebraska was 4-of-9 but soon retook the lead 13-9 following a Shields jumper. Up until this point in the game, Wisconsin was doing a good job of getting to the charity stripe, but was just 2-of-6. Each team was also rebounding well with nine apiece after 12 minutes.
The Badgers then went on a 7-0 run before the Cornhuskers responded with a 6-0 run to hold a 21-16 advantage and force a timeout. Out of the break, Brown made his third three to remain a perfect 5-of-5 from the field for 13 points but Nebraska held a 26-21 lead heading into halftime. If it wasn't for Brown, Wisconsin would've been in trouble as they shot 7-of-24 including 4 for 9 on free throws, though Nebraska wasn't shooting much better at 10-of-25. Both squads were rebounding exceptionally well with 17 each but Nebraska already had four blocks.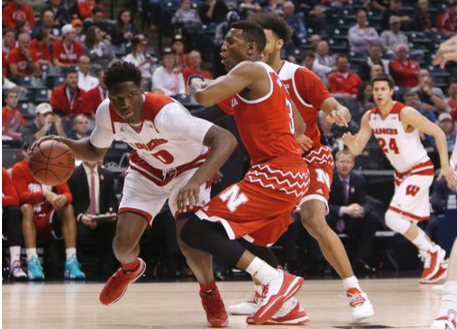 Second Half Comeback
In the second stanza, Nebraska tried to maintain its momentum from the initial period, but the Badgers opened on an 8-3 run to tie the game at 29. Yet, Wisconsin was struggling to find the basket, starting 4-of-11 from the field while Nebraska was 4-of-8, nursing a slim 38-33 lead at 11:34 of play. Hayes was struggling tremendously for the Badgers as he was 1-of-10.
Then, White nailed a three-pointer and Shields converted an old-fashioned three-point play to open up a 46-39 advantage for NEB, equaling their largest lead of the contest. The Cornhuskers continued to hold a 51-44 lead, but Wisconsin kept digging in and clawed its way back within three points, 55-52. At this point, Wisconsin was 0-of-7 on three pointers and 8-of-22 in the second half. However, that was the closest the Badgers would get as Nebraska started pulling away with a 61-52 lead with 2:18 remaining. The Badgers finally got a three from Koenig just under two minutes left to make it 63- 57, but it proved to be too little, too late as the Cornhuskers held on for the shocking upset.
Up
Next
The Wisconsin Badgers were looking to use the Big Ten tournament to possibly improve their NCAA tournament seeding. They are essentially locked into the tournament, but it will be interesting to see where they land on Selection Sunday. As for Nebraska, they need to win the Big Ten title to go dancing, and it doesn't get any easier as they face the Maryland Terrapins in the next round.