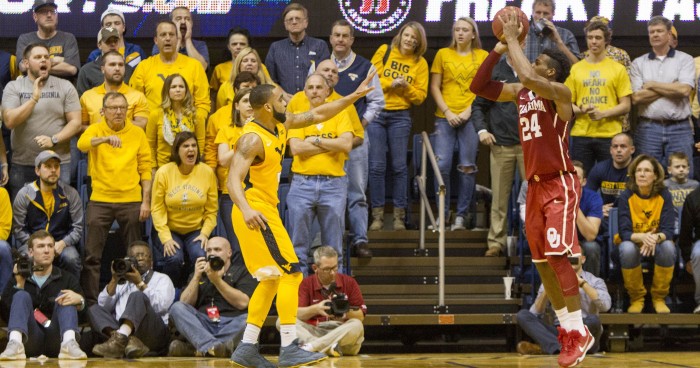 Thank you all for joining us this evening. An unreal win for WVU. The recap will be done shortly here on VAVEL USA!
​FINAL: WEST VIRGINIA 69, OKLAHOMA 67
​2nd Half Ends: Buddy Hield made the half court heave, but it was a nanosecond late. Incredible.
​2nd Half Ends: OFFICIAL: WEST VIRGINIA WINS!!!!!!!!!!!!!!!!!!!
​2nd Half Ends: NOOOOO! THE BALL WAS STILL IN BUDDY HIELD'S HANDS! OR WAS IT??? Was there a split second between his shot and the buzzer?
​2nd Half Ends: BUDDDDDDDYYYYY HIELD MAKES IT FROM HALFCOURT!!!!!!!! OKLAHOMA HAS WON THE GAME
​2nd Half, 1 Sec: Holton at the line, misses the first.
​2nd Half, 1 Sec: CHRISTIAN JAMES CAN'T CONVERT IN THE PAINT! WEST VIRGINIA IS FOULED!
​2nd Half, 11 Secs: Paige with ice water in his veins! He's had a rough game, but he comes through in the clutch! Can WVU close?
​2nd Half, 11 Secs: WVU ball after an Oklahoma miss, and PAIGE MAKES A LONG JUMPER TO TAKE THE LEAD FOR WEST VIRGINIA. WVU LEADS 68-67.
​2nd Half, 54 Secs: Jaysean Paige cuts the Oklahoma lead to 1 after making both FTs.
​2nd Half, 54 Secs: Paige is slammed in the lane, and he's going to the charity stripe for the Mountaineers, down 3.
​2nd Half, 1:05: Holton too aggressive, fouls Spangler. Spangler misses both, so the Mountaineers are still in this.
​2nd Half, 1:05: Offensive foul on Devin Williams!!!
​2nd Half, 1:17: Timeout Mountaineers. This is a stunning collapse. They do not need to get a three on this possession, but as hot as Carter has been, it wouldn't hurt to give him the chance to tie this baby up.
​2nd Half, 1:26: James converts both! 67-64. WVU can't get anything on the other end! But OU then travels. West Virginia will set up down 3.
​2nd Half, 1:47: Over the back foul on WVU, and Oklahoma will shoot some free throws to extend the lead! James will shoot.
​2nd Half, 2:00: COUSINS for THREEEEEEE! 65-64 Oklahoma.
​2nd Half, 2:14: Carter deflects ball out of bounds, 4 secs on shot clock for Oklahoma, down two. West Virginia is thankful for the quick bucket by Philip to stop the bleeding.
​2nd Half, 2:41: Tarik Philip gets the ball and BOLTS to the lane, gets the layup and is fouled. He makes the foul shot, and it's a 64-62 WVU lead.
​2nd Half, 2:50: KABOOM! Christian James is on fire, drains it from three in the corner! Oklahoma takes the lead, 62-61!
​2nd Half, 3:10: Spangler BLOCKS Williams! Oklahoma sets up.
​2nd Half, 3:34: Christian James, misses lay-in, but he's fouled. At the line he cuts the lead to 2.
​2nd Half, 3:49: West Virginia is out of sorts on offense, shot clock violation. Timeout on the floor, 61-57 WVU. The game is getting very close in the waning minutes.
​2nd Half, 4:20: Foul stands, but Lattin misses on the 1-1.
​2nd Half, 4:20: The foul is now under review.
​2nd Half, 4:20: Foul on West Virginia, the Mountaineers are melting. Oklahoma now going to the line.
​2nd Half, 4:44: James with a putback layup, and OU has some pep! 7-0 Oklahoma run, and it's 61-57.
​2nd Half, 5:17: Jaysean Paige travels, he's still not in a rhythm tonight. OU with some momentum, down 6.
​2nd Half, 5:41: West Virginia turns it over, Isaiah Cousins then fouled. He converts both. 61-55 WVU.
​2nd Half, 6:05: Isaiah Cousins gets some daylight, drains the three. He's been strong in this game. 61-53 West Virginia.
​2nd Half, 6:40: Timeout on the court. Getting to the nitty gritty. Oklahoma came back from a large deficit earlier this year against LSU, so they are perfectly capable. But they'll have to do a complete 180'.
​2nd Half, 7:00: Tarik Philip, the youngster from Brooklyn, drills the trey for WVU. But James does the same on the other end, and it's 59-50 WVU. OU still in this.
​2nd Half, 7:30: Hield was open, missed the long trey. He's 1-8 in this game.
​2nd Half, 8:50: Hield is 1/2. On the other end, Paige gets a rattling layup to go. 56-45 WVU. But Dante Buford gets a tap-in for the Sooners. 56-47 WVU.
​2nd Half, 9:12: Buddy Hield steps out of bounds. His head just really isn't in it right now. But Paige is blocked, and Hield is fouled on the other end.
​2nd Half, 9:18: Foul on James, Paige to the line. Makes both. 54-44 WVU.
​2nd Half, 10:00: Devin Williams cleans it up, now an 11 point WVU lead. But Buddy Hield goes down and FINALLY drills his first field goal of the game, a three. 52-44 WVU.
2nd Half, 10:29: OU makes a free throw, it's 50-41 WVU.
​2nd Half, 10:52: Paige commits offensive foul. He hasn't been able to get it going at all tonight. However, West Virginia gets ANOTHER steal, and they convert a layup. It's WVU's biggest lead of the game, 50-40.
​2nd Half, 11:06: Offensive foul on Oklahoma! The team is imploding in this Big 12 Semifinal.
​2nd Half, 11:21: Wild sequence as West Virginia is flying around like demons. Hounding the Sooners on offense. Hield misses a three, but it eventually goes out off WVU after a volleyball sequence. Timeout on the court, 48-40 WVU.
​2nd Half, 12:10: Christian James out of control, offensive foul on OU. OU's 17th turnover.
​2nd Half, 12:19: Carter makes both at the line. West Virginia is tiring the Sooners. 48-40 'Eers.
​2nd Half, 12:54: WVU SCRAPPIN! They get the turnover in the backcourt, Williams gets the offensive rebound after a missed shot, and he converts on the tap in. Then ANOTHER OU turnover, and Carter is fouled. 46-40 Mountaineers.
​2nd Half, 13:25: Ryan Spangler misses a layup, but he is fouled. Spangler now has 12 points after making both. 44-40 WVU.
​2nd Half, 13:36: WVU had been playing great D on OU, but Miles Jr. commits a foul. New shot clock for OU, down 6.
​2nd Half, 14:04: Another three-point shot from WVU, a miss. 44-38 WVU.
​2nd Half, 14:24: Apologies for the technical difficulties. As you can see, the score above this LIVE is currently not updating. We are working to solve the issue. In the meantime, we will include the score in every comment going forward. 44-38 WVU.
​2nd Half, 14:24: WVU maybe getting a little complacent with the three-ball. They must push their way into the paint with some more force if they want to put Oklahoma away.
​2nd Half, 14:49: Hield with the assist to Lattin, 44-38 WVU.
​2nd Half, 15:32: Jevon Carter is fouled. No shots, WVU ball. Missed layup for WVU, OU ball.
2nd Half, 15:40: Isaiah Cousins mouths off, called for a technical coming out of a timeout. Jevon Carter extends the WVU lead, 44-36.
​2nd Half, 15:40: Buddy Hield has no field goals still, and it's starting to really affect the Oklahoma mindset. They're looking ragged right now, letting Jevon Carter take this game over. He has 20 points now.
​2nd Half, 16:10: ZZZZZZZZZOING!! Jevon Carter is ELECTRIC! His 6th three of the game!!! 42-36 WVU.
​2nd Half, 16:40: Carter goes BOOM! Trey for Mr. Carter, that's his fifth. A battle so far this half!
​2nd Half, 17:00: Alley-OOP! Cousins with the slam, 36 all.
​2nd Half, 17:21: Lattin is playing magnificently on defense, just created a turnover.
​2nd Half, 17:55: While falling away, Daxter Miles Jr. DRAINS another three-pointer! But SPANGLER responds on the other end for OU with a trey. 36-34 WVU.
​2nd Half, 18:29: Spangler BLOCKS Holton, but Cousins can't make trey on the other end.
​2nd Half, 18:54: Woodard called for the foul away from the ball, OU racking up a few early fouls in this half.
2nd Half, 19:09: Lattin with an offensive rebound and hook shot to cut the WVU lead back to 2.
​2nd Half, 19:44: We are back! Lattin can't convert on opening OU possession. Esa Ahmad converts and makes it at the FT line on the other side, WVU has 33-29 lead.
​Halftime Analysis: Grab your Act II Popcorn, folks. We're in for a wild ride when we return!
​Halftime Analysis: A key for Oklahoma going forward is cutting down on the turnovers. West Virginia gave Lon Kruger's team fits with their pressure defense, and the Sooners must adjust. West Virginia's key going forward is taking advantage of those turnovers. WVU was consistently getting the ball and getting out in transition, but they rarely converted those turnovers into points.
​Halftime Analysis: Oklahoma can't be happy with the way Buddy Hield performed on offense, but you have to give WVU credit for great defense. They swarmed the best player in the conference. However, Hield did help with some facilitating that got the team back in the game.
​Halftime Analysis: WVU's Jevon Carter has been electric this half. He's had an up-and-down year, but he's swinging for the fences in this game. Carter has 4 three-pointers, and his production catapulted the Mountaineers to an 8 point lead at one point. However, WVU is missing some golden opportunities in the paint, botching easy layups. Also, Big 12 Sixth Man of the Year Jaysean Paige had a bad first half, going 0-3 for a big goose after 20 minutes. Bob Huggins has a lot to chat with his team about.
​Halftime Analysis: This was an odd first half. Buddy Hield was held to 2 points, and Oklahoma committed a whopping 11 turnovers. Yet, somehow, the Sooners are only down 1 point at the break. The Sooners went on a key 9-2 run near the end of the half.
​1st Half Ends: Holton was right under the basket for WVU in transition, got the ball and missed the lay-in. WVU ball, they hold for last shot. Paige misses at the buzzer.
​1st Half, 39 Secs: Williams bats it around, stops the bleeding by putting it in for WVU.
​1st Half, 1:02: OU's now on a 9-0 run, and they have taken the lead!
​1st Half, 1:12: Hield misses again, but he is fouled. He'll finally have a shot to score, and give the Sooners the lead in the process.
​1st Half, 1:42: Pass to Spangler down low, easy layup. Oklahoma has cut it to one! Buddy Hield is still scoreless, but he's set up some pretty plays as a facilitator.
​1st Half, 2:14: Cousins to the wide open in the wing Woodard for THREE. WVU turns it over on the other end. West Virginia getting sloppy.
​1st Half, 2:40: Nothing going on that WVU possession, OU ball.
​1st Half, 3:05: WVU is getting a little too far down in the shot clock before getting things going. Missed shot for Carter, goes on the other end, and it's an OU turnover again.
​1st Half, 3:39: Dante Buford drains two free throws for OU to make it a 6 point OU deficit.
​1st Half, 4:12: Big men are trading threes now. Are we in the Twilight Zone? Spangler hits for OU. But guard Miles Jr. drains a trey for WVU on the other end. Wild sequence. Timeout after WVU foul. 28-20 Mountaineers.
​1st Half, 5:23: Ninth turnover for Oklahoma, and OU is gearing up to send Hield back out. Holton, the big man, drills the three for West Virginia. On the other end, 10th turnover for OU. Philip misses though for WVU. 25-17 WVU.
​1st Half, 5:33: Pace is sloppy right now, just the way WVU wants it. Miles Jr. goes 1/2, 22-17 WVU.
​1st Half, 5:33: Pressure is getting to the Sooners. In transition, Lattin fouls Daxter Miles Jr. and he'll go to the line.
​1st Half, 6:17: Williams makes 1 out of 2. 21-17 Mountaineers. OU is pressured on inbounds, Lon Kruger calls timeout.
​1st Half, 6:17: Williams is patient in the paint, then gets fouled. He'll go to the charity stripe while the struggling Buddy Hield sits on the bench.
​1st Half, 6:41: Spangler makes both, 20-17 WVU.
​1st Half, 6:49: Barrage of fouls going against the Mountaineers now, two against Nathan Adrian. He's heading to the bench. Now a foul against Holton. Spangler to the line.
​1st Half, 7:02: Both teams are struggling scoring in the paint.
​1st Half, 7:31: Miles commits a foul, OU ball, trying to get some momentum.
​1st Half, 7:31: Timeout on the floor, 5 point WVU lead. Mountaineers have only committed one foul the entire game. They are playing incredible defense against the usually high-flying Sooners.
​1st Half, 8:00: Oklahoma stops the bleeding, Woodard drives and gets the layup AND the foul. He misses the free throw.
1st Half, 8:40: Buddy Hield with another miss. He is getting stymied tonight, they are swarming around the Wooden Award favorite. WVU ball again.
​1st Half, 9:00: Carter MANIA!!! Jevon Carter for TREY! 20-13 West Virginia!
​1st Half, 10:10: Jevon Carter AGAIN! His third three of the night. McNeace scores in the paint on the other end, 17-13 WVU.
​1st Half, 10:51: No dice for OU on their possession. WVU pushes the pace, Jonathan Holton gets rebound after Philip miss, makes it on the 2nd chance. 14-11 WVU. OU 8 second violation, WVU ball again.
​1st Half, 11:10: WVU three-second violation.
​1st Half, 11:30: Lattin has a hurt eye and is on the bench.
​1st Half, 11:48: Timeout on the court. Oklahoma has hit some nice shots early, but they're lacking WVU's energy right now. West Virginia starting to slice into the paint, but they're kicking it out for open jump shots.
​1st Half, 12:20: WVU forcing OU into some deep shots. On the other end, Jevon Carter gets a long two right at the shot clock buzzer. WVU takes the lead again. On the other end, the slow-starting Buddy Hield turns it over!
​1st Half, 13:20: Miles Jr. drives down the lane in transition, gets a pretty layup. 11-10 OU.
​1st Half, 15:10: Miles Jr. misses a shot, but the ball bounces out of bounds off OU. WVU misses a few shots down low with Lattin defending, and it's Oklahoma ball. On the other end, Isaiah Cousins goes BANG for another three. 11-8 OU.
1st Half, 15:41: WVU is not a proficient three-point shooting team, but they're off to a hot start with great play from Jevon Carter. They'll need to start divvying it up by punching OU down low with Williams.
​1st Half, 15:41: Jevon Carter drains another three! The WVU floor general is off on a great start, and we're heading toward our first timeout.
​1st Half, 16:15: Isaiah Cousins with a pretty shot, OU now up 3.
​1st Half, 17:05: Jordan Woodard for three, GOOD again. He's hot early for Oklahoma.
​1st Half, 17:50: OU sloppy with the ball, Sooners turn it over. Devin Williams right inside the arc, long two is GOOD. 5-3 'Eers.
​1st Half, 19:00: Long three by Daxter Miles Jr. is no good, OU for the rebound. Cousins misses a floater on the other end. Back to WVU, Jevon Carter DRILLS a trey to tie it up 3-3.
​1st Half, 19:35: Jordan Woodard in the corner for THREE, and it's good. Auspicious start for Oklahoma.
​1st Half, 19:40: OU wins the tip!
We are at tip-off! WVU is in White with Blue and Gold accents, while the Sooners sport the classic Crimson and Cream.
West Virginia is a trendy upset pick. The team looks to go on a run comparable to their 2010 Big East Tournament victory that gave them momentum to propel the team to the Final Four. However, Oklahoma is hungry for their first tournament title since 2003. That OU team featured Hollis Price and Ebi Ere.
Getting closer to tip-off, heavy Oklahoma crowd filing in. West Virginia does have a following as well, though, as their fans are known for traveling well.
We are about 45 minutes away from tip-off, but the time may be delayed even more. Kansas is starting to pull away from Baylor in the Big 12's first semifinal this evening.
Mountaineers Head Coach Bob Huggins agrees with his star, and is dreaming of a Big 12 Tournament title, which he said is something that the team has been collectively working towards since the season's inception. "I told them before the season started to get together [and] write down what their goals were," Huggins said. "One of their goals was to win the [regular-season] championship, which we fell short. Then they wanted to win the tournament championship, go to the NCAAs and continue to advance there." In order to keep alive their dream of winning the conference tournament, a victory this evening is essential.
Both teams enter tonight's encounter feeling good after picking up victories on Thursday. For West Virginia, their 86-66 victory over TCU was their first victory in the Big 12 Conference Tournament in two years. However, Devin Williams isn't satisfied merely with winning a game, and said in no uncertain terms that the Mountaineers are at this tournament to win a championship. "I guess that's somewhat of an accomplishment, but we're here to win a championship," Williams said. "All we can do is use this to move forward, clean up what we did [Thursday] and just move forward."
The game was tight throughout the first period, but a late run from the Sooners put the game out of reach. The team known as "Press Virginia" attempted to shut down OU, but were unable to. Star guard Jaysean Paige had 11 second half points but couldn't summon a response to a late 9-0 run from the Sooners with five minutes left.
When these two sides met again in early February, it would have been hard for the second meeting to live up to the first, and it did not. However, Buddy Hield was magisterial over the course of Oklahoma's 76-62 victory in Morgantown on February 20th while pouring in 29 points.
It truly was an epic, and I myself described the game this way...
"Even though the waves were rough and the ship rocked back and forth, Oklahoma weathered the pressure-filled tempest." Here's hoping that we get another game of a similiar ilk this evening.
Both teams went back and forth tit-for-tat for the entire 40 minutes, and Oklahoma wasn't able to seal the victory until the dying seconds. Heading down the stretch, it was thoroughly unclear which team would be able to eek out the victory. However, as time ran out Khadeem Lattin followed up with a put-back at the buzzer after a missed jumper from Woodard.
In spite of the terrific offensive talents on display, there were several (Ryan Spangler and Jordan Woodard chiefly) who struggled with their jump shots. However, Wooden Award candidate Buddy Hield was on his game and hit four three-pointers.
These two Big XII rivals met for the first time back on January 16th in Norman, and duked out a game for the ages. The Sooners entered the game knowing that a victory would, in all likelihood, leave them ranked as the top team in the nation. Conversely, West Virginia entered riding a tidal wave of enthusiasm after knocking off then-top ranked Kansas earlier in the week. They knew that pulling off a second consecutive upset would make them the first team since the 1989-90 season to defeat #1 and #2 in the same week.
It's often said that the most difficult thing to do in college basketball is to beat a good team three times. As I just said, Oklahoma was victorious on the two previous occasions when these two met earlier this season. Will they be able to get another one over on the Mountaineers?
West Virginia, on the other hand, had it pretty easy with a test against the TCU Horned Frogs, winning by 21 points. Oklahoma swept the regular season series over West Virginia, but expect this 3rd matchup between the two to be tight.
Oklahoma had a battle to get to this point against Iowa State. The Cyclones gave everything they had with a brilliant performance by Georges Niang, but Wooden Award-favorite Buddy Hield electrified Kansas City with 39 points to help the Sooners squeak out a victory. Sooners Head Coach Lon Kruger said after the game that he was quite pleased with the eventual victory, but reiterated his desire to keep advancing. "It was a game that could have gone either way," Kruger said. "We got a little bit of a margin in the second half. Proud of our guys for finishing it out."
Welcome to VAVEL USA's live coverage of the Big 12 Tournament! I'm Ben Anderson, and I will be leading you through the action of West Virginia Mountaineers - Oklahoma Sooners in this high-profile semifinal matchup.