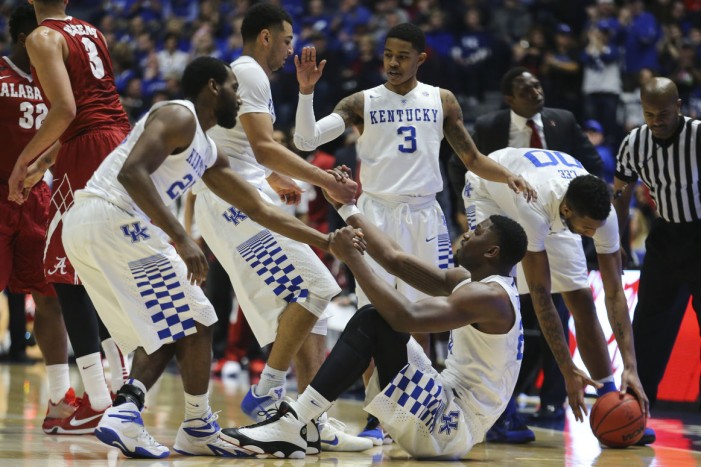 Kentucky managed to get 13 3-pointers to fall in the win over the Alabama Crimson Tide. With five of these perimeter shots coming from Jamal Murray, one Wildcat shocked everyone from downtown.
Poythress Rolls Over 'Bama Again
Kentucky forward Alex Poythress has been known to take it at the Crimson Tide this season, scoring a total of 59 points in three meetings. But there's one statistic in this game that is a little more eye-popping for the senior.
The 6'8 post player was 4-5 from long range. Poythress came into this game just 2-16 on the season from beyond the arc and proceeded to light up the defense.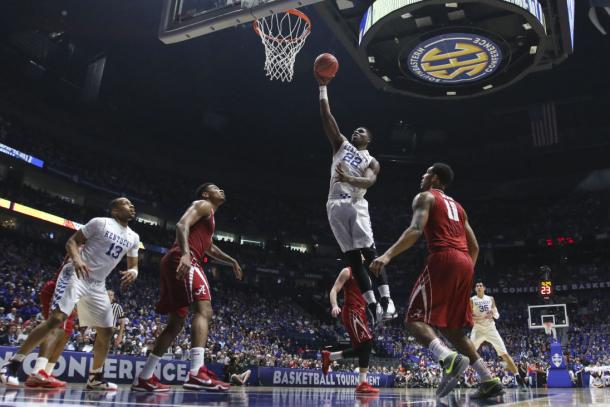 That didn't stop him in the post either as he worked Alabama defenders and got easy baskets. His only miss was that one shot from deep, for he was a solid 7-8 on the game.
Alabama's Bubble Bursted
The Crimson Tide could not afford to lose this game as they were firmly on the bubble going in and needed to prove their worth to the committee.
A blowout was their greatest fear manifested, and now their next last hope is that every other bubble team blows it in their conference tournaments.
Alabama has enough talent to make some noise in the NCAA Tournament given the right matchup, but this team is very likely to miss the field following the quarterfinals loss.
Unstoppable Arthur Edwards
Arthur Edwards made it obvious from the start of the game that he was not going to make it easy for the Wildcats.
Edwards would get the ball on a hand off and continually size up his defender until he got them where he liked them, and then, drains the deep ball all net. There was little Kentucky could do to keep him from making shots, so ball denial became their main goal. Edwards saw multiple faces while on offense, and every defender was greeted with a shot from the perimeter.
Edwards finished with 20 points on 7-12 shooting. He made his best effort to keep Alabama in it with his teammates making little contribution.
Kentucky Advances
Kentucky moves on to the semifinals of the SEC Tournament for the third season in a row. John Calipari has reached the semifinals in six of the seven seasons he's coached at Kentucky.
The Wildcats are set for their rematch with the Georgia Bulldogs after their 1-point win over the South Carolina Gamecocks. Kentucky and Georgia met only once this season in Rupp Arena and the Bulldogs got ran out of the building, getting beat 82-48.
The crowd is hardly any different than what it would be in Lexington, but Georgia is not leaving the SEC Tournament in a blowout.
This will be Georgia's third game in three days while Kentucky has only played one. The Bulldogs will have to channel some hidden energy if they want to beat a rolling Kentucky team.
Player Statistics
Jamal Murray- Murray tied Tony Delk's Kentucky single-season record for consecutive games with at least one three. The freshmen had five threes in this one to give him 23 points with four assists.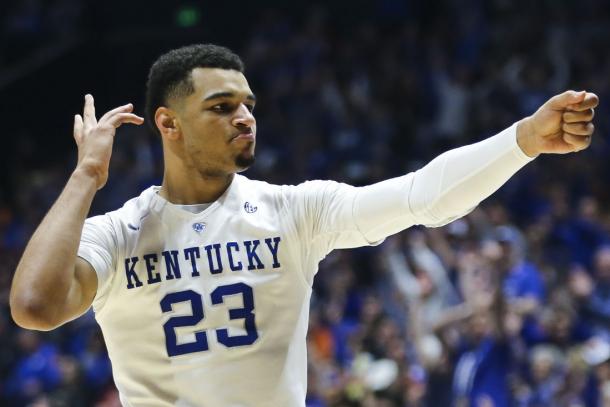 Alex Poythress- Alabama has seen enough of Poythress to know he's pretty good in the post, what they didn't know is he can shoot too. The senior hit 4-5 from downtown to give him 20 points to go with seven rebounds.
Arthur Edwards- Edwards had a few heat-check moments in this game and passed them easily. He broke down Kentucky's defense and found the open spot on the court to total 20 points on 7-12 shooting.
Retin Obasohan- Obasohan has given Kentucky problems all season long but his early foul trouble kept him a non-factor in the first half only scoring one point. But his sensational second half brought him up to 18 points on 6-12 shooting.
Upcoming Schedule
#2 Kentucky - #6 Georgia 3/12/16