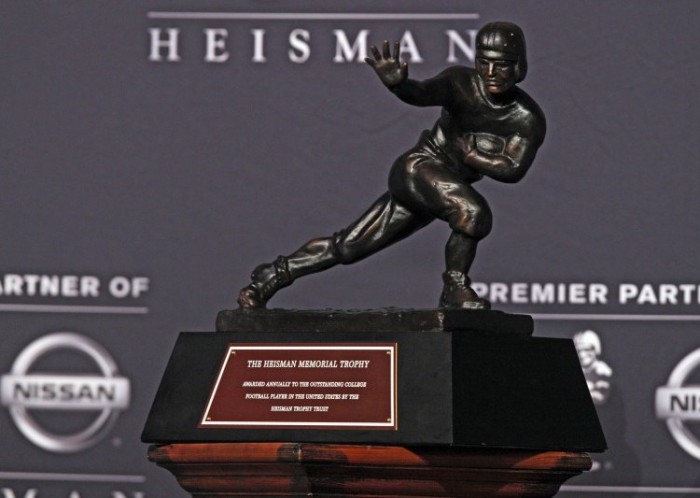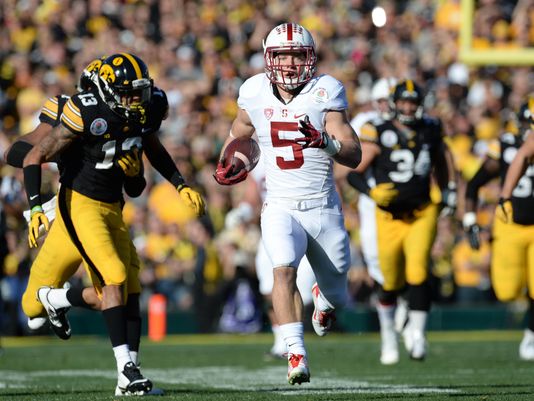 1. Christian McCafferey
Christian McCafferey, The 6-foot, 201-pound running back, will return to Stanford as a junior for the 2016 season. McCafferey was already a Heisman finalist this last season, but was second in voting and fell short to the well deserving Derrick Henry. However, he will be looking to come back with a season deserving of a Heisman Trophy. In 2015, McCafferey carried the ball 337 times and put up 2,019 yards giving him 6 yards a carry on the season. He also put up 8 rushing touchdowns along with 7 other all-purpose touchdowns including 5 reception touchdowns, a punt return touchdown, and a kick return touchdown (stats credit: Sports Reference/College Football). His most impressive stat, however, was breaking Barry Sanders record of 3,250 all purpose yards in a season as he put up 3,864 this season (stat credit: ESPN). McCaffery helped lead Stanford to a 12-2 season including a huge win over Iowa in the Rose Bowl.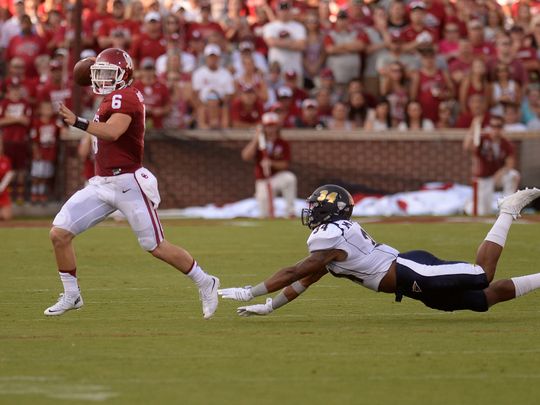 2. Baker Mayfield
This Oklahoma Sooner made a name for himself last season. He came off of a year without seeing the field due to the NCAA transfer rules after his departure from Texas Tech. Baker Mayfield finished 4th in the Heisman voting this season leaving him just short of being a finalist. He put up a strong stat line in 2015 including 269 completions out of 395 attempts (68.1 pct), 3700 passing yards, 36 touchdown passes, and only 7 interceptions in 13 games after he had thrown 9 with Texas Tech in only 8 games (stat credit: Sports Reference/College Football). Mayfield and the Sooners captured the attention of many college football fans this season as they worked their way back up the rankings after a tough lost to Texas. They came through at the end of the season knocking off Oklahoma State to win the Big 12 and punch their ticket to the College Football Playoff.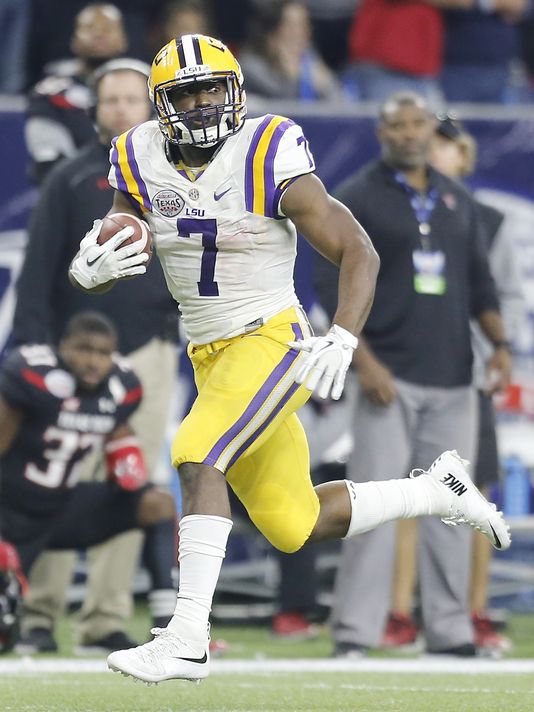 3. Leonard Fournette
When you talk about a man among boys, Leonard Fournette comes to mind. This LSU Tiger looks like a 35-year-old, but plays just like his age, 21. Fournette finished 7th in the Heisman voting in 2015, in which many people thought he was snubbed out of being a finalist after being in the top 5 for most of the year. Fournette got 300 touches with 1953 yards in 12 games through the 2015 season giving him a 6.5 yards per carry average. He also put up a very impressive 22 rushing touchdowns along with a receiving touchdown (stats credit: Sports Reference/College Football). Fournette and the Tigers went on to a 9-3 season placing them in Texas Bowl where they trounced the Red Raiders.
If quarterback Brandon Harris can take a step forward, Fournette and the Tigers should be in championship contention next season. It's never easy to count out the mad hatter, Les Miles especially since he's on the hot seat. This bruising back has all the ability to be more than just a Heisman Trophy finalist.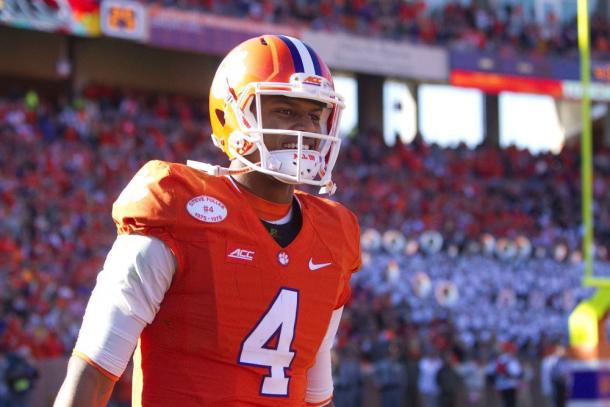 4. Deshaun Watson
Deshaun Watson was a huge spark for Clemson and the main catalyst for the Tigers' title run. He was able to help the team on many big time stages despite only being a sophomore. He was a finalist for the Heisman trophy, but finished 3rd under Christian McCafferey and Derrick Henry. Watson threw 333 completions out of 491 attempts (67.8 pct), 4109 passing yards, 35 touchdown passes, and 13 interceptions through 15 games. He also put up great rushing stats for a quarterback picking up 1105 yards in 2017 attempts (5.3 avg) and 12 touchdowns (stats credit: Sports Reference/College Football). Watson and the Tigers had a huge campaign staying number one in the rankings and going undefeated for most of the season. Oklahoma was no match for Clemson as they were able to take the semifinal victory, however, their amazing season came to a hault when they played a tough Alabama team in the National Championship. Expect Watson to take another shot at the national title in 2016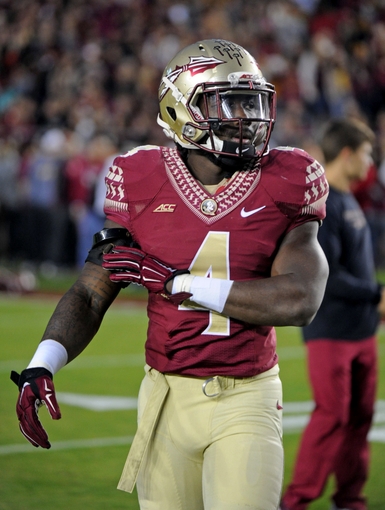 5. Dalvin Cook
Dalvin Cook was an impressive player for Florida State after the team lost Jameis Winston the previous year. Cook finished 5th in the Heisman voting in 2015 making him just another player to add to the promising Heisman race for 2016. Cook carried the ball 229 times and gained 1691 yards through 12 games giving him a 7.4 yards per carry average. He also rushed for 19 touchdowns and added one receiving touchdown in his 2015 season (stats credit: Sports Reference/College Football). Cook and the Seminoles had a great 2015 season considering the departure of Winston in 2014. They finished 10-3 and ended the season with a loss to Houston in the Peach Bowl. The Seminoles will look to bounce back in the 2016 season and continue being a contender.