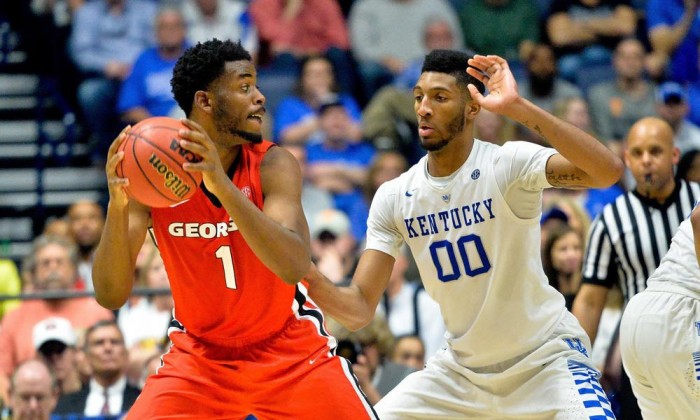 The Georgia Bulldogs looked primed to pull off the upset against the Wildcats as every time Kentucky made a run at Georgia's lead, the Bulldogs responded with a big shot to take back the momentum. However, a frantic UK comeback stunned UGA, and Kentucky came out of the SEC Tournament Semifinal victorious.
Best Backcourt
Tyler Ulis and Jamal Murray proved even more why they are the best two players to have in the backcourt in the country. The two combined for 51 points in the comeback win and both hit huge shots down the stretch. Seeing those shots fall are big in terms of finding out whether this Kentucky team can finish close games or not.
Both players had similar moments where they knocked down an important 3-point shot to increase Kentucky's lead with less than three minutes remaining.
Not only did they hit shots to win, but one of these players broke a freshmen record for Kentucky. Murray scored 26 points, which put him at a total of 668 points on the season. This broke the record of points scored by a freshmen set by Brandon Knight in 2010-11.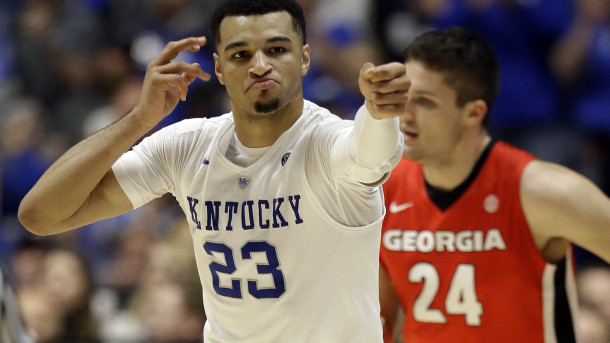 Murray also had his 12th 20-point game in a row, putting him at another level than any other scorer in college basketball.
Lights Out In Nashville
Both Kentucky and Georgia had moments in this game where they seemed unable to miss from anywhere on the floor. Georgia's Yante Maten even hit a 15-foot hook shot without hitting rim.
Georgia got hot early from deep and drained shots while being heavily guarded. The Bulldogs would even bank in perimeter shots and all Kentucky players could do was shrug their shoulders.
But Kentucky did more than shrug their shoulders. They decided contested shots were not going to beat them. The Wildcats used a 43% clip from behind the arc, as well as going 26-30 from the free throw line, to rally back.
A combined 93 points were scored in the first half after poor defensive showings from both teams. Kentucky allowed 49 points, their most in a first half this season. This high-scoring game shows that teams don't just need to play superb defense to beat Kentucky, they just have to come ready to knock down a lot of shots.
Semifinal Matchup
All Kentucky members were hoping for a rematch from a game they all believe they should have won. They get to face #1 seeded Texas A&M in the SEC Tournament Championship.
In their first meeting, the two teams went to overtime in College Station where the Wildcats found themselves up by one and going to the free throw line after a big play by freshman Isaac Humphries.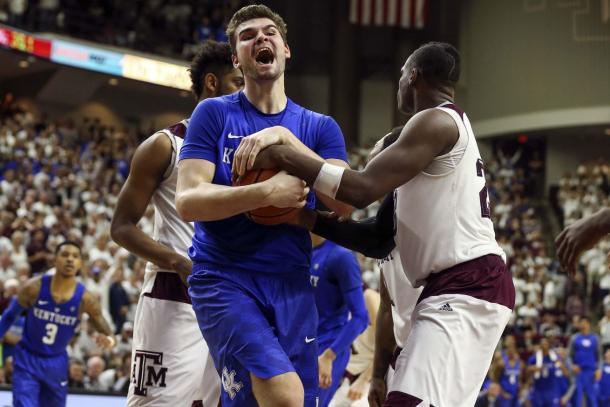 Humphries then slammed the ball in excitement and referee Pat Adams called him for a technical foul. This would cause the game to be tied when the Aggies then had a put-back layup at the buzzer.
Now, Kentucky gets to see if they really should have won. This time, they get a neutral court game with a crowd that would make you think otherwise.
Kentucky is on the cusp of their second straight SEC Tournament Championship and getting revenge at the same time. One more game against the best team in the SEC will determine how the Wildcats stand before going into the NCAA Tournament.
Player Statistics
Jamal Murray- Murray had another impressive game, posting 26 points and six rebounds while going 3-7 from downtown. Murray has proven to be the best weapon the Wildcats have in their arsenal.
Tyler Ulis- Ulis matched his teammate by scoring 25 points and assisting on five baskets. Ulis also went 4-7 from deep and made important shots down the stretch for Kentucky.
Yante Maten- Maten played out of his mind in the post and took it to whatever Kentucky defender was put on him. He finished with 20 points and four rebounds on 7-13 shooting.
J.J. Frazier- Frazier had a scare mid-game, going to the locker room for a turned ankle, but he returned shortly after to a Kentucky run in the second half. The Georgia point guard had 19 points and five assists.
Upcoming Schedule
#1 Texas A&M - #2 Kentucky 3/13/16