 Kevin Ollie's Connecticut Huskies sure know when the right time is to peak.
Just one day after their historic quadruple-overtime battle and triumph over Cincinnati, the Huskies confidently fetched another victory in American Athletic Conference tournament play, this time digging out a 77-62 win over the regular-season champion Temple Owls.
"We wouldn't have it any other way," said Ollie. "To go through Cincinnati, a team that we lost twice to, and also a great Temple team that we lost twice to."
Huskies Seize Controlling Victory After Early Stumble
UConn took care of business after struggling through the first six minutes, in which they went down by eight. After going down 12-4, the Huskies went 0 to 100 real quick, teaching emerging Temple their old tricks with a massive run to claim a 35-19 lead with three minutes to go in the first half.
By halftime, it was 39-28, and the Huskies had easily outperformed the not-so-high-flying Owls, who were just 9-32 from the field in the first half. Jaylen Bond led Temple with nine points 20 minutes through, Connecticut's Daniel Hamilton had notching the same as the other scoring leader at the half.
Bond finished with a double-double of 17 points and 10 rebounds for Temple, but to put it in his words, "It's hard to beat a team three times."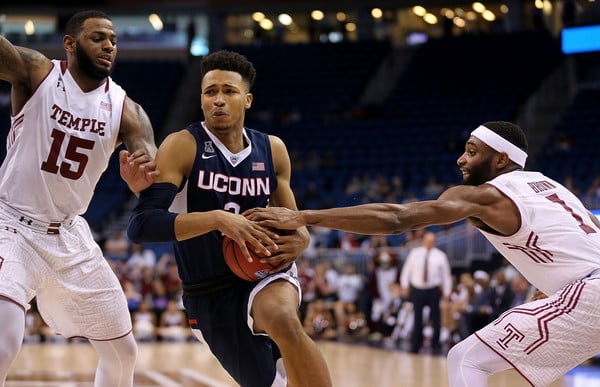 The young Owls were not wise enough in this one, despite some persistent efforts at the start of the second to erase UConn's commanding lead. Temple brought the lead to six with 11:16 to go on a Josh Brown three-pointer, and the Owls came within seven on multiple other occasions, but the Huskies just would not give in.
Temple seemed to get buried deeper each time the Huskies fought back as the clock became a factor, and the Owls' comeback hopes were finally put to sleep with UConn's final run over the game's last few minutes. A manageable nine-point deficit had turned to a 15-point defeat by game's end for Temple, as the Huskies unveiled yet another run over the final stretch, this one of the 11-3 variety to send it to an unsurmountable 75-58 with half a minute remaining.
By The Numbers
Shonn Miller finished with 13 second-half points for the Huskies, as he and Hamilton led all scorers with 19 apiece. Hamilton completed a double-double with his 11 rebounds, and Jalen Adams ended the game with a solid 11 points off the bench.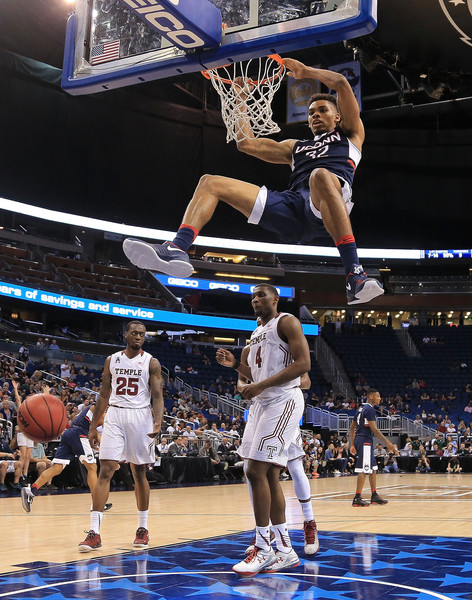 For the Owls, who still have to hope their regular season title was enough to earn an NCAA-tourney bid, Bond led the way while three other scorers hit double-digits. Quenton DeCosey scored 14 and grabbed six boards, Devin Coleman had 13 and eight off the bench, and Brown added 10.
"All I can say is I hope," said Temple coach Fran Dunphy.
UConn now just has to beat Memphis to claim their automatic bid to the big dance, but that will not be an easy task, as dictated by years past.
"We still got one more game left," said Ollie. "We have been in the championship the last two years. Hopefully third time is the charm like everybody says."
[Quotes via ESPN]