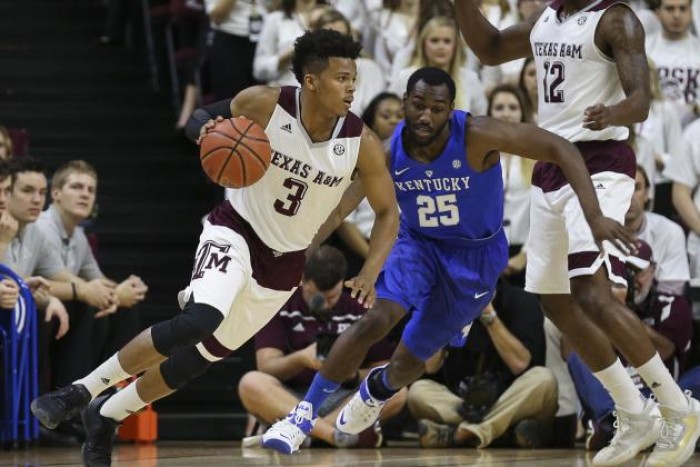 Thanks for joining me on this live coverage of a thrilling game between Kentucky and Texas A&M! This is Pat Duerr, signing off!
What an exciting game. Clutch shots were made by the team that wanted to win more down the stretch and they are currently holding up the trophy they deserve. The Wildcats will now wait to see where they place in terms of the NCAA Tournament bracket.
(OT, 0:00) House misses a three to cut the lead and the Kentucky Wildcats win the SEC Tournament Championship 82-77!
(OT, 0:08) Ulis fouled and goes to the line. He hits one to make it 82-77. The kid has 30 points, wow.
(OT, 0:18) Caruso slashes to cut it to 81-77 and Aggies call timeout. Kentucky just needs to hit free throws and they have this game won.
(OT, 0:30) Murray knocks down a step back three to take a 81-75 lead!!!
(OT, 1:00) Willis drains a three to take a 78-75 lead!
(OT, 1:50) House knocks down a three to tie it 75-75!
(OT, 2:20) Willis fouled after the rebound and hits one to make it 75-72.
(OT, 3:14) House fouled and Poythress called for his 5th and he sits. House hits one and cuts it to 74-72.
(OT, 3:40) Ulis knocks down a three to take the lead 74-71!
(2nd Half, 0:00) Ulis misses a fadeaway jumper at the buzzer and we have overtime between these two teams once again.
(2nd Half, 0:18) House ties it 71-71 on the floater!
(2nd Half, 0:37) Over the back called on A&M and Poythress will go to the line! He misses the front end.
(2nd Half, 0:49) Murray loses the ball and the Aggies call timeout to draw up a play. Kentucky leads 71-69.
(2nd Half, 1:30) House knocks down a three to make it 71-69!
(2nd Half, 1:50) Poythress fights for a rebound and gets fouled putting it back on the rim. He hits both to make it 71-66.
(2nd Half, 2:05) Jones puts in an offensive rebound to make it 69-66.
(2nd Half, 2:33) Ulis draws the foul with a head fake and will go to the line. He hits both to make it 69-64.
On that Davis layup, there was a possible backcourt violation that wasn't called. Not sure if it was deflected or not.
(2nd Half, 2:50) Jones slams it down on the fast break to cut it to 67-64! Kentucky calls timeout now!
(2nd Half, 3:30) Davis with a layup to make it 67-62.
(2nd Half, 3:57) Murray hits three to take a 67-60 lead!! Aggies call timeout!
(2nd Half, 4:40) Ulis fouled on the shot and makes both to make it 64-60.
(2nd Half, 6:05) Ulis with an acrobatic layup and Jones responds with one of his own to make it 62-60.
(2nd Half, 6:25) Ball knocked out and Kentucky leads 60-58 at the under eight timeout. This is a crazy game, folks. It does not get better than this right now. Aggies ball when it returns.
(2nd Half, 7:40) Willis drains a three to take the lead 60-58!
(2nd Half, 8:00) Davis gets a dunk inside to take the lead 58-57!
(2nd Half, 8:52) House fouled and hits both to make it 57-56.
(2nd Half, 9:00) Ulis hits a free throw line jumper to make it 57-54!
(2nd Half, 10:50) Trocha-Morelos fouled and hits one to make it 55-54.
(2nd Half, 11:00) Ulis drains a long three to take the lead 55-53!
(2nd Half, 11:50) Labissiere called for the blocking foul for his third foul of the game and that will take us to the under 12 timeout. Aggies lead 53-52.
(2nd Half, 12:10) Briscoe with and and-1 of his own coming from the wing! Misses the free throw but makes it 53-52.
(2nd Half, 12:30) House with another and-1 on a fast break! Makes it 53-50 Aggies on the free throw.
(2nd Half, 13:05) House drives and gets fouled for the and-1! Ties it with the free throw 50-50.
(2nd Half, 13:30) Trocha-Morelos with a feed inside and makes it 50-47.
(2nd Half, 14:00) Poythress catches a lob over the top to make it 50-45!
(2nd Half, 14:19) Davis goes to the line and misses both.
(2nd Half, 14:19) Lee called for a foul on Davis despite hands straight up. Wildcats did allow four offensive rebounds on the play and had poor positioning on box-outs.
(2nd Half, 15:00) Ulis steal and a one-man fast break to extend the Kentucky lead 48-45! Aggies call timeout!
(2nd Half, 15:40) Ulis gives UK the lead 46-45!
(2nd Half, 16:00) House draws the foul on Willis and hits one at the line to make it 45-44.
(2nd Half, 16:30) House beats everyone to the basket and Briscoe answers to tie it 44-44!
(2nd Half, 17:01) Murray fouled on the 15-footer. Correction; A&M has 42 points. Murray hits both to tie it 42-42.
(2nd Half, 18:00) Willis knocks it a three to cut it to 43-40!
(2nd Half, 19:00) Caruso with a fast break slam to make it 43-37!
(2nd Half, 19:20) House doesn't get called for the over-the-back and gets the and-1 against Lee to make it 41-37.
(2nd Half, 19:50) Murray three right out the gate! 38-37!
Second half is about to begin!
Kentucky faces another halftime deficit in this SEC Tournament and will have to fight their way back in the second half once again. The Wildcats need to get Murray some looks as he has not even attempted a 3-pointer in this game.
(1st Half, 0:00) Willis misses a three before half and Texas A&M leads 38-34 at halftime.
(1st Half, 1:10) Labissiere with a nice dunk inside! 38-34.
(1st Half, 1:40) Caruso hits a mid-range to push it back to 38-32.
(1st Half, 2:00) Briscoe slashes inside and gets a layup to make it 36-32.
(1st Half, 2:30) House knocks down a three to make it 36-30!
This game has gotten completely out of control, it's hard to keep up. Both teams want to respond to the other by scoring instantly and they're doing it. Very entertaining championship game.
(1st Half, 3:50) Jones with a layup of his own to make it 33-30. A missed three allows the Aggies to call timeout to calm the game down.
(1st Half, 4:00) Ulis drives coast to coast for the layup and it's 31-30!
(1st Half, 4:40) Jones with a three to respond! 31-28!
(1st Half, 5:20) Ulis ties it with a three 28-28!
(1st Half, 6:10) Back-to-back turnovers for both teams. Then Briscoe with a euro step layup before Jones responds with a three to make it 28-25.
(1st Half, 17:00) Briscoe switches hands and gets a layup but Aggies respond with a dunk in transition to make it 25-23.
(1st Half, 17:28) Murray fouled and hits both free throws to make it 23-21.
(1st Half, 17:20) Caruso hits three to make it 23-19!
(1st Half, 7:50) Poythress hits one free throw to cut it to 20-19.
Some lazy officiating going on at this point in the game, contact that should be fouls are not being called on both ends and and they are letting the teams play. Game feels out of control.
(1st Half, 7:50) Poythress draws the foul inside and will have a 1-and-1 after the break.
(1st Half, 8:36) Jones fouled and hits one to make it 20-18 Aggies.
(1st Half, 8:56) Matthews fouled and misses the front end of the 1-and-1.
(1st Half, 11:00) Trocha-Morelos hits another jumper to take the lead 19-18. Missed travel there but a travel called on the other side.
(1st Half, 11:30) Trocha-Morelos hits a 15-footer to cut Kentucky's lead 18-17. The Aggies will have the ball after the media timeout due to a Wildcat turnover.
(1st Half, 12:00) Ulis with a hanging layup and it falls in to make it 18-15!
(1st Half, 12:40) Charles Matthews fights for the rebound and gets fouled on the put back. Hits 1-2 to put UK up 16-15.
(1st Half, 13:10) Gilder hits a quick jumper to tie the game 15-15.
(1st Half, 14:00) A scramble for the ball ends with Caruso and puts it in for a layup. Then Murray with the acrobatic and-1 and misses the free throw to make it 15-13.
(1st Half, 14:46) Davis draws a foul and hits both to cut it to 13-11. A phantom foul there.
(1st Half, 15:00) Poythress with a strong move to the basket to make it 13-9!
(1st Half, 15:21) Jones hits two free throws to make it 11-9.
Texas A&M draws the foul at the first media timeout with Kentucky feeling it here right now. Crowd is going crazy after that Poythress three, just what the Wildcats needed.
(1st Half, 15:50) Ulis with a layup to push the lead 11-7!
(1st Half, 16:00) Poythress knocks down a three! 9-7 UK!
(1st Half, 16:50) Jones gets a jumper to roll in and Aggies takes the lead 7-6.
(1st Half, 17:17) Tyler Davis fouled and hits both to cut it to 6-5.
(1st Half, 17:30) Lee catches a lob on the break to make it 6-3!
(1st Half, 18:10) Jalen Jones catches a lob and slams it over Labissiere for the and-1! Hits the free throw to make it 4-3.
(1st Half, 19:00) Ulis fouled and hits both to make it 4-0.
(1st Half, 19:40) Murray catches the lob from Labissiere! 2-0.
Tip-off is almost underway!
Kentucky will be in blue today since Texas A&M has the top seed. The Aggies will be wearing their white uniforms.
Tip-off in less than 20 minutes, folks!
Join me back here for live coverage of Kentucky vs Texas A&M, along with updates before tip-off!
It's a safe bet that this game will be one of the more thrilling ones of the Selection Sunday afternoon. These two teams share a hatred after their last meeting and a rematch with such high stakes will make for the perfect end to the SEC season.
With how the Aggies shot against Kentucky in their previous meeting, there's no reason to think they won't do it again. Their players are excited they get to play for the first SEC Tournament title for the school and will come well prepared against Kentucky. The Wildcats will likely see the same thing they got with Goergia, a large deficit early but a nice second half like this team normally does.
Of course, Georgia tried the foul trouble route and was successful in getting the fouls drawn, but a couple of Kentucky players decided they weren't going to let a little adversity get the better of them. Kentucky's Tyler Ulis and Jamal Murray find ways to make up for mistakes made by their teammates. Both players are elite scorers and know what to do on the play at all time on the court. Both players are still very young underclassmen, and the leadership they both show on the court cannot be matched.
The recipe for success in this one for the Wildcats to get their post players involved early in the game. Threes are fantastic and exciting, but when a big man gets positioned and scores over a defender, it creates an even better sense of momentum. Texas A&M's recipe is that they must get these UK big men in foul trouble, if Kentucky's bigs can't stay in then the rebounds become easier to get.
Both Kentucky and Texas A&M both have played two games and they panned out pretty differently. Kentucky blew out their first opponent but needed a second half surge to come back and beat the Georgia Bulldogs in the semifinals. The Aggies had control of the game over Florida, but could never work up a big lead on the Gators and they matched the unimpressive win with a complete stomping of the Ben Simmons lead LSU Tigers. Texas A&M gets the slight advantage in this game as LSU became a non-factor early in the game and Simmons quickly realized his team wasn't as good as it was made out to be. Kentucky was given the fight of their lives as Georgia was hitting any contested shot they took. The Bulldogs may have lost by double-digits, but they made the Wildcats earn that win.
Tyler Davis, a 6'10 center, made the put back layup at the buzzer that beat the Wildcats after the controversial technical foul. With Skal Labissiere able to hold his own now, along with Derek Willis playing more than he had, the Wildcats won't be so vulnerable on the boards. As long as Kentucky is able to put bodies while boxing out, they won't get as many chances to score in the game.
There's quite a difference maker in this game that could add a new aspect to a big story in the last game between these teams. Texas A&M was on the glass almost every possession and no Kentucky player would box properly. Now, Kentucky has one of their elite defenders they didn't have back then, Alex Poythress. Poythress adds a huge hint of athleticism on the boards and contests shots in the post better than any other Wildcat. Texas A&M's Danuel House will finally meed Poythress down low for the match up everyone expected the first time around. House made big shots like the rest of the Aggies and even created the offensive put back that ended up winning the game. Now with Poythress as a factor, the Wildcats have more size and agility to keep up with House.
The Wildcats and the Aggies had a headed back-and-forth event in their first meeting and now have a chance to match that battle with another on an even more intense playing field. Despite the controversy involved in that first meeting, the two teams played one of the better games this year and with these two teams taking very different roads to get to the final, it could get interesting.
This SEC Tournament final marks the sixth time in seven years Kentucky has made it with John Calipari as their head coach. Texas A&M have reached their first SEC final since joining the league in 2012-13. The Wildcats are just one win away from their 29th SEC Tournament title, completely dominating the league in every eay possible.
Welcome to the VAVEL NCAA's LIVE coverage of the 2016 SEC Tournament between the Kentucky Wildcats and Texas A&M Aggies. I'm Pat Duerr, and I'll be providing minute-to-minute updates, commentary, and results on the final. The game starts at 1:00pm ET, and there will be coverage pregame, mid-game, and postgame.