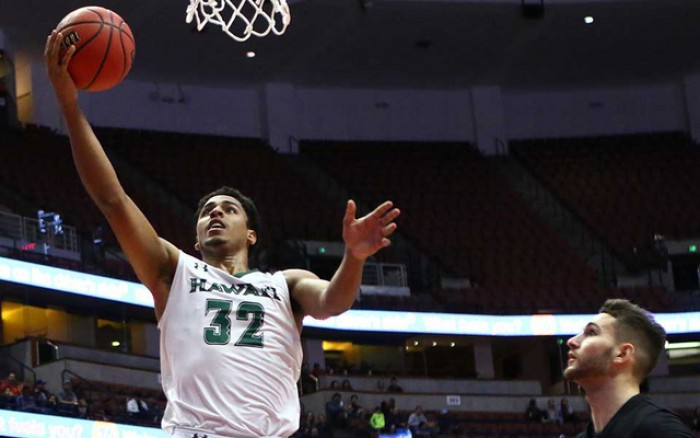 The "big dance" is going to have some hula in it.
The Hawaii Rainbow Warriors (27-5) punched their ticket to the NCAA Tournament last night with a 64-60 victory over Long Beach State in the Big West Tournament Championship. The victory gives Hawaii their first trip to the Tournament since 2002.
Hawaii took a 31-25 lead into halftime, and was close to putting this game away early in the second when they had a 12 point lead. A late second half charge by Long Beach St., however, found the Warriors tied with the 49ers at 58 a piece with less than three minutes to go in the game.
The Warriors regained their composure, however, and Stefan Jankovic, who scored all 10 of his points in the second half, hit a go ahead three pointer with 2:48. Hawaii's defense snuffed out the 49ers for the rest of the game.
"The feeling is indescribable," first year head coach Eran Ganot said. "I am so happy for these guys."
The Rainbow Warriors had to make the most of their opportunities this season, as they will be hit with NCAA sanctions beginning next season. Because of infractions that incurred under former head coach Gib Arnold, Hawaii will be banned from post-season play next season, and players will be allowed to transfer without missing a season. Most of the players, however, have publicly stated their intention on staying with the program.
"We all could've quit, gone to other places, but we stuck together and stuck it out," said leading scorer Aaron Valdes, who was named tournament MVP. "It means a lot after all we've been through together."
"This is huge for us. Honestly, we deserve this," Jankovic said. "With all the infractions and everything we've been through, we told ourselves this year we were going to go all the way. We're a tough group."
The victory gives Hawaii revenge over Long Beach State, who beat the Rainbow Warriors twice this season.
Cinderella In The Making?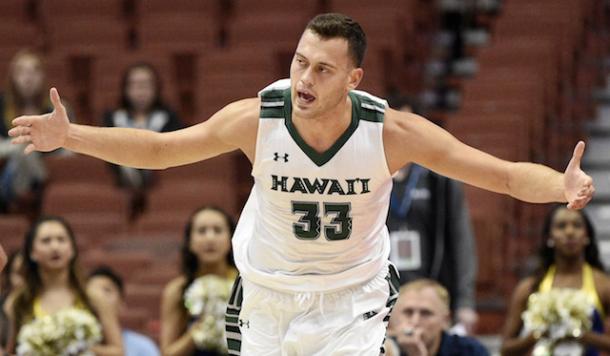 (Source: USA Today)
Hawaii could potentially make an interesting dark horse pick when the tournament tips off next week. Jerry Palm at CBS Sports projects Hawaii to be a 13 seed. While the Big West is not a powerhouse conference by any means, a team that enters the tournament with only five losses on their resume should be given a little more respect. Coach Ganot should be able to use that disrespect to motivate his players.
Hawaii has an incredibly tough defense, and will be willing to go inside against any team in the country. While they are not expected to compete against any team in a shootout, they could be very competitive against a team if they choose to get physical.
Hawaii also has experience playing against tough teams, and did pretty well in those match ups this season. Early in the season, they traveled to Texas Tech, who is expected to receive an an at-large bid into the tournament, and lost by only eight points. They also faced Oklahoma, who was the third ranked team in the country at the time, and took them to the limit. Oklahoma ended up winning the game by only three points.
Finally, with Hawaii facing sanctions next season, it might be some time before Hawaii is able to be put in this position. That, coupled with the fact that the Rainbow Warriors have never won a tournament game, should be a motivating factor for this team. If the selection committee puts them as a 13 seed, and matches them up against an over ranked 4 seed, an upset could be in the making.