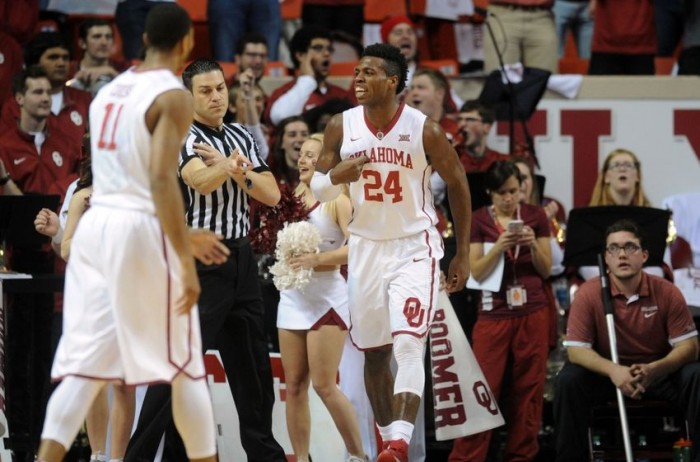 Oklahoma isn't just a football school anymore.
After a stellar season last year which ended in a Sweet 16 loss to Michigan State, the Oklahoma Sooners have continued to stamp their mark on the college basketball world. This season, they reached new heights, sitting atop the AP Poll for three weeks and finishing 2016 in 3rd place in a deep Big 12.
Can they turn it into Tournament success?
This may be the most gifted basketball team to ever come out of Norman; Oklahoma boasts NBA talent in Buddy Hield, and a strong blend of athleticism, shooting and ball movement. They have weaknesses, sure. Every team in this year's bracket does, but Oklahoma's pure firepower gives them a real shot at a deep run into April.
Buddy And The Core
It's impossible to talk about this team without mentioning their best player, Chavano Rainer "Buddy" Hield. This year, Buddy averaged 25 ppg (2nd in the nation), shot 50% from the field, and 46.4% on 3s. He's phenomenal--a 6'4'' shooting guard with a sweet touch, a big smile, and NBA-level athleticism. But, while Hield can go as far as taking over games -- he scored 46 in OU's overtime loss at Kansas in January -- the rest of the Sooners' core must step up to propel them to the Final Four in Houston.
Oklahoma's lineup doesn't go that deep -- only Hield and six others average double digit minutes -- and just four Sooners average more than six points per game. Isaiah Cousins (13 ppg/4.6 rpg/4.6 apg) and Jordan Woodward (12.6 ppg/3.0 rpg/3.4 apg) will need to step up to help control the backcourt with Hield. Cousins hit big shots throughout the season, and with defenses flocking to Buddy down the stretch, the 6'4'' guard will need to contribute.
Meanwhile, OU's interior is bolstered by Ryan Spangler (10.8 ppg/9.4 rpg/2 apg) and Khadeem Lattin (5.4 ppg/5.5 apg). Spangler and Lattin should be fine making their normal contributions early on, but as the tournament trudges onward, their presence becomes more important. Size matters in the NCAA Tournament, and in order to formulate a Final Four run, the Sooners can't just depend on their guards and shooting. If they play a team like Duke, Oregon, or Texas A&M, OU can't back off inside. And they shouldn't -- Lon Kruger's team hasn't been scared of bigger teams this year, but they did run into roadblocks with losses against the solid interior scoring of some Big 12 teams like Kansas (twice), West Virginia, and Iowa State.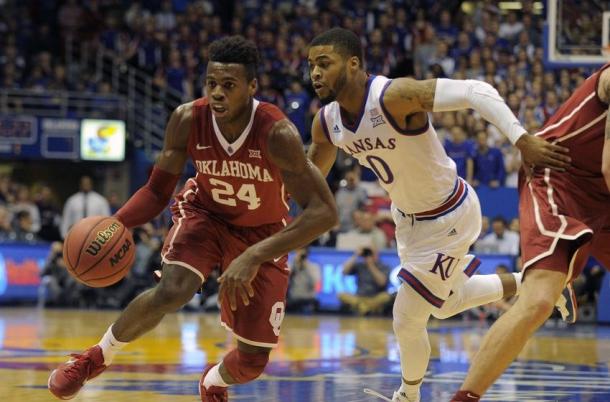 The Matchups
It's clear that Oklahoma is a contender. This year's field of 68 might have about 10-12 teams with a real shot at the title, but such an integral part of a National Championship run is the matchups along the way -- the intricacies of a 40 minute basketball game become more important than ever.
In the first round OU faces the CSU Bakersfield Roadrunners, who went 11-3 in the WAC and impressively rank 14th in the nation in points allowed per game. While 15 seeds have seen a recent boom of success against 2 seeds, Oklahoma should be okay in the First Round. But from then on, they're sure to face tougher challenges.
The Sooners are a tremendous shooting team, and they do it well across the board. It isn't just Hield -- Cousins, Woodward and Spangler will all make big shots throughout games in March. But with a team that relies on threes, boasts a more one-on-one style of offense, and isn't deep inside, teams with good permiter defenders and size will give the Sooners trouble. Could VCU's "havoc" defense disrupt the flow of OU's shooters in the Second Round? Could Gary Payton II go toe to toe with Buddy Hield? It's tough to see a first weekend exit for the Sooners, but with the right gameplan, it might be possible.
The Tourney's second weekend, however, should be a huge test for Hield and co. The Sooners had trouble with Texas this year (Won at home by 3, lost away by 13), and a third matchup with a familiar foe in the Sweet 16 could bode poorly for Oklahoma. Texas A&M, the West Region's 3 seed, would also be a tough out for the Sooners. A&M are a dominant defensive club, and after going 1-5 during a rough stretch a month ago, the Aggies appear to be back on track, playing their best basketball of the year.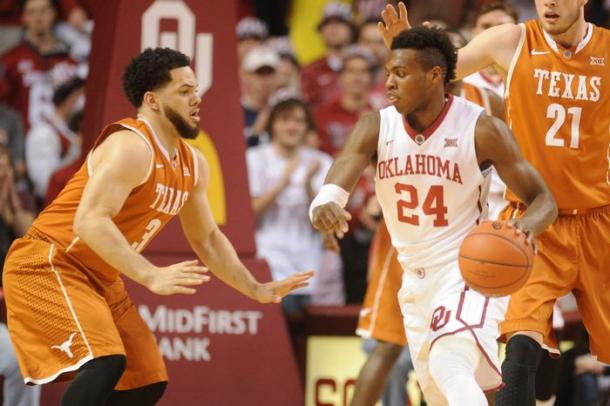 Sooner Rather Than Later
We aren't going to delve super deep into the plethora of potential matchups and outcomes. Duke-Oklahoma would be a ton of fun in the Elite Eight. As would Oklahoma-Oregon. And, a rematch between OU and Kansas in the Final Four would be delicious. We don't need to dig for details and carefully measure each possibility. This is March. Anything can and will happen. OU should enter this magical tournament with a chip on its' shoulder. This is a huge chance for the program to improve, but it's also the best shot in a long time for the Sooners. Hield will be gone next year, and while the team will surely remain encrusted with talent, this year's squad has seemed destined for something big all year long.
It's March, and anything can happen. Gary Payton II might play the game of his life and send OU home after the first weekend. Texas might beat them again. Northern Iowa might morph into cinderella and bulldoze through the Sooners on their magical path to a legendary run.
But no matter what, it should be an absolute blast to watch Buddy Hield showcase his talent in the biggest games of the year. Oklahoma's a contender, and Lon Kruger knows that his team can play with -- and beat -- the best. Maybe March will slap them in the face, maybe it will be strangely nice to them, and maybe the Sooners will survive all the way to April and play in the National Championship Game.
Buddy Hield and co. can pull it off. But only time, and the madness, will tell.