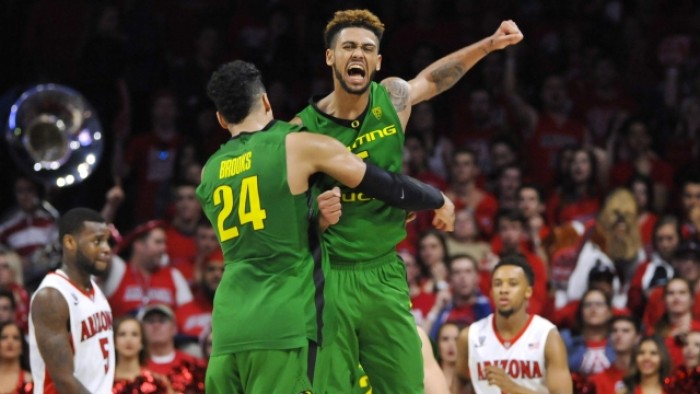 Eugene, Oregon is home to a plethora of parks, a budding Track and Field community, and highlighter-shaded uniforms.
It's also home to the best basketball team in the Pac-12.
The Oregon Ducks have had a wild season, full of injuries, confusing losses, and a late season rise up the national polls. After roaring through the end of the season with 7 straight wins including a walloping of Utah in the Pac-12 title game, the Ducks earned a 1-seed in the NCAA Tournament, much to the confusion of some basketball pundits and fans. Some don't see Oregon as a contender, or a worthy 1-seed, or even as one of the nation's top teams.
But don't be so sure.
Overlooked, But Not Overmatched
Oregon enters the Tournament with a palpable chip on their shoulder. They jolted out of a weaker Pac-12, finishing 14-4 in league play and dominating the conference tournament a week ago. But, even with impressive offensive firepower (78.8 team ppg), balanced scoring (4 players average 12 to 17 ppg), and a sparkling interior defense (4th in the country in blocks), some folks remain skeptical over Oregon's tournament ceiling; however, even if they hail from a weaker conference, and even if they seem a bit overseeded, Oregon might have the total package to survive and advance as far as anyone.
No matter what, the Ducks are going to be a tough out. They play fast, and at their best they seem to run teams out of the gym. They shoot 3s at a decent clip (35%), but they're especially streaky. At times in the Pac-12 Tourney, they just couldn't miss, and almost everyone on the floor can shoot. Yet, while streakiness could come back to bite any tournament team, the Ducks enter March Madness at the right time; they're red hot, and their top players are playing their best basketball of the year.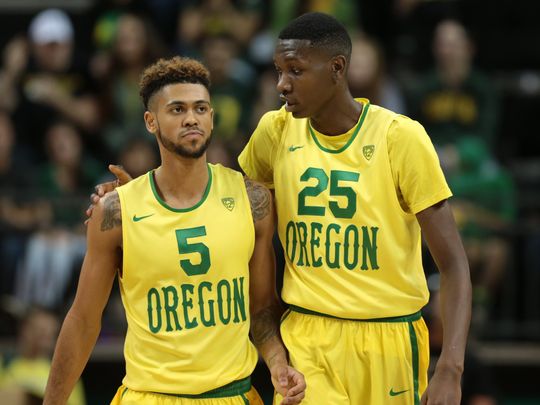 The Mighty Ducks
Oregon goes 7-deep, and four specific guys carry the load on offense: Tyler Dorsey, Chris Boucher, Dillon Brooks, and Elgin Cook. Brooks, 6'6'', leads the team with 16.8 ppg, but Dorsey and Boucher are the keys for a deep March run. Dorsey (6'4'' 180 lbs) has been huge lately, averaging 19.6 ppg in the last 5 games while shooting 54%. Dorsey can take games over, and he has many talents. He can slash, pass, and shoot (43% from 3) with the best, and he's only a Freshman. Boucher, meanwhile, is Oregon's lanky, versatile Center from Montreal. He's the Ducks' stalwart on defense (3 blocks per game), but on offense he makes a world of difference. He's a sneaky rebounder, and uses his quickness well to find loose balls for put-backs. In the NCAA Tournament, there seem to be scores of weird bounces and crazy rim rolls, and it's enormous to have someone who can clean up the mess and find extra points. Boucher can also hit threes. He shoots 54% from the field and 36% from 3, and it makes Oregon lethal with the ball. They spread the floor incredibly well, and against the stronger teams in their region like Oklahoma and Duke, they'll be able to reel opposing big men out of their comfort zones and onto the perimeter.
Matchups and Matchdowns
At their best, Oregon can beat anyone. If they're as lethal from deep as recent games, they'll be very tough to beat, but a run to the Final Four -- and even further -- also depends on the Ducks' ability to defend the perimeter. The Ducks are long, lanky, and good at running fastbreaks off turnovers. But, they need to force those turnovers, and they need to defend the 3-point line, too. In their worst loss of 2015-16 to the Cal Golden Bears, Oregon allowed 9 threes, and were essentially bulldozed out of the building. To make a run, Oregon needs to dig deep and defend hard. Against Brandon Ingram and Grayson Allen, they need to be active and guard the perimeter with their lives -- they needn't worry about the paint so much, Boucher (and Oregon's size) should be okay. But, it's fair to worry about Oregon's more star studded opponents. They can't let Allen or Ingram take over, and the same goes for Buddy Hield (Oklahoma) and even Wes Washpun (Northern Iowa). Lock down the perimeter, run out on turnovers, and stay focused inside. If Oregon can do that on defense, they're poised to make a run.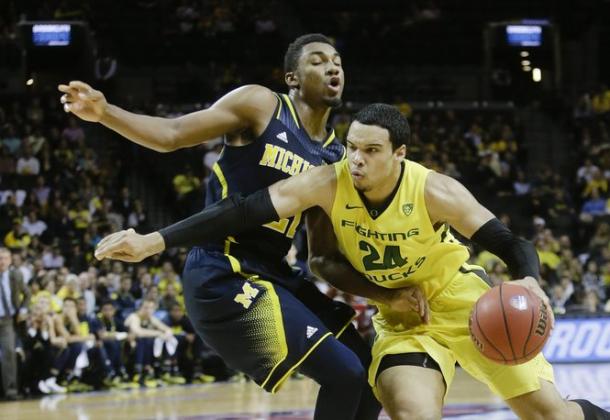 West Coast, Best Coast
Besides gameplan and execution, the NCAA Tournament might boil all the way down to pure feeling -- excitement, energy, and frustration all play an integral part in the Tourney. Oregon has a gift; they're a fun, energetic, and eager group. They play with emotion, a pure catalyst of March Madness, and they're using it extremely well. Even on neutral sites, the Ducks have used bench celebrations, fist pumps, and shouts of joy to their basketball advantage.
Oh yeah, guess what region they're in.
Oregon's first two games are in Spokane, a 7 hour drive frome Eugene. And, if the Ducks reach the West Region's Sweet 16, they'll be playing in Anaheim. Even though they're not at home, being out west -- in front of their fans and in their comfort zone -- is a huge deal. Every year, Tournament teams use their momentum, energy, and fans to their advantage. Oregon needs to do the same. If they do, and if they emulate their Pac-12 Tournament success, they could be on their way to Houston.
A Darkhorse of the Darkhorses
Not everyone is counting Oregon out, necessarily. But, it seems that most people don't trust them to come out of the West , even if they're the number-1 seed. Well, it's March. Oregon might plow through their opponents, or they might lose to Holy Cross in the First Round (could you imagine?). But with a chip on their shoulders, energy in their veins, three-point shooting, and a balanced attack, Oregon seems more than able to whip up a deep run into April. Are they the most talented team in the field? Probably not. But, if brackets of the past have taught us anything, it's that anything can happen in March. So don't be surprised to see these Ducks quack their way to the Final Four and beyond.