 The Connecticut Huskies are back at it again, with red-hot momentum heading into the big dance of March Madness. Once again an afterthought ninth seed, UConn faces its first tournament test Thursday in the eighth-seeded Colorado Buffaloes, a physical team worthy of the task.
Huskies Hot As Always Heading To March Madness
Kevin Ollie's Huskies snuck their way back into the NCAA Tournament with a magical run in the American Athletic Conference tournament, gnawing through Cincinnati (in quadruple-OT), Temple, and Memphis en route to the championship and a surprising automatic berth. With a four-game winning streak coming into the tourney, UConn gives the higher-seeded Buffaloes quite the load to handle.
UConn was a low seed just two years ago in 2014, due to a few too many conference losses, similarly to their resume this season. But that team went on to win it all in Ollie's first season as head coach; much of the same could happen this year.
"You can go back through the history of UConn teams. This is where we peak at, and this team is no different," coach Ollie said. "I'm not saying that's going to guarantee a national championship, but our team is playing their best basketball now because they're understanding their roles and understanding how to play hard and understanding what the game demands of them each and every day."
Colorado A Dangerous Opponent Inside
Guaranteeing a big run is also way past the first road block, a tough Colorado squad capable of roughing anyone in the country inside. The Buffaloes rank fourth in the nation with 42.4 rebounds per game, and big man Josh Scott, with averages of 16.1 points per game and 8.7 rebounds per game, makes this team extremely dangerous.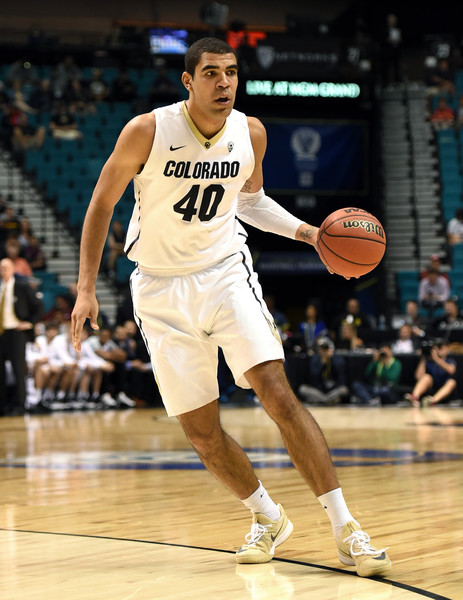 Colorado also had trouble in conference play this season, with seven away losses in Pac-12 Conference play, and an overall losing record on the road. The Buffaloes have also lost six of their last 11 games overall, and were knocked out by Arizona in the second round of their conference tournament.
Yet the Coloradoans have versatility to their game, with a duo of Scott inside and guard George King on the outside. King provides an option on the wing, with 13.8 points per game along with 45.6 percent shooting from beyond the arc.
The Buffaloes average 76 points per game but will have a tough time getting past UConn's 15th-ranked scoring defense, one that gives up just 63.2 points per contest.
Connecticut too will have issues on the offensive end, with a deficit in size. But the Huskies have four 12-point-per-game scorers on hand, Shonn Miller, Rodney Purvis, Daniel Hamilton, and Sterling Gibbs, and may have the right combo to find a way by the mammoth Buffaloes.
Game stats from the regular season suggest that the Huskies should win if they break the 70-point mark. Colorado gives up 70.7, and with their lack of momentum heading into this matchup, it's hard to argue that blazing UConn will be stopped in the Round of 64. The Huskies have better depth and play much better when it gets down to crunch time.
The tournament vibe should tip in Connecticut's favor as well, no doubt about that. So it should be a nine-over-eight when the game tips off Thursday.