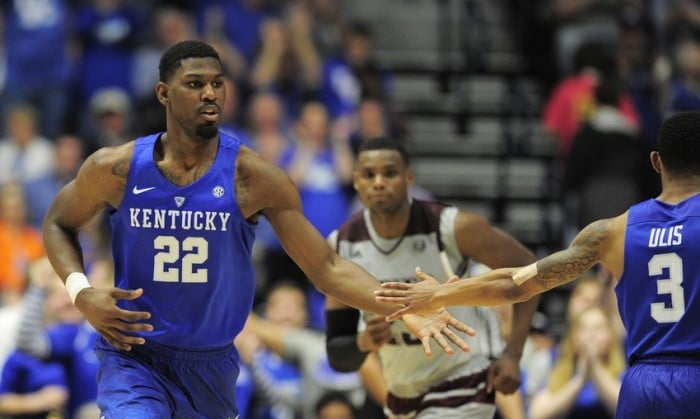 Thanks for joining me on this live coverage of Kentucky vs Stony Brook in the first round. This is Pat Duerr, signing off!
Kentucky runs the clock and wins 85-57 to advance and face their old rival the Indiana Hoosiers on Saturday. Kentucky ties a record 15-blocks in an NCAA Tournament game and Tyler Ulis breaks John Wall's Kentucky assist record in a season after totalling 242 tonight.
(2nd Half, 0:44) Lee fouled and hits both to push the lead to 85-57.
(2nd Half, 1:00) Dorohoe hits a layup inside to make it 83-57.
(2nd Half, 1:10) Willis hits a three off the screen and makes it 83-55!
(2nd Half, 1:40) Matthews scores on the inside for UK to make it 80-55.
(2nd Half, 2:10) Puriefoy knocks down a deep three to make it 78-55!
(2nd Half, 3:25) Labissiere with a pretty layup inside and Warney responds with one of his own to make it 78-52.
Kentucky got into their groove during the second half but Stony Brook's Jameel Warney is on some crazy level. The Seawolves have broken plays saved by their star on multiple occasions, and the senior has kept his team scoring somewhat consistently in this one.
(2nd Half, 3:59) Donohoe loses the ball out of bounds to take it to the final media timeout.
(2nd Half, 4:31) Thrower fouled on the break again and hits both to make it 76-50.
(2nd Half, 4:44) Warney fouled with the basket again! Makes it 76-48 with the free throw.
(2nd Half, 5:10) Labissiere with the pretty hook! 76-45.
(2nd Half, 5:26) Thrower gets fouled on the break and makes both to make it 74-45.
(2nd Half, 5:41) Warney gets the offensive rebound and gets fouled with the basket, misses the free throw and it's 74-43.
(2nd Half, 6:10) Briscoe with a step-back jumper at the end of the shot clock! 74-41!
(2nd Half, 6:41) McGrew fouled and hits one free throw to make it 72-41.
(2nd Half, 6:50) Briscoe drives the lane and scores the easy layup to make it 72-40.
(2nd Half, 7:10) Warney slams in a putback on the break! 70-40
(2nd Half, 7:40) Briscoe catches a lob and lays it in to make it 70-38.
(2nd Half, 7:50) Hawkins fouled going into the under eight timeout. Kentucky leads 68-38.
(2nd Half, 8:45) Ulis hits the mid-range jumper to make it 68-38.
(2nd Half, 10:30) Warney fouled on the make and gets the free throw to go. 66-38 'Cats.
(2nd Half, 10:10) Murray hits a fadeway jumper in the post. 66-35.
(2nd Half, 10:50) Woodhouse fouled on the and-1 and converts the free throw to make it 64-35.
(2nd Half, 11:00) Poythress comes flying in for a layup to make it 64-32!
(2nd Half, 12:00) Warney scores a quick basket and Murray responds with a dunk to make it 62-32! A turnover by Stony Brook will take the game to the media timeout.
(2nd Half, 12:20) Ulis with a lob to Lee to make it 60-30!
(2nd Half, 13:10) Puriefoy knocks down a three and Murray responds with his own three and it's 58-30.
(2nd Half, 13:25) Lee slams one home after a bench warning issued to John Calipari. Wildcats up 54-27.
(2nd Half, 13:50) Walker gets his first basket of the game to go and it's 52-27.
(2nd Half, 14:22) Lee fouled by Warney and hits both to make it 52-25.
(2nd Half, 14:50) Murray hits his first three and it's 50-25!
(2nd Half, 15:42) Willis knocks down Kentucky's first three of the game and the Wildcats lead 47-25 at the media timeout.
(2nd Half, 16:30) Murray with an acrobatic layup, then Warney puts in an offensive layup to make it 44-25.
(2nd Half, 17:04) Ulis cuts inside for an easy shot off the back board in space. Wildcats are rolling up 42-23 now.
(2nd Half, 17:30) Murray with a tough layup to make it 40-23.
(2nd Half, 18:25) Murray fouled and gets one to go at the line to make it 38-23.
(2nd Half, 18:30) Warney fouled and hits one to make it 37-23.
(2nd Half, 19:10) Puriefoy hits a three and Labissiere hits a jumper to make it 38-22.
(2nd Half, 19:40) Poythress muscles one inside to make it 35-19!
The second half will be starting shortly!
Despite a 23-9 run by Kentucky, neither team looks like they are in any type of groove. Both teams will likely use halftime to shake off their nerves and get back to their normal style of basketball in the second half.
(1st Half, 0:01) Poythress blocks a shot emphatically and Stony Brook can't get a final shot off on the inbounds. Kentucky leads 33-19 at the half.
(1st Half, 0:07) Briscoe fouled on the and-1 and mkaes the free throw to make the lead 33-19.
(1st Half, 0:40) Warney sticks with it and puts in his own miss to make it 30-19!
(1st Half, 1:18) Ulis fouled and hits both to make it 30-17.
(1st Half, 1:58) Warney with a hook shot over two players to make it 28-17.
(1st Half, 3:30) Warney with the floater to make it 28-15.
(1st Half, 3:57) Murray hits both free throws and makes it 28-13.
(1st Half, 3:57) Murray fouled on the break and he will have two shots after the final TV timeout of the half, still 26-13 Kentucky.
(1st Half, 4:30) Ulis with a steal and fast break layup tp make it 26-13!
(1st Half, 4:46) A missed three by Murray leads to a Willis putback and the lead is 24-13! Stony Brook calls timeout!
(1st Half, 5:30) The teams trade baskets and it's 22-13.
(1st Half, 5:56) Poythress fouled by Warney on the shot and hits both to make it 20-11.
(1st Half, 6:50) Poythress with a strong move inside to make it 18-11.
(1st Half, 7:02) Walker hits one to make it 16-11.
(1st Half, 7:02) Ahmad Walker fouled by Labissiere and will have a chance to cut the lead at the line after the timeout. 16-10 Kentucky.
(1st Half, 8:30) Labissiere with a jumper to make it 16-10!
(1st Half, 9:00) Murray with a fast break score at it's 14-10!
(1st Half, 10:10) Hawkins scores inside to make it 12-10.
(1st Half, 11:25) Thrower hits both to tie it 10-10.
Both teams look completely out of sorts and are probably excited. Stony Brook has never been to the NCAA Tournament and Kentucky has plenty of freshmen who have never been here.
(1st Half, 11:25) Deshaun Thrower fouled on the shot and will get to go to the line after the break. still 10-8 Wildcats.
(1st Half, 14:00) Sturdivant makes it 10-8 with a jumper.
(1st Half, 14:12) Labissiere with the quick hook shot to make it 10-6!
(1st Half, 14:41) Poythress fouled and hits both to make it 8-6.
(1st Half, 15:00) Puriefoy hits both to tie it 6-6.
(1st Half, 15:00) Puriefoy fouled going up and will have two free throws after the timeout. Still 6-4 and Marcus Lee now has two fouls.
(1st Half, 15:20) Poythress slams one home to make it 6-4!
(1st Half, 15:30) Warney ties it inside!
(1st Half, 16:45) Briscoe fouled on the shot and hits both to make it 4-2.
(1st Half, 17:40) The Seawolves put it in to tie it at 2-2!
(1st Half, 19:20) Labissiere strikes with a jumper. 2-0
The game is about to be underway!
Correction: Tip-off has been moved to 9:57 pm ET.
The game will be starting in just under 10 minutes, folks!
The winner of this game will meet Indiana in the Round of 32 after their 99-74 win over Chattanooga.
Join back here for updates before tip-off!
Kentucky's key to success in this game is to let anyone except Warney take they shots. Warney runs the offense and if he's not involved, it will mess up their flow entirely. For Stony Brook, it's to go into the game unafraid of the pressure by Kentucky's guards and get Kentucky's big men in foul trouble. If the Seawolves can make them a non-factor, they have a good chance of pulling off a major first round upset.
Kentucky can be hurt pretty similarly in the front court as double-teams on the bigs inside lead to turnovers. Stony Brook better have added rebounding drills to practices, because the Wildcats can give up offensive rebounds in a hurry. The Seawolves just need to be physical down low and cause the Kentucky big men to be uncomfortable.
Kentucky's weaknesses are the opposite of Stony Brook's as the Seawolves can be hurt in the back court. Stony Brook's guards don't take well to pressure, and can become turnover prone very quickly. Kentucky's athletic and fast guards can apply that pressure and force the Seawolves to get out of sorts on offense early.
This is an upset choice people tend to like this year, though. College basketball lovers don't trust the inconsistent Kentucky bunch due to their regular season losses. The reason to choose Kentucky in this one is that they aren't what they were in December, or January, or even February. They are an improved team now that looks as if they could take on the world.
Their best effort could be enough, if Kentucky overlooks this team by accident. The Wildcats have yet to get a consistent outing from their big men and without contribution either defensively or offensively in the paint, Kentucky isn't winning. The Seawolves are just too powerful inside to be play soft in the paint against.
Stony Brook is focused on a smaller goal as of right now, and that's knocking the mighty Kentucky out of the first round. The Seawolves know how much it would mean to their program if they were able to upset Kentucky, and they have nothing to lose. Expect nothing short of their best effort against the Wildcats.
Kentucky isn't looking to break records, this team is looking to leave their mark on the postseason. Calipari believes the Wildcats were seeded unfairly and that point will push this team. This is a team built on confidence, and these 'Cats are confident they can win it all.
Kentucky's Jamal Murray and Tony Delk have been mentioned in the same sentence since the SEC Tournament. Murray broke Delk's single-season record for consecutive games with a 3-pointer. Now, Murray has a chance to break Delk's record of 34 consecutive games with a three. If Murray drains one against Stony Brook, Delk can say good-bye to his record.
Kentucky's Tyler Ulis will not have an ideal match up in this game. Ulis comes in at 5'9 and the shortest player on Stony Brook, Carson Puriefoy, checks in at 6'0. Ulis usually gets put up against the shorter guards but with his size disadvantage, it wouldn't be shocking to see him guard a taller guard in this one.
Alex Poythress is the key senior the Wildcats, but hardly as efficient as Warney. Although, these two will go head-to-head to see exactly which one can play better defense. With Kentucky's lack of athleticism in the front court, they will need their senior to stay out of foul trouble to keep Warney at bay.
Warney is coming off a 43-point game that helped lead his team to an NCAA Tournament birth in their conference tournament final. His explosiveness combined with his size will give Kentucky players fits as they only have one player that can contest him.
Jameel Warney hasn't been talked about his whole career until he was set to face Kentucky. This senior was a 2-star recruit out of high school and has become one of the better individuals to play college basketball. Warney currently has the best PER of any student athlete in NCAA history.
A first round game would usually be overlooked by one of John Calipari's talented squads, but not this interesting Seawolves team. Stony Brook doesn't have every piece of the puzzle, but they have the man who can help solve it.
The Kentucky Wildcats are fresh off an SEC Tournament Championship and look to pull off an astonishing run to the Final Four. But first, they have to deal with the Stony Brook Seawolves, who are coming off their American East Conference Championship.
Welcome to VAVEL NCAA's LIVE coverage of the 2016 NCAA Tournament game between the Kentucky Wildcats and Stony Brook Seawolves. I'm Pat Duerr, and I'll be providing minute-to-minute updates, commentary, and results of the first round. The game starts at 9:40 pm ET, and there will be coverage pregame, mid-game, and postgame.