 Watch out, Oregon. That's all you need to say about the Saint Joseph's Hawks coming into the 2016 NCAA Tournament.
Coach Phil Martelli and his soaring squad are on a roll right as March Madness hits full swing, fresh off winning the A-10 Conference tournament, a title to which Saint Joseph's had to fight through the likes of George Washington, Dayton, and VCU to reach the crown. And the latter two of those teams in the tournament as well.
Game One - Cincy Could Be A Nightmare
The 27-7 Hawks first have to face the ninth-seeded Cincinnati Bearcats in the Round of 64, a matchup that could be potentially dooming with the strength of Cincy's defense. St. Joe's is just 2-2 against defenses in the top 50 in two-point percentage, and in those games they failed to reach 45 percent field goal shooting. The Hawks also shot at a horrendous 29.7 percent clip from long range over those matchups.
Isaiah Miles (18.4 PPG, 8.1 RPG) and DeAndre Bembry (17.3 PPG, 7.7 RPG, 4.5 APG) will be huge factors in this first game, with their scoring and leadership on the court being the possible difference between an ice-cold shooting night and a satisfying win. The two combined for 56 points in the A-10 tournament final, and are a key duo in the frontcourt for St. Joe's.
Martelli's team, being one of the nation's most efficient with top-20 numbers in turnovers per game and assist-to-turnover ratio (1.47 AST/TO), will have to limit turnovers and fire high-percentage shots on the way to victory, just as they did to get past VCU.
Cincinnati fell out of American Athletic Conference tournament play early, getting outlasted in quadruple-overtime by red-hot Connecticut. That game, one between two of the country's most sturdy defensive teams, continued the pattern of the Bearcats' losses when it goes down to the wire. All but one of Cincy's losses on the road over the regular season were decided by four points or less, one in OT and another in double-OT.
The Bearcats are quite a strong rebounding team, equally to St. Joe's, and the battle of the boards will also be a huge key in this one. It may just as well come down to which team is playing better, and at the moment, that's got to be these Hawks.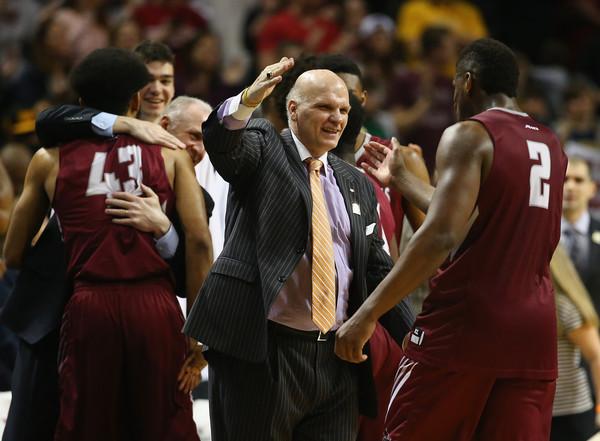 If they are able to pass the first test of Cincinnati, Saint Joseph's has quite the potential to do damage to millions of brackets and a new one-seed, an unknown one in the mighty Ducks of Oregon.
Should They Face Oregon, Upset Chances Fly Through The Roof
Oregon is a physical, explosive team at the top of the West with not any glaring weakness, but inexperience in the spotlight and patterns from previous losses this season could haunt the Ducks. But if any team fits the bill to take Oregon down on their path to the title, it's got to be St. Joe's.
In just about each of Oregon's six 2015-16 regular season losses, the Ducks' opponents offensively exploited three, with all but in-state rivals Oregon State hitting at least eight threes. Secondly, the Ducks, if not outrebounded, were not able to control the glass by a margin larger than five boards.
Both these factors play right into the Hawks' wings.
Saint Joseph's is ranked 18th in the nation in defensive rebounding, a characteristic daunting to a Ducks squad predicated on scoring second-chance baskets and easy hoops inside. With Miles and Bembry at big man, along with a slew of perimeter players, the Hawks will be able to exploit Oregon's defense with full lineups of long-range shooters. The Hawks upset Dayton in the A-10 tournament, and in doing so hit 10 threes–exactly what they'll need to do to beat the Ducks.
Oregon's a top-30 team in extra scoring chances, and that will be wiped away by the Hawks' barrier in the defensive middle. Tyler Dorsey would have to be spot-on shooting the ball from deep and Chris Boucher would need to maintain a presence in both paints for the Ducks to enforce any bit of their will against St. Joe's, simply a team whose strengths fill in the perfect holes to beat No. 1 Oregon.
How Far Can They Go?
It's unlikely St. Joe's could go much further than the Sweet 16 or Elite Eight if they took down Oregon, with everything obviously riding on the matchups. With Texas A&M or Oklahoma most likely coming out of the bottom of the West, it's nearly inconceivable for the Hawks to emerge from the region as the eight seed. But they will turn heads if they can get past Cincy in the first round, and a chance is all this team could ask for.