 There can't really be an upset in the 8-9 matchup between Saint Joseph's and Cincinnati on Friday night, but that won't take away from it being one of the Round of 64's most competitive and entertaining games.
Two Highly-Ranked Sides That Match Up Well
The Hawks (27-7) and the Bearcats (22-10) are two physical powerhouses, both capable of doing damage in the later rounds to the likes of Oregon and possibly Duke or Yale. While St. Joe's may be the more exciting team to watch offensively, Cincy's scoring defense is 10th-ranked in the nation.
Both teams are also in the country's highest ranks in rebounding and offensive efficiency. St. Joe's is tied for the 18th spot in defensive rebounding and boasts a top-15 assist-to-turnover ratio of 1.47, while the Bearcats are 17th with 13.5 offensive rebounds per game and also a top-35 ranking in assist-to-turnover ratio.
Saint Joseph's comes to the tournament on the perfectly-times hot streak that won them the A-10 Conference tournament, now with a three-game win streak to follow their end-of-regular season skid, in which they lost three of their final five.
Cincy, on the other hand, was knocked out of the American Athletic Conference tournament early, falling to Connecticut in a quadruple-overtime game that will go down in the history books. In the defeat, leading scorer Troy Caupain scored a career-high 37 points, and afterwards noted that "It was not a loss where [the Bearcats] keep [their] heads down."
Caupain and sophomore forward Gary Clark lead Cincinnati offensively, with Clark having recovered fully from an ankle injury. He averages 10.9 points and 9.0 rebounds for the less-athletic Bearcats, who coach Mick Cronin says "have to do it with defense" because of their inability to "rely on talent to win."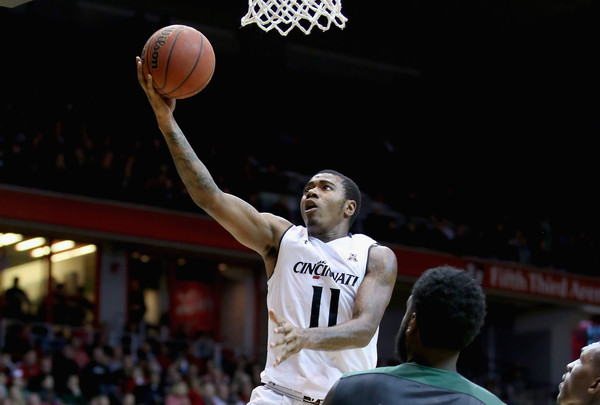 Cronin and company will have to face a Hawks team led by the frontcourt duo of Isaiah Miles and DeAndre Bembry, a pairing that combined to score 56 in the A-10 championship against defensively-sound VCU. Miles leads the team with 18.4 points and 8.1 rebounds per game, while Bembry adds 17.3 points, 7.7 boards, and 4.5 assists as well per game.
Both are very versatile forwards able to step out a bit further than most forwards to make shots, but size could be an issue against a Cincinnati team with bigs as tall as 6'10" in the rotation. The Hawks have no players over 6'8" that get many minutes in a normal rotation–Miles is 6'7" and Bembry is 6'6".
Miles is vastly improved from last season after losing a load of weight. Coach Phil Martelli said Miles' "basketball I.Q. is at the next level, where he'll eventually end up." The Hawks themselves are also much better than their losing campaign in 2014-15, just look where they stand right now.
It will be a battle to the end between these two sides, but if it comes down to the wire and it's still tight as can be, give the edge to Saint Joseph's, as past losses this season suggest Cincy struggles to emerge victorious in closely decided games, especially in overtime, double-overtime, and as of last week, quadruple-overtime.