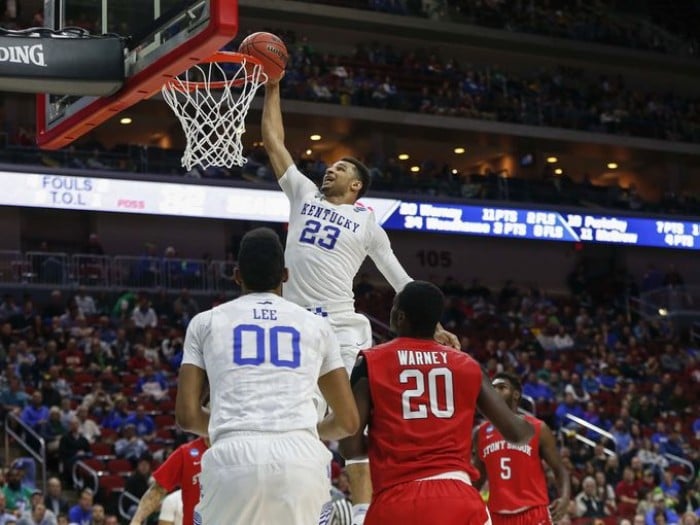 John Calipari said it best when he pointed out the Kentucky Wildcats and Indiana Hoosiers should not meet until the following weekend. These teams are two of the better squads left in the field, and it's a shame one has to be sent packing this early.
Offense Is Key
These two teams have some of the best offenses remaining, with Kentucky taking the top spot in offensive efficiency. With that, expect a fast paced, run-and-gun type of game.
Both teams also rank rather low in defensive efficiency on the season. Indiana has picked up their defense in the last month and Kentucky is starting late after their NCAA Tournament record 15-blocks against Stony Brook.
It's no question these two teams will get going on the offensive side, the game could even end with a similar score to the last meeting between the school where Kentucky won 102-90 in the 2012 Sweet Sixteen.
This game will ultimately come down to which team plays the better defense in the clutch.
Floor General Battle
Tyler Ulis and Yogi Ferrell have been compared and contrasted all season long. Being the only guards in the country who match up in size and talent.
Both guards play phenomenal defense and 100% make life harder for their opponent. They both pressure the ball so well and use every defensive possession to prove their worth even more.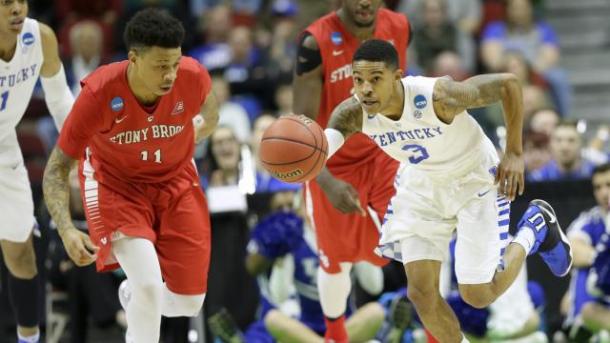 On offense, Ferrell finds his strength holding the ball and making plays with it in his hands. Ulis finds that same comfort, but with talented guards to back him up, he often can be found running off screens and scrambling up the defense.
Both players have an unbelievable ability to break down players on both sides of the ball. They both may be under 6'0, but when they step on that court, these two might as well be 7'0 tall.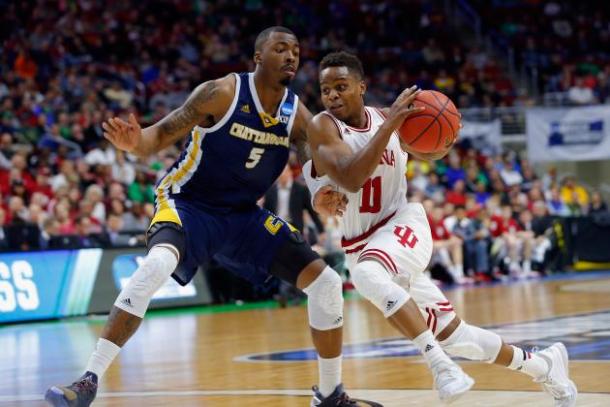 Now, these two point guards who have been compared so much, finally get to prove which player deserves to be called the best leader in college basketball.
Rivalry Renewal
After a buzzer beater by Indiana in December of 2011, the Kentucky Wildcats did not renew their series with the Hoosiers due to Calipari not appreciating the court being rushed by Indiana fans.
The Kentucky coach though it was dangerous to play in an arena knowing something like that could happen again, so he offered a neutral court series. Tom Crean did not agree; thus ending the Kentucky-Indiana rivalry.
Whether it gets renewed in the future is unknown, but this game could push both coaches to reach some sort of agreement.
In the past, this rivalry has always made for entertaining games. If this Round of 32 game gets enough buzz, there's no telling what Crean and Calipari could decide.
Calipari did elude to the series likely not starting back up anytime soon due to the non-conference events Kentucky plays in. But every fan can dream that this rivalry comes back.
For one night, it will be back, and it is the most important event of the year for both teams. One squad will get a ticket to the Sweet Sixteen, and the other will be heading back home.
Players to Watch
Alex Poythress- Poythress is a senior and is the only player on roster who comes close to knowing about the UK-IU rivalry. He needs to produce big on both ends to help push his team to a win.
Nick Zeisloft- Zeisloft has the ability to go off if he's given a few open looks. His fade away in the post seems unstoppable and the Kentucky double-teams might not be enough. He'll need to play with energy to get his team to the Sweet Sixteen.