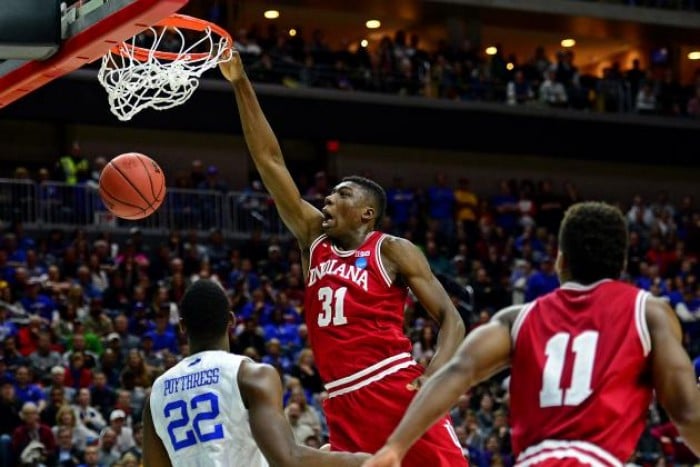 The Indiana Hoosiers had a better night offensively in a game where both teams couldn't get into a flow because of often foul calls. Now, they get a date with either North Carolina or Providence.
Outplayed
The story for all nine of Kentucky's losses this season is that the other team played with more energy than the Wildcats. That exact recipe spelled their doom in the Round of 32.
Kentucky came out the gate quickly, but that's how the Hoosiers love to play. They fell right into the hands of Indiana and allowed the flow of the game to go in their favor.
Indiana's intensity and the team's will to win looked to be there a lot more than Kentucky's. Tyler Ulis' supporting cast, including Jamal Murray, all looked like they didn't know this could be their final game.
Ulis, however, brought his best effort in bringing back his Wildcats. Kentucky was down seven with under two minutes left and Ulis scored nine points to make it a 2-point game with 10 seconds left. Yet, his efforts would fall short.
When only one person on a team plays for his life, it will never cut it. The Wildcats didn't bring their A-game and they are eliminated for that exact reason.
Early Meeting
John Calipari said multiple times that this is a game that should be played in the Sweet Sixteen or Elite Eight. The ball coach is as right as can be.
The SEC Champions and Big 10 Champions should not be playing to knock each other out of the tournament in the first weekend. The committee was criticized for their seeding this year, and this game provides another example.
Neither team deserved to go out this early, but a blue blood is sent how to watch from the couch. This game should have been played for a chance to go to Houston.
But, that's the tournament--teams play with the hand they're dealt. It takes six games to get the trophy, no path is easy.
Farewell Party, Part VII
Kentucky will likely say goodbye to their highly-talented players once again, but now they have a player that has no choice but to say farewell to his Kentucky jersey.
Alex Poythress has given his UK some great moments in the last four years, and it's a terrible way for him to go out. He couldn't get into a groove offensively and got called for fouls.
Despite that, fans hate to say goodbye. He gave his best effort in every game he played and played for the name on the front of the jersey; truly a great talent.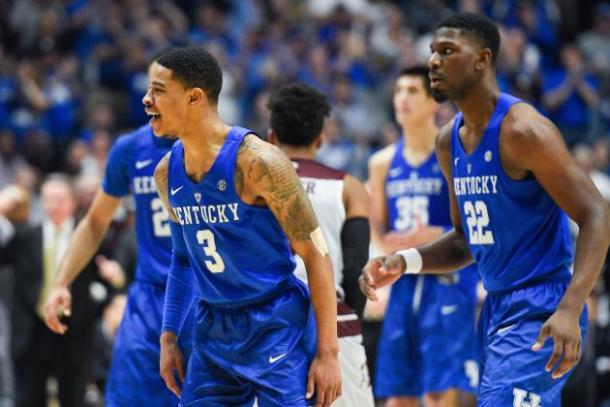 Even more, Kentucky will likely say good bye to the heart and soul of this team: Ulis and Murray.
Murray is such a rare shooting talent that he will have no trouble being a top 10 pick in the 2016 NBA Draft. The NBA will fall in love with a pick-and-pop player like Murray.
Ulis gave up everything he had for his team night in and night out. He willed his team to do so much, and the 2015-16 Wildcats would have been nothing without Ulis.
He stands 5'9", but plays like he's 8'0". He made plays that seemed impossible for his size look easy. The Wildcats will never find a player with such a high basketball IQ again. An NBA team will enjoy this steal of a pick.
Player Statistics
Tyler Ulis- A fantastic season comes to horrible end, but he still put up outstanding numbers. He had 27 points and three assists before fouling out in what is likely his final UK game.
Thomas Bryant- Bryant single-handedly outscored the entire UK front court with his 19 points and added five rebounds. The Wildcats had no answer for the physical big man down low.
Yogi Ferrell- Ferrell got bumped and bruised on his way to the basket all game and used switches to abuse bigger defenders. He finished with 18 points, five rebounds and four assists.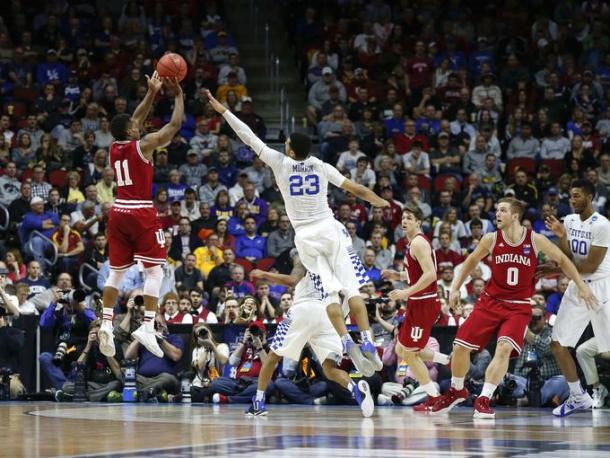 Jamal Murray- Despite going 1-7 from deep, Murray still managed to rack up 16 points, seven boards and four assists. He was seen crying after the game talking about how he could have performed better, a rather heartbreaking sight from the freshmen.