 Something magical happens the week of March Madness, something like witchcraft. Only the most powerful spell could inspire millions of people to pore over their brackets predicting winners and then set them on fire cheering an unforeseen upset. The opening slate of Thursday/Friday games isn't a national holiday, but most basketball lovers would gladly trade President's Day for the single most thrilling and unpredictable sporting event of the year. The early games brought close contests but few surprises. Then twelve-seeded Yale University knocked off the fifth-seeded Baylor Bears, and the madness started in earnest. It didn't let up until Sunday night.
CINDERELLA LIBERTY
It's always a big story when a low seed advances, especially when the lower seed is relatively unknown and hails from a mid-major program like Middle Tennessee State, Stephen F. Austin, Northern Iowa, and University of Arkansas-Little Rock. But is it really fair to call them Cinderellas? This year lower seeded teams entered the tournament undaunted, well prepared and ready to roll. The MTSU Blue Raiders, a 15 seed, bounced second seed (and presumptive Final Four favorite) Michigan State, leading them wire to wire. 14 seed Stephen F. Austin, making their third straight tournament appearance, bullied three seed West Virginia before losing a heartbreaker to last year's Elite Eight squad Notre Dame. Hawaii (13 seed) took advantage of four seed Cal's loss of its leading scorer, Tyrone Wallace, to race to a comfortable 77-66 victory. The twelve seed have eliminated the five seed so often since 2008, that the matchup's become an automatic upset pick in many bracket pools. When the smoke cleared, only 11 seed Gonzaga succeeded in punching a ticket to the Sweet Sixteen, but Providence, Butler, Hawaii and Wichita State gave North Carolina, Virginia, Maryland and Miami all they wanted in their second round games until the higher seeds' talent, size and depth wore them down. Call them underdogs and root for the upsets, but don't call them Cinderellas.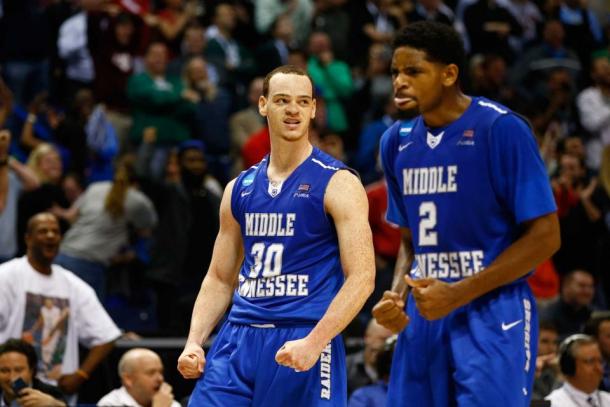 THE SEEDING SYSTEM IS FLAWED
Selection Sunday never fails to spark debate over which teams did or didn't make the field, but more attention should be paid to the way teams are seeded. When a team's seeded incorrectly, it doesn't just affect the next opponent, it alters the dynamics of the entire region. In the South, the Wichita State Shockers entered as an 11 seed battle-tested from a play-in game against Vanderbilt. They easily outclassed six seed Arizona to move on to round three. In the East, Florida Gulf Coast University, a 16 seed two years removed from a Sweet Sixteen run, demolished its play-in opponent Fairleigh Dickinson by 31 and played one-seed North Carolina to a one-point halftime margin before succumbing down the stretch. Stephen F. Austin earned a 14 seed despite not losing a Southland Conference contest in over two years. And Gonzaga, no stranger to NCAA tournament glory, reaped its eleven seed by the skin of its teeth after compiling a 26-7 record and winning the West Coast Conference tournament with a buzzer beater.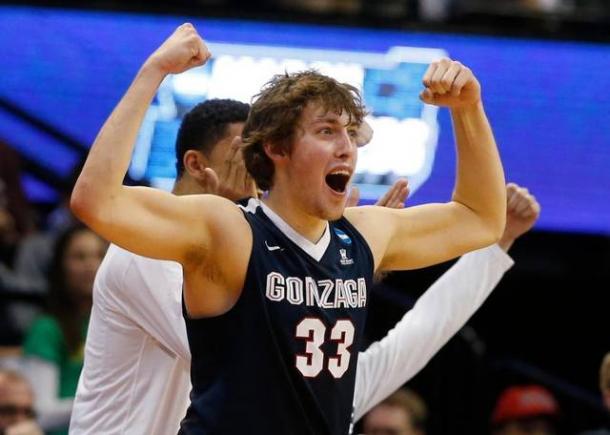 The process by which the NCAA determines seeding is complex, thorough and composed of many competing factors including strength of schedule and key home and road losses. But there's little doubt the final seeds are biased in favor of the major conferences with a built-in presumption that their level of competition is greater. The current system doles out seeds with a "heads I win, tails you lose," philosophy: teams are punished for not having played the power-conference schools they go on to upset in the opening rounds. Though a tricky a proposition, the seeding system merits further scrutiny and a new perspective.
ACC ANSWERS THE BELL
Speaking of power conferences, the Atlantic Coast Conference (which now stretches into Indiana) sent seven teams to the Big Dance. Six of them are still dancing. Only Pittsburgh, who lost their opening bout with Wisconsin by four, has been eliminated; North Carolina, Virginia, Miami, Duke, Notre Dame and Syracuse have all earned berths in the Sweet Sixteen, totaling a tournament record of 12-1. On the other end of the spectrum, the Pac-12 Conference also placed seven schools in the field, a conference record. After Commissioner Larry Scott boasted of the Pac-12's overall depth on Selection Sunday, its teams laid one very large collective egg. Only one seed Oregon is moving on to the Sweet Sixteen, after surviving a scare from gritty eight seed Saint Joseph's. Cal, Arizona, Oregon State, Colorado and USC all lost their first games.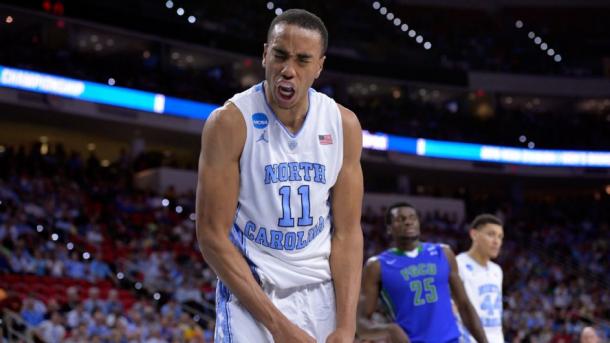 DID THEY SAVE THE BEST FOR LAST?
This year's round of 64 matched 2001 for the most upsets, but for sheer entertainment value nothing beat the final games on Sunday afternoon and evening. The day started with Notre Dame edging a savvy and talented Stephen F. Austin squad keyed by tournament breakout sensation Thomas Walkup. Irish freshman Rex Pflueger's game-winning tip-in with 1.5 seconds to play was his only score of the game. Then two seed Oklahoma needed 36 points from national player of the year finalist Buddy "Buckets" Hield to get past a late-surging VCU, 85-81.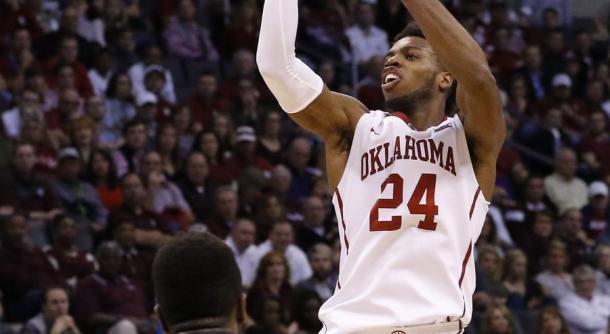 That merely set the stage for the wild finishes to come. After controlling the tempo for the better part of the game, holding Texas A&M star Danuel House scoreless and staving off mini-runs to continually rebuild their lead, the eleven seed Northern Iowa Panthers led the three seed by 12 with just under a minute to play. Then disaster struck. Senior ball handler and in bounder Matt Bohannon went to the bench with a knee injury and the Panthers had to reshuffle their lineup. Amid a swarming, desperate press, Northern Iowa turned the ball over multiple times on the baseline allowing the opportunistic Aggies to steal an impossible win in double overtime.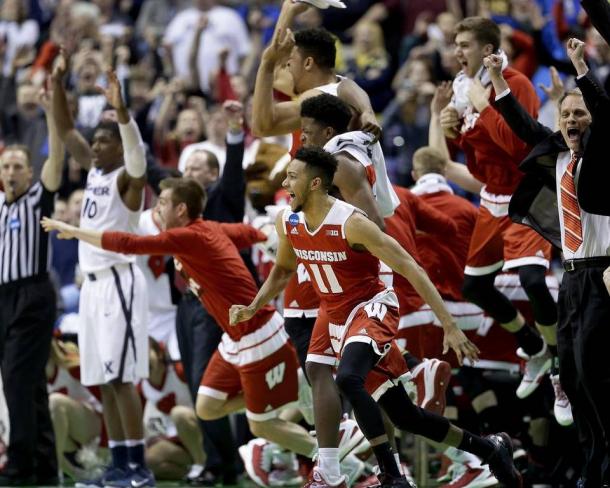 As heartbreaking as the loss was for Northern Iowa, it couldn't have been any worse than what Xavier endured. Leading by three with eleven seconds on the clock, the two seed Musketeers allowed Wisconsin sharpshooter Brandon Koenig to tie, then win the game with two consecutive three pointers—the last coming off an inbounds pass with under two seconds to play. The reaction in the arena was, well, madness.