 52 games have been played. Brackets have been ruined. Cinderella stories have captured the nation's heart. There have been blowouts, thrillers, upsets, and crazy comebacks.
And now, 16 teams have emerged from a 68-team field, each with a chance to capture College Basketball's holy grail. Most people could have predicted that Kansas, North Carolina, Virginia, Oklahoma, and maybe even Oregon would emerge from the first hectic weekend of March Madness. But the real bracket-busters include the Gonzaga Bulldogs and Syracuse Orange, seeded 11th and 10th respectively.
The Wisconsin Badgers, a seventh seed whom many doubted would survive Pittsburgh in the first round, upset second-seeded Xavier to punch their ticket to the Sweet 16. Notre Dame, considered a weak 6th seed with a penchant for losing to mediocre squads, has barely survived two games but is somehow still alive. Texas A&M needed to score 14 points in 44 seconds to top Northern Iowa in the Round of 32. Duke has somehow survived consecutive upset attempts and have proven to possibly be a very vulnerable, but at the same time very dangerous, team. So, in this tournament, always so wildly unpredictable, who will punch a ticket to the Elite Eight on Thursday and Friday? Let's take a look at the South Region.
2. Villanova vs. 3 Miami
Basketball fans get a few days to catch their breath after a thrilling opening weekend to March Madness. When the action resumes, it will be the Wildcats taking on the Hurricanes to open the Sweet 16.
Wildcats Face First Real Challenge
Many people doubted the Wildcats recalling past Villanova squads that choked in the clutch. However, the Wildcats have garnered consecutive blowout victories, silencing the doubters. It is the first time since 2009 that the Wildcats have advanced this far in the tournament. That year, Villanova went on to the Final Four. Could they have that luck again? To do it, they will have to defeat two quality opponents, starting with the Hurricanes. However, the Wildcats have the tools to defeat Miami. Their offense, led by Josh Hart (15.4 points per game), Kris Jenkins (13.3 PPG), and Ryan Arcidiacono (12.0 PPG), averaged 77.5 points per game. They will look to capitalize on a mediocre Miami defense. Meanwhile, Villanova's defense, one of the country's best, will try to make things miserable for the Hurricanes on the offensive side of the court. The Wildcats are rolling after two blowout wins. They creamed UNC Asheville by 30 points in the Round of 64 and followed that with an 87-68 bludgeoning of Iowa, the score indicating a closer game than was played on the court. They will look to weather the Hurricanes and move on to their first Elite Eight since 2009.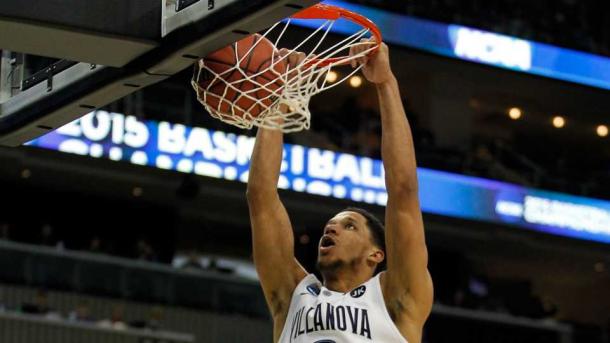 Hurricanes Weather Upset Attempts, Now Play Underdog Role
The Miami Hurricanes were a surprise team in the ACC. Not expected to do much this season, the Hurricanes reached the ACC semifinals, allowing them to garner a 3rd seed. The Hurricanes faced upset attempts from 14th seeded Buffalo and 11th seeded Wichita State, but they squeaked out victories both times. Miami edged Buffalo 79-72 before topping the Shockers 65-57. Their combined margin of victory (15 points) is less than Villanova's margin of victory against Iowa in the Round of 32. There is no doubt they are the underdogs heading into Thursday's matchup. They are 0-2 all-time in the Sweet 16. However, with an experienced core led by Sheldon McClellan (16 PPG), the Hurricanes can challenge the best. Angel Rodriguez and Davon Reed will support McClellan and provide multiple scoring options for the Hurricanes. Miami does have depth - they had nine players average over 11 minutes per game, but will their depth and experience be enough to top the Wildcats, hungry for March success?
Prediction: Villanova 76-69
1. Kansas vs. 5 Maryland
Completing the South Region quartet, the overall #1 Jayhawks will take on the fifth-seeded Terrapins for a berth in the Elite Eight.
Favored Jayhawks Look To Roll Once More
The Jayhawks were one of those teams that most people predicted to reach the Sweet 16. And for good reason. Kansas was one of the few top-ranked teams that has not been upset by a terrible team this season. Their worst loss all year was to Oregon State, who was a seventh seed in the tournament. The Jayhawks rolled over an overmatched Austin Peay squad in the first round, walloping the Governors 105-79. A few people wondered if Kansas would stumble against UConn, who has a tendency to produce some wild March Magic, in Round 2, but the Jayhawks breezed on through, winning by double-digits. Winners of 16 straight, Kansas will look to ride their high-powered offense once again in the Sweet 16. The Jayhawks are led by Perry Ellis (16.9 PPG), Wayne Selden Jr. (13.6 PPG), Frank Mason III (12.8 PPG) and Devonte' Graham (11.4 PPG). With such a potent offense, Kansas could be in position to roll over Maryland, whose defense ranked just 5th in the Big 10 and 34th overall.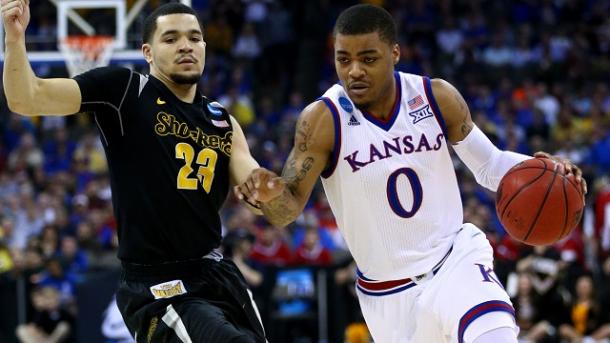 Terrapins Look For Mini-Miracle Against Kansas
Nothing about this Maryland basketball team shouts 'Dangerous!' They are a very solid squad with an above-average offense and a slightly above-average defense. They don't have one top-notch player, but they do have five skilled starters, all of whom averaged at least 11 points per game. Maryland's done well to get this far, but they've hardly faced quality competition. They topped #12 South Dakota State in the first round. They then got lucky when thirteenth seeded Hawaii upset Cal, giving Maryland another second-tier opponent in the second round. Maryland pulled away late from the Rainbow Warriors to get to the Sweet 16. However, South Dakota State and Hawaii doesn't exactly prepare a team for the mighty Kansas Jayhawks. Maryland has a chance, but they will have to play their best game of the season if they have chance at knocking off the tournament's top overall seed.
Prediction: Kansas 82-72
Check back later for more previews and predictions for the Sweet 16.