 The West Region avoided the major upset bug during the first weekend of March Madness. Two double-digit seeded squads, Northern Iowa and Yale, won their first game, but neither squad escaped their second round match. And so, the top four teams in the region entering the tournament exited the first weekend, all still possessing dreams of making it all the way to Houston. Who has the best chance of advancing at least one more round? Let's find out.
2. Oklahoma vs. 3. Texas A&M
This is one of the toughest games of the Sweet 16 to predict. Both teams were popular picks to be the West Region champion but will have to go through each other to get to Houston.
Can Hield-Powered Sooners survive once more?
If each team sent one player for a 1-on-1 tournament, there is little doubt as to who would win. Buddy Hield, widely regarded as the best player in the nation, has averaged over 25 points a game to lead the Oklahoma Sooners. However, after Hield, the Sooners' next highest scorer is Isaiah Cousins, who barely averages 13 points per game. Hield will need to lead the Sooners on Thursday against the Aggies, but he can't do it himself. He'll need players like Cousins, Jordan Woodard, and Ryan Spangler to pick up the slack in this juicy Sweet 16 matchup. The Sooners survived a mild upset bid by CSU Bakersfield in the first round, topping the underdogs 82-68. They edged out tenth-seeded VCU 85-81 in the second round, allowing them to advance to this Sweet 16 showdown. They'll likely be in for another nail-biter and the question is: "Do the Sooners have enough balance behind Hield to pull one out of the hat?"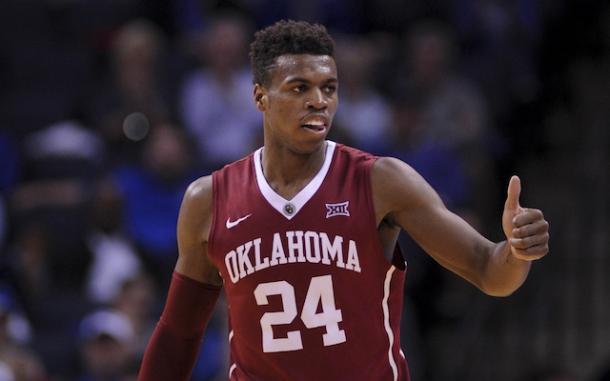 Texas A&M Faces Tough Task Against Oklahoma After Wild Comeback
Fun Fact: If the Texas A&M Aggies scored at the pace that they scored at in the last 44 seconds of regulation against Northern Iowa in the Round of 32, they'd average over 700 points a game. That won't happen against Oklahoma, or any other team, but if the Aggies play with same heart that they did in the last minute of regulation in their wild comeback against the Purple Panthers, there's not many teams that can top this squad.
Down 12 points with 44 seconds left, the Aggies tied the game with 1.9 ticks left on the clock and went on to edge the Purple Panthers in a double-overtime thriller. After seeing how well they executed the full court press in that desperate minute, will the Aggies consider trying the press to contain the potent Oklahoma offense. If they can do that, they can hand things over to their offense to try to win the game. Danuel House and Jalen Jones form a dynamic duo for the Aggies offensively, both averaging over 15 points per game. The Aggies have the right ingredients to upset the Sooners...but can they mix them all together?
Prediction: Oklahoma 89-86 OT
West Region: 1. Oregon vs. 4. Duke
Now here is an interesting matchup. Oregon is considered the weakest of the #1 seeds. Duke, generously given a #4 seed, has barely survived upset attempts from a thirteenth seed (UNC Wilmington) and a twelfth seed (Yale). These two teams, both widely considered to be seeded higher than the court performance indicates, will bash it out for an Elite Eight berth.
Oregon Has Pac-12 Hopes On Their Shoulders
Seven Pac-12 teams entered the tournament...yet only the Ducks survived the opening weekend. They stamped their berth into the Sweet 16 after sealing a comeback win over Saint Joseph's in the Round of 32. It's a bit of a mystery how the Ducks (30-6) did so well this year. They don't have any dynamic scorers nor a shutdown defense. This team doesn't display fireworks, but they get the job done. Their average margin of victory was just ten points, so don't expect them to blow the Blue Devils out of the water. The Ducks will look to Dillon Brooks, Elgin Cook, and Tyler Dorsey to lead their steady, balanced offense. They'll look for easy baskets inside, as they shot just 34% from beyond the arc this season. They won't be particularly exciting, but the Ducks, playing their own vanilla brand of basketball, have found a way to get it done all season. And they might just be able to 'find' their way into the Elite Eight.
Duke Looks To High-Octane Offense To Keep Repeat Dream Alive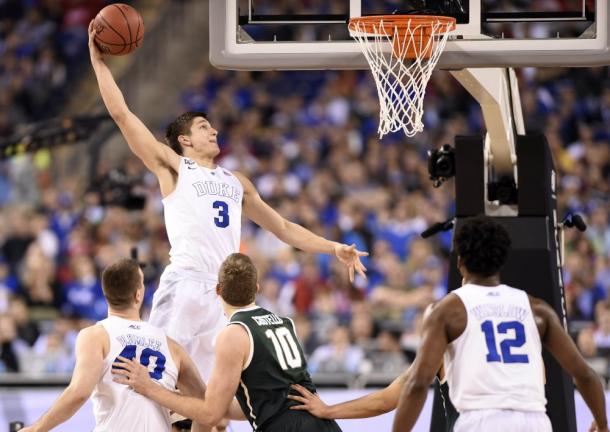 Duke's road to the title game last year was much easier than this year's. They were a top seed, so their first-round game was a breeze. In fact, it wasn't until the Sweet 16 that the Blue Devils even broke a sweat. Then there was this year. The Blue Devils had to engineer a second-half comeback to defeat UNC Wilmington in the first round. They then built a 26-point lead against Yale but watched it dwindle to a mere three points. They finally pulled away from the upstart Ivy League school, but the Blue Devils hardly looked like world-beaters. They'll need their high-powered offense to turn it on once more if they are to survive the Oregon Ducks.
Grayson Allen leads this star-studded offense with 21.8 points per game. Brandon Ingram is not far behind at just over 17 per game. Amile Jefferson averages a double-double, with 11 points and 10 rebounds per game. However, Duke has been plagued with depth issues. It was a lack of depth that cost them in the ACC Tournament, when the Blue Devils watched a 16-point second-half lead evaporate against Notre Dame, dropping the quarterfinal game in overtime. Duke has been off and on all year. They've beaten both UNC and Virginia but also lost to teams like Clemson and Pittsburgh. If Duke brings the team that dropped three consecutive games to unranked squads, Duke fans could be cringing. However, if we see the Duke team that won three straight games over ranked teams in February, we'll be in for a treat.
Prediction: Duke 86-80 OT
Check back later for more Sweet 16 previews!