 The Gonzaga Bulldogs have made it to the Sweet 16 despite this writer stating they would more than likely lose to the Utah Utes. Their next opponent will be the Syracuse Orange of the ACC. Both teams defeated higher seeded teams to make it to this point of the tournament. The game is scheduled to tip at approximately 30 minutes after the conclusion of the Virginia and Iowa State game and can be seen on CBS.
Gonzaga's Road to the Sweet 16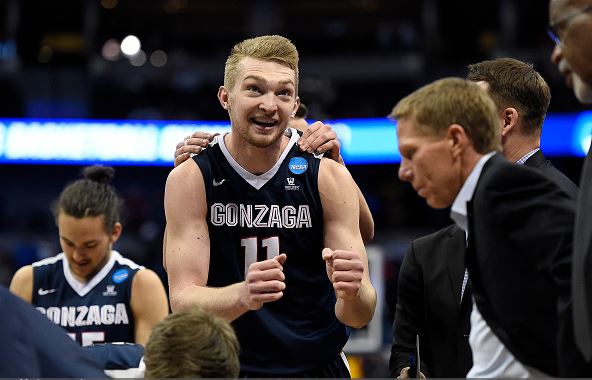 The Bulldogs took on #6 seed Seton Hall in the Round of 64 this past Friday. If it weren't for some terrible free throw shooting by the Pirates, Gonzaga may not be here. Seton Hall only converted 38.1% of their free throws (8-21). Gonzaga was led by Sophomore Domantas Sabonis' 21 points and 16 rebounds. Sabonis collected two of the Zags 12 offensive rebounds and 14 of the teams 48 defensive rebounds. He was an absolute force on the glass.
Gonzaga was also helped by Isaiah Whitehead's terrible night of shooting that saw him score only ten points on the night after he shot 4-24 (.167%) from the field and was 0-10 from behind the arc. The Pirates finished 4-21 (19.0%) from three-point land and this further help Gonzaga move on to the Round of 32 with a 68-52 win over the Pirates. The score shows it being a 16-point win, but at moments it was a lot closer than that.
In their Round of 32 game, the Bulldogs squared off against the Utah Utes of the PAC-12. Going into the game many figured this would be a good, close hard fought game with Utah possibly prevailing at the end. None of that happened on Sunday night in Denver, CO.
The Zags jumped out to a 44-29 halftime lead and never looked back. Once again Sabonis was dominate on the glass. He collected ten rebounds, six defensive and four offensive. He was able to contain potential NBA Lottery Draft Pick Jakob Poeltl, holding him to just five points and four rebounds. That is a huge feat considering Poeltl was coming off a game against Fresno State when he has 18 rebound (more than the entire Fresno State team) and 16 points. Sabonis also chipped in with 19 points, three behind Eric McClellan.
Syracuse's Road to the Sweet 16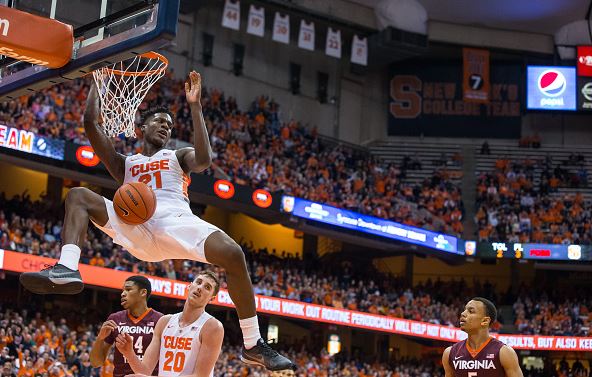 The Orange had two relatively easy games leading up this this showdown with Gonzaga. In the first round, they defeated #7 seed Dayton 70-51. Malachi Richardson led all scorers with 21 points by shooting .417% (5-12) from the field and .889% (8-9) from the charity stripe. Similar to Sabonis' dominate display on the glass in Gonzaga's first game, Tyler Roberson collected 18 rebounds (ten defensive and eight offensive). He also chipped in with ten points in 38 minutes played.
In their Round of 32 game, the Orange took on #15 seed Middle Tennessee State. Middle Tennessee was looking to spring another upset like they did against Michigan State, by Syracuse would have none of that. Michael Gbinije led the Orange with 23 points on 10-14 (.714%) from the field, 3-7 (.429) from behind the arc. Once again Roberson led the team in rebounds, but he was not as dominated. He collected nine rebound (eight defensive and one offensive) and chipped in 12 points.
What to Watch For
One major thing to watch for is whether or not Gonzaga can get through Syracuse's dominate 2-3 zone defense and if the Orange can stop Sabonis. If Sabonis has a field day in the paint, it could be a long night for the Jim Boeheim and the Orange. If the Zags can't break the vaunted 2-3 zone, they will have to rely on their perimeter shooting to break it down.
Both teams enter this game by averaging over 70 points in their two tournament games, 75.0 for the Bulldogs and 72.5 for the Orange. Both teams are also have limited their opponents to under 60 points, 55.5 for the Zags and 50.5 for Syracuse.
Prediction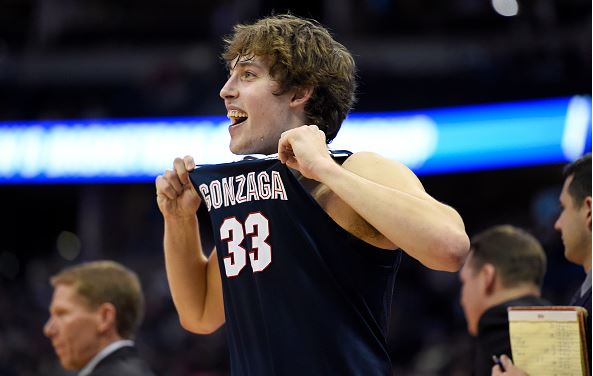 Expect this to be a tough, hard fought battle that should come down to the final minutes in Chicago Friday night. Sabonis will wear down opponents with his post play and even if you shut him down in the post, he is able to make the 17-foot jump shots as well. If the Orange contain him, luck for Kyle Wiltjer to have a big night. He has been mostly quiet these first two games, scoring 13 points in the first and 17 in the second.
Gonzaga will make their second straight Elite 8 appearance after dispatching the Orange 77-72 with Sabonis leading all players in scoring and rebounding.