 ANAHEIM, California -- Buddy Hield, believe it or not, drained eight three-point jumpers while totaling 37 points to give the No. 2 Oklahoma Sooners an 80-68 victory over the No. 1 Oregon Ducks in the 2016 NCAA Tournament Elite Eight. With the win, the Sooners will play in the Final Four.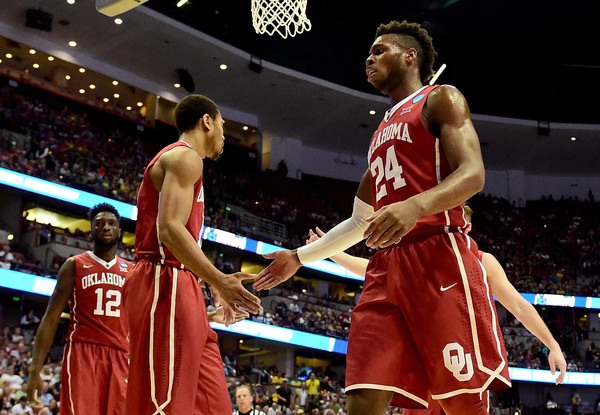 "As soon as I saw Kobe [Bryant] was here, I knew I had to put on a show," Hield said. "Blame it on Kobe."
In the first 12 minutes of the game, Oregon turned the ball over seven times. While the Ducks scored nine total baskets, the Sooners had nine three-pointers. Hield became second on the Big 12 Conference all-time leading scorer list behind LaceDarius Dunn of the Baylor Bears.
Hield's 37 points and zero assists are the most points without an assist in an Elite Eight game since Dennis Scott of the Georgia Tech Yellow Jackets in 1990. Along with Scott and Hield, Glen Rice of the Michigan Wolverines and Larry Bird of the Indiana State Sycamores are the only players to average 25.0 or more points per game for a Final Four team.
"It's special," Hield said afterward, a piece of the net tied to his Final Four hat. "As a kid, you dream of having games like this. ... I'm just happy that we all made it, and we've just got to finish it out."
Along with Hield, Jordan Woodard chipped in 13 points. The Sooners (29-7) got a huge lead early and the rest was history. Senior guard Isaiah Cousins managed 11 points. Oregon was looking for its second Final Four in school history, but th team fell 12 points short.
With four seconds left in the first half, Hield tossed up a triple and knocked it down from the parking lot for a 48-30 lead. It was one-of-eight three-pointers made by the 6-foot-4 senior guard, who tied Bo Kimble of the Loyola Marymount Lions in 1990 for the Elite Eight single-game record.
The Ducks (31-7) were led by senior forward Elgin Cook, who tallied 24 points. Oregon's top player, Dillon Brooks, scored seven points before fouling out of the game. Chris Boucher, a senior forward, scored 14 points and Tyler Dorsey chipped 11 points.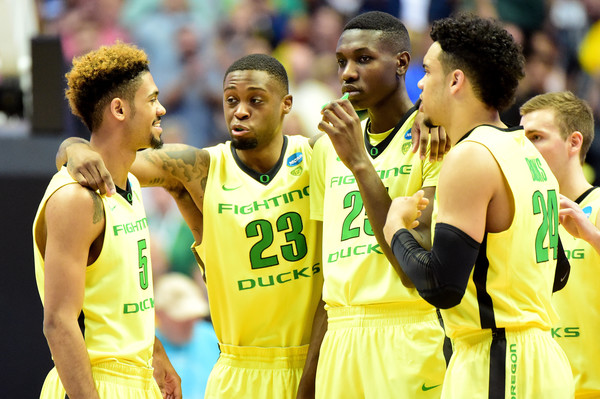 "I thought he had a phenomenal game," Oregon coach Dana Altman said. "And every time I felt like we were getting ready to do something, he would jump up and make a shot."
For the fifth time in school history, Oklahoma is making a Final Four appearance and first since 2002. Back in 1994, Sooners coach Lon Kruger made it to the Final Four with the Florida Gators, but has never returned in his 30-year head coaching career.
"It's about seeing the feelings of satisfaction on the players' faces," Kruger said. "They feel good about this right now, but they'll feel even better about it years from now. They've got a special, special spot."
Up Next
Oklahoma will head to Houston, Texas for the Final Four. The Sooners will play either the No. 1 Kansas Jayhawks or the No. 2 Villanova Wildcats. Oregon will wait until next season to try and make another March Madness run.