 PHILADELPHIA, Pa. – For the third time in the 2015-16 season, Atlantic Coast Conference opponents Notre Dame and North Carolina square off on Sunday night. But this time it's for a trip to the Final Four in Houston.
The sixth-seeded Fighting Irish and top-seeded Tar Heels took care of business against Wisconsin and Indiana, respectively, in the East Regional semifinals on Friday at the Wells Fargo Center. Notre Dame came back late to beat the Badgers, 61-56, while Roy Williams' squad lit up Tom Crean's Hoosiers for a 101-86 victory.
Revenge Could Loom In This Battle Of ACC Rivals
After Demetrius Jackson and company took care of business, 80-76, in early February against the then-second-ranked Tar Heels, North Carolina responded in the conference tournament by thoroughly routing Notre Dame, exacting revenge with a 31-point win, 78-47.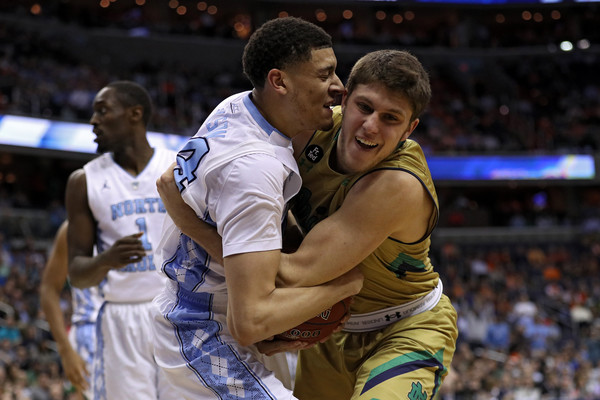 When asked about how having played ND twice affects this matchup, Tar Heels guard Marcus Paige pointed out the two-sided advantage. "I would say it's an advantage, but they also have the advantage of playing us twice as well," he said. "It kind of cancels out."
Zach Auguste of the Fighting Irish, meanwhile, sees it as his team's shot at revenge. "We're looking forward to playing them again, kind of finishing business. Last time we weren't able to get the win versus them, so we're looking to have some unfinished business."
"We're really looking forward to it," added Jackson.
"This game is to go to the Final Four. I don't care what happened in the past," said Paige.
Considering the utter shellacking Notre Dame took at UNC's hands last time around, it may not end up being a game to highly anticipate. The Tar Heels easily outshot Mike Brey's team in both matchups, controlling every facet of the game in the ACC tournament. In the first go-around Notre Dame's only claim to dominance was in the hustle game, where they were easily the more efficient team, turning the ball over just twice and grabbing 10 steals while also grabbing 20 boards on the offensive glass alone.
Due to the fact these teams are so familiar with each other, it'll be a chess match Sunday night. Both coaches acknowledged what they could have done better in the prior encounters Saturday: Notre Dame was uncharacteristically inefficient with the basketball in their loss – UNC wasn't pleased with their defense in either game.
"I'm hoping Matt Farrell in the lineup to start the game helps us because we have another ball handler on the floor," said Brey.
Marcus Paige said UNC is "Going to try some different things just to not give them the same look. It's easy to prepare for something you've seen a bunch of times."
The spotlight will obviously be on the big matchups – Brice Johnson and Kennedy Meeks versus Auguste and Jackson versus Joel Berry II and Paige. Meeks acknowledged that Notre Dame's double-double machine is "very aggressive" and "averaging more rebounds than Brice [Johnson]," with Berry calling Jackson "very explosive."
Berry said his approach against Jackson will be to "just try to stay in front of him."
The Tar Heels are a team with a sturdily-built reputation while the Fighting Irish feel like they're underestimated every year as a program. UNC's Paige pointed out that the revenge factor will probably not the biggest motivator for his opponents Sunday.
"This game is to go to the Final Four. I don't care what happened in the past. And I'm sure they don't either. This is a one-game opportunity to change your season."
"We're ranked ninth of the final eight. But we're the toughest team left," coach Brey stated on Saturday.
ND coach Mike Brey somewhat comically said his team is "Ranked ninth of the final eight." With everybody once again counting them out after another strong string of NCAA Tournament showings, Brey is less concerned about the overall reputation of the program, saying he doesn't believe "There's a program more respected than our program."
He wants everyone to know his team is "the toughest left in this thing."
After escaping three close bouts to get to this East Regional final, it's hard to argue the Fighting Irish are not tough enough to pull out 'W's down the stretch. All three of their wins have been of single-digit margins, guys like Rex Pflueger are stepping up to make clutch plays (Pflueger's tip-in with a second and change to go saved the Fighting Irish from defeat to Stephen F. Austin and his free throws sealed the deal against Michigan), and it's all starting to click.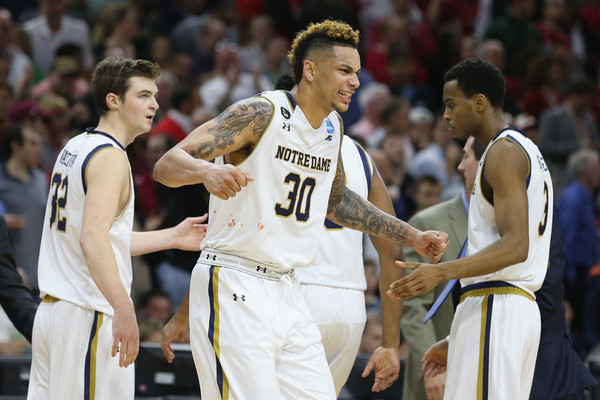 Jackson, Auguste, V.J. Beachem, and Steve Vasturia are all playing polished, efficient basketball to be compared to the sport's best. And with them playing a loaded Tar Heels team with All-Americans and momentum of their own, Sunday night's clash is enough cause for a metaphorical big bang in the basketball world.
The NCAA Tournament brings out the best in each survivor as the field thins out, and that's what we'll see between Notre Dame and North Carolina when things tip off Sunday night in Philadelphia, where there will be no brotherly love between these two ACC powers.