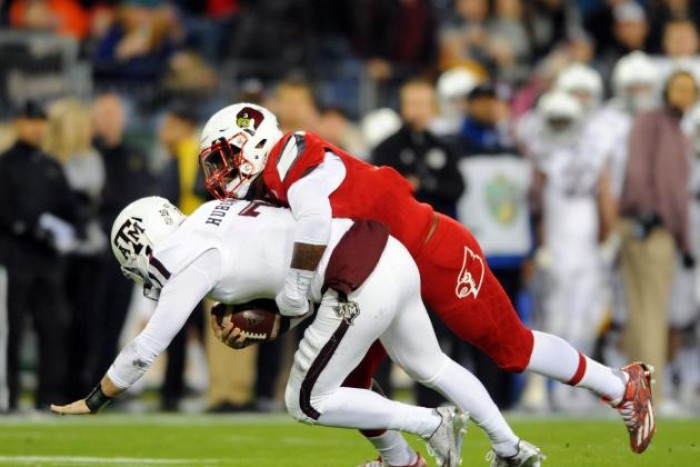 The Louisville Cardinals went through an up-and-down 2015 culminating in an 8-5 finish and a 27-21 upset of Texas A&M in the Music City Bowl. The team progressed quickly after an 0-3 start to finish with an impressive 8-2 record down the stretch. It may not have been head coach Bobby Petrino's most successful season, but it did give hope for a bright future.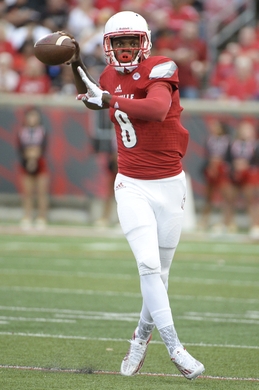 Lamar Jackson is the guy
The Cards biggest struggle last season was inconsistency at the quarterback position. Louisville used three different guys in 2015, but Petrino settled on sophomore dual-threat Lamar Jackson as their quarterback of the future. Jackson compiled an impressive freshman season throwing for 1,840 yards 12 touchdowns and just eight interceptions. Jackson's real talent showed on the ground where he rushed for 960 yards and 11 touchdowns.
Jackson's rushing numbers are even more impressive since he split time with two other quarterbacks. His passing skills and efficiency are a little behind as noted by his 54.7 completion percentage. However, if his consistency through the air can improve expect eye-popping numbers.
The biggest help to Jackson will be the return of multiple skill players. The Cards return all three running backs including Brandon Radcliff. Radcliff has 1,462 yards and 20 touchdowns in his career and should be major help in the run game.
In the passing game, Louisville's top two targets return from last season, James Quick and Jamari Staples. The two wide outs have impressive career resumes recording over 1,200 yards and eight touchdowns each.
On the offensive line, the Cards are losing just one senior and return four lineman (one senior, one junior, two sophomores). Jackson will be able to play with most of the same offensive linemen for the majority of his collegiate career. That is a huge help for a young quarterback learning to sit in the pocket and throw.
Fields leads a dangerous pass rush
Louisville's defense returns key players at every major level of its defense. Senior pass rushing linebacker Devonte Fields returned to dominant form in 2015. Fields recorded a career high in sacks (10.5) and tackles for loss (22.0). His ability to get to the quarterback helped Louisville field a top-20 total defense in 2015. The defense allowed just 332.8 yards per game and caused major problems for some of college football's best opponents.
Senior linebacker Keith Kelsey lead the team in tackles last season (106) and returns to continue his run-stuffing play. The secondary might be the best overall group on Louisville's squad. the Cards return all four starters and their 11 interceptions from last season. Senior safety Josh Harvey-Clemons returns to the Cardinals after contemplating the NFL. He put up some big numbers including 88 tackles, three interceptions, one forced fumble and one sack last year. His ball-hawking running mates in the secondary are no slouch either.
The team should be primed for a couple more wins this season at least. Their schedule includes just three january-bound squads in Clemson, Florida State and Houston. The rest of their schedule includes weak ACC opponents and has the potential to be a 10-plus win season for Louisville.