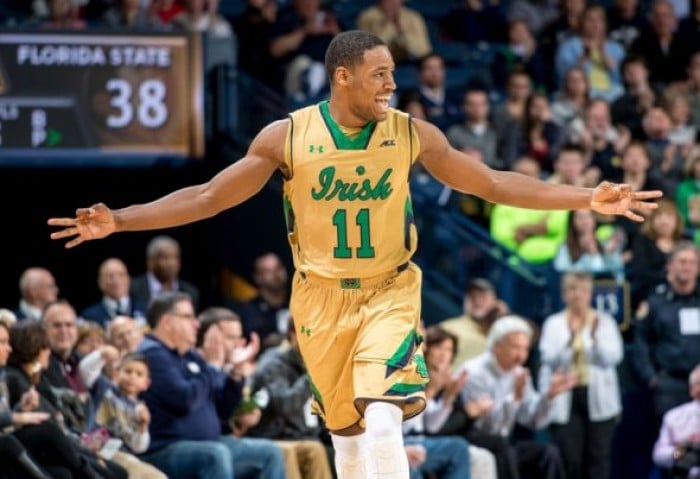 When the 2014-2015 edition of the Notre Dame Fighting Irish basketball team played, they had absolutely no expectations. They were coming off a forgettable 15-17 season and nobody gave them a chance. However, the Irish made a miracle run, capturing the ACC Championship before reaching the Elite Eight. They eventually fell to Kentucky by a mere two points.
Thanks to last year's success, the Irish came into this season with renewed expectations. The program that once seemed in decline looked full of promise again. But with expectations came struggles. "Last year's team we were 15 and 17. They had no pressure. They could just play." Notre Dame coach Mike Brey said, "These guys had expectations."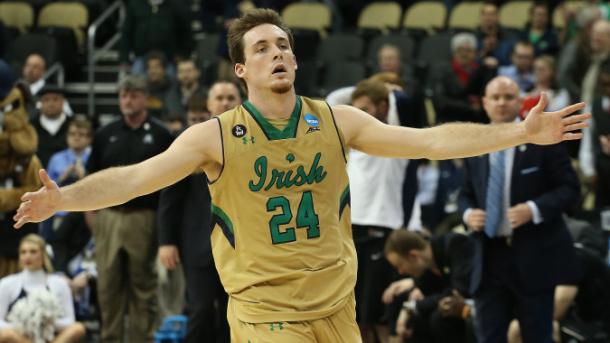 Early Season Pressure To Much For The Irish
The pressure created by those expectations showed quickly, as the Irish suffered several bad early-season losses. After starting the season 5-0, the Irish traveled to play in the Advocare Invitational during Thanksgiving Week. It was an ugly weekend for the Irish, who garnered just one win in three games. They stunningly lost to both Monmouth and Alabama, and they needed a huge comeback to edge Iowa. It was an eye-opening weekend that showed the country that the Irish might not be as good as last year. The Irish floundered for a while, barely winning more than they lost. They faced Virginia and wilted against their first quality competition all year, losing 77-66 in a game that was not as close as the final score indicated. The country soon turned their back on the struggling Irish, dismissing them from the contenders picture. "It wasn't easy for us this year; we were coming off a great run last year. We had a lot of expectations on us," Zach Auguste, Notre Dame's senior center, admitted.
Notre Dame Pulls Off Mid-Season Turnaround
The Irish started to push their way back into the picture late in the season. Their big win came on January 9, when they stunned the Duke Blue Devils, 95-91. It was their first ranked win of the year and, for the first time all year, Notre Dame looked like last year's squad. They followed the big win up by notching victories over Virginia Tech (83-81) and a romp over Boston College, (76-49). The Irish snuck back into the Top 25 but promptly lost two of their next three games. The Irish continually teased their fans, showing flashes of last year's excellence, but always floundering in the spotlight. Finally, they had a big stretch in early February. It started with a comeback win at home over the UNC Tar Heels, then ranked second in the country. They followed that up with a win over upset-crazed Clemson, who had previously notched upsets over Duke and Miami. The Irish completed the streak with an impressive win over #13 Louisville. It was a pretty stunning turnaround for a team that had struggled to beat mid-major programs in November. Bonzie Colson of the Irish summed it up perfectly: "Nobody had us. We had been doubted the whole season. We showed our toughness. We showed we are a team that a lot of teams are scared to play."
Indeed. Nobody wanted to play the Irish who, though they were susceptible to getting bit by the upset bug, could play with anyone in the country. They had big men in Auguste and Colson, a star in Demetrius Jackson, not to mention the versatile Steve Vasturia, the best defender on the team. It looked like the Irish were clicking at the right time.
Late Slide Discredits the Irish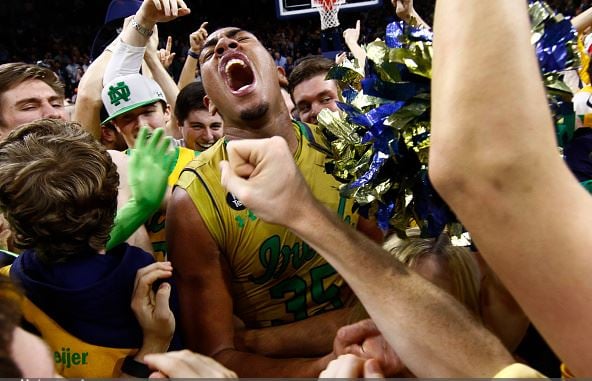 Just as people were starting to believe in the Irish again, Notre Dame started losing, again. They dropped three of their final five regular season games. This included an embarrassing 21-point defeat to the Florida State Seminoles, a perennial cellar-dweller in the ACC. That preluded an 18-point loss to Miami. It was an ugly end to an up and down season for the Irish. They followed that up by stunning Duke in the ACC quarterfinals, overcoming a 16 point second half deficit. However, what happened next was stunning. Notre Dame came in as an underdog to face top-seeded North Carolina, but the Irish were given a strong chance at an upset, having beaten the Tar Heels earlier this season. However, the Irish never competed, from start to finish, losing 78-47. It was a shocking and stunning loss that discredited the Irish right before the NCAA Tournament. The Irish were given a sixth seed and drew Michigan in the Round of 64. The Irish were a popular first-round upset pick and were given a 18% chance of making out of the first weekend alive. This compared to a team like Kansas, who was given an 89 percent chance of escaping the first weekend.
March Brings Out the Best in The Irish
The Irish barely survived the Wolverines in the Round of 64. Down 41-29 at the half, the Irish turned the tables on their rivals, outscoring Michigan 41-22 in the second half for the dramatic win. They received a little bit of Irish luck when third-seeded West Virginia fell to a 14th seed in Stephen F. Austin. The Irish weathered a strong offensive attack by the Lumberjacks, overtaking the Cinderella squad in the final minutes. They needed a last second tip-in by Rex Pfluegger to secure the victory. The Irish got even more luck when second-seeded Xavier fell, courtesy of a buzzer beater from #7 Wisconsin. However, the Irish got all they could handle from the Badgers' defense. They trailed most of the game and into the final ten seconds. However, a series of steals by the Irish defense secured the win. Call it skill. Call it good timing. Call it luck. But whatever you wanted to call it, you couldn't ignore the fact that the Irish, despite all their ups and downs, were back in the Elite Eight, looking for vengeance. "I didn't think I'd ever feel the same about a team like I did that team last year. And I felt better about this group. Because they were unbelievably coachable." Brey said.
Rematch with North Carolina
After three games of dancing towards each other, Notre Dame got a much-desired rematch. It was only fitting that the road to Houston was through the Tar Heels, which made the Irish look so terrible just 15 days previously. This time, Mike Brey brought a new game plan to the table. It called for the Irish to run down the shot clock on each possession, draining as much time as they could off the clock and limiting the possessions North Carolina received. However, the Tar Heels' lethal offense couldn't be contained as the Irish did all they could to stay with them in an entertaining first half that finished with Notre Dame trailing, 43-38. Brey acknowledged later that he was quite happy where they were and he felt confident in his team's second-half ability. But North Carolina had just too much depth. They wore the Irish down. At one point, Notre Dame took a 52-51 lead after a 12-0 run. The Tar Heels then scored on 19 of their last 20 possessions, and the Irish couldn't keep pace. They eventually succumbed to the Tar Heels, 88-74.
Mixed Emotions for Irish After Heartbreaking Loss
The postgame quotes for the Irish were mixed. Some of the underclassmen like Matt Farrell were upbeat about the Irish's future, even if they were upset about the recent loss. "Our future is very bright especially with the guys coming in. We got a lot of good players and we are definitely looking forward to that." But Farrell also went on to say, "We're excited for that, but this hurts right now." The heartbreak was understandable for the Irish, who reached this point last year, but Coach Brey was the positive voice for the Irish, making it very clear how proud he was of his squad, which had been doubted all year. "I didn't think I'd ever feel the same about a team like I did that team last year. And I felt better about this group." Brey said. "Our leadership grew in places I didn't think it could. Demetrius Jackson especially. We've got a lot of guys coming back that have won in this tournament and feel it's what we should do, and I love that characteristic of our program right now."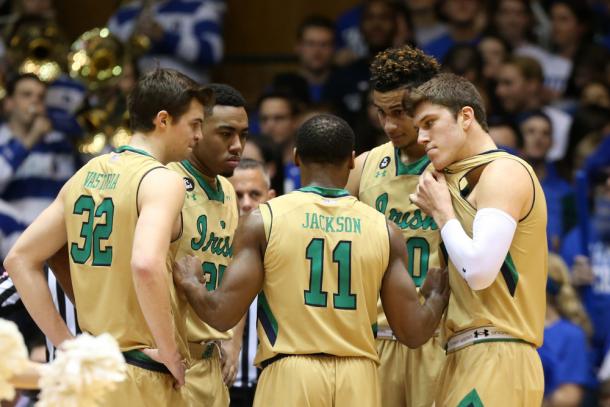 Not only was Jackson a huge leader for the Irish off the court, he was their star on the hardwood as well. He averaged 17.8 points per game on 52% shooting in the tournament. He was complemented by V.J Beachem, who stepped up big time in the tournament. Beachem scored 17.5 points per game, connecting on a blistering 65% of his shots. Beachem and Jackson were named All-Tournament, but it was little consolation for Beachem. "We were at this exact same spot last year. This one hurts just a little bit more, because we got back here again and we're really not worried about individual accolades or anything like that."
Jackson, being the leader that he is, made it abundantly clear how proud he was of Beachem's clutch performance. "I'm really proud of V.J., the way he stepped up this postseason. I've known V.J. for a long time. And to see him just do what he did this postseason is really good, and going into senior year, I think that was huge. And it's going to help emerge him into a better leader and better player."
Beachem will be counted on as a leader for this team which will be missing both Jackson and Auguste from this year's lineup.
So, while the pain is fresh for both the Irish and their fans, what they accomplished this season was amazing. Nobody gave them a shot, particularly after their start to the season. Said Auguste: I am proud of every single one of these guys in here."