 In a season that has been labeled as completely open for any team to win, the NCAA Tournament has proven that statement.
347 Division I teams, all in their respective conferences, fight for a shot at glory. Whether you're Holy Cross and a win would be monumental for the school or you're Kentucky and a championship is the expectation every year, March is a time for unbelievable shots and unfortunate heartbreaks.
This year we witnessed Northern Iowa hit a game-winning half-court shot over Texas, Middle Tennessee State ruin many brackets with their shock win over Michigan State, Yale proving the Ivy League is a conference people should take note of, and Syracuse's historic run to the Final Four.
But it is down to two teams: The University of North Carolina Tar Heels and the Villanova University Wildcats. Two teams many believed would stumble along the way, but they proved many doubters wrong and find themselves so close to obtaining the crown.
How Villanova made it
Let's start with how the not-so-usual suspect, Villanova, made it. After losing in the Big East tournament finals to Seton Hall, the Wildcats were given a two seed in the South region, where the one seed was Kansas - a popular pick to win the tournament.
Villanova kicked things off with a 30-point win over UNC-Asheville, a game where many picked to be the shock upset of the tournament. They then faced seven seeded Iowa, where they again had control and won by 19. It was after this game where many began to think "This Nova team could be different."
In the sweet 16, the Wildcats faced the Miami Hurricanes. Again, Villanova took over and blew out Miami in a commanding 92-69 win. This set up a 1 vs. 2 matchup between Villanova and Kansas. Although the Jayhawks hung around, Nova pulled away and won by 5. The Wildcats were headed to the Final Four for the first time since 2009, and were set to face the Oklahoma Sooners, a team they had played early in the regular season and lost by 23.
This time would be different. In what was anticipated to be a dog fight with star Buddy Hield putting up big numbers, it turned out to be quite the opposite of the first game (and that's an understatement). After a somewhat close first half, it turned out to be a horrific night for the Sooners. Villanova ran away with it, winning by a 44 (!!) point margin. This sent a message to the nation that they were there to play, and the doubters were now believers.
How North Carolina made it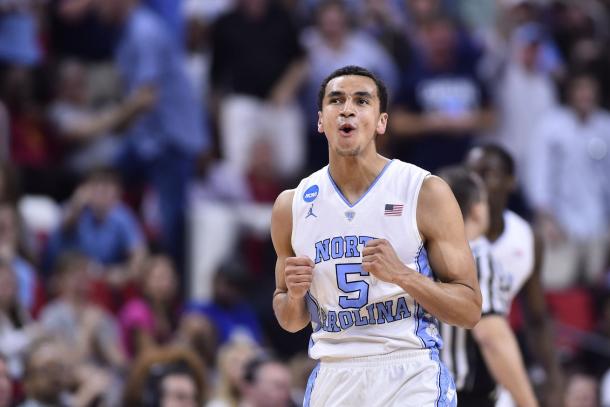 Coming into the season, Chapel-Hill was surrounded with high expectations. Although recent years showed that the Tar Heels would find a way to slip up, this year had a different feeling. With seniors Marcus Paige and Brice Johnson getting hot at the right time, there was no stopping the Tar Heels in their hot pursuit for Carolina's sixth NCAA Tournament title.
The Heels were first greeted by everyone's favorite basketball Cinderella Florida Gulf Coast. However, UNC didn't let a repeat of FGCU's 2013 Sweet 16 run happen. Although it was a one-point game at the half, UNC ran away in the second half and won 83-67. The second game, where they faced Providence, went the same way-close first half, but Carolina again prevailed and won 85-66.
The first major test came in the Sweet 16, where North Carolina stood toe-to-toe with the Indiana Hoosiers. Behind Marcus Paige shooting 6 of 9 from three, it was all Carolina from the start. After defeated the Hoosiers 101-86, the Heels faced fellow ACC member Notre Dame. Lead by Brice Johnson's school-record 23rd double-double, Roy Williams and co danced their way to the Final Four and met another ACC member in Syracuse.
The hailed 2-3 zone that Syracuse is famous for looked like it would cause problems for the Tar Heels. UNC started the game very cold on their outside shooting, but once they started getting the ball inside it was yet again Carolina's game. The game finished 83-66 in favor of the Heels.
Keys to win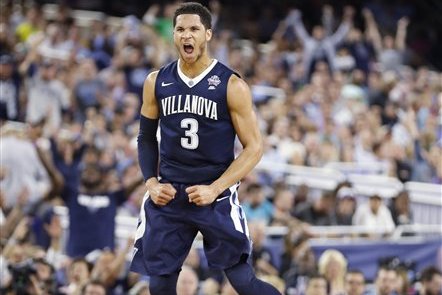 For Villanova, the biggest key to victory is dominating the paint. Brice Johnson has gotten very hot and doesn't look to be stopping. Averaging 20 points and 9.6 rebounds per game, he is a big presence down low. However, the Wildcats showed in their blowout win over Oklahoma that their defense can stop just about anyone. But Johnson isn't the only person that Villanova needs to worry about. Marcus Paige has done a superb job leading the Carolina offense. UNC has scored 83 or more points in each of their tournament games, and it will take a lot for them to be stopped.
On the flip side, North Carolina has to limit turnovers and score at least 85 points. Villanova averages 9.6 steals per game, which with good transition offense this could mean trouble for the Heels. The Wildcats also shoot 58.2% from the field, and shot 71.4% in their semi-final game against Oklahoma. Sure, it'll be extremely tough for them to match that, but Carolina has to make sure that they score enough even if Nova continues their high scoring.
Game Details
The game will be played on April 4th, and is scheduled to tip off at 9:19 P.M. EST. The game will be broadcasted on TBS.