 Of all ways to end a crazy NCAA Tournament, Kris Jenkins and the Villanova Wildcats found the perfect way.
After Marcus Paige tied the game up at 74 with under five seconds on the clock, Jenkins drained an ice-cold three at the buzzer to win the national championship over the North Carolina Tar Heels by a score of 77-74.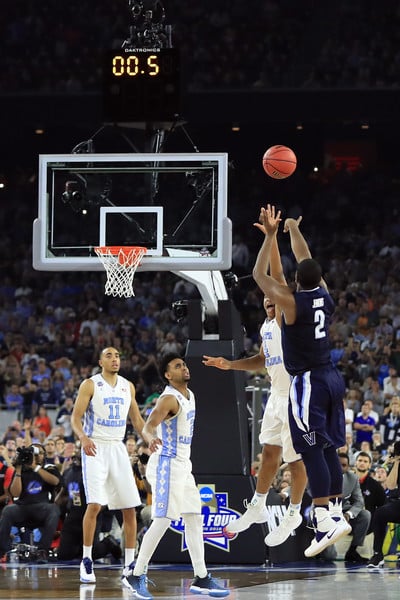 Coach Jay Wright and Jenkins' teammates stormed the floor as they celebrated a dramatic last-second victory. Ryan Arcidiacono picked up the assist on the winning bucket.
It was inevitable heartbreak for Roy Williams' Tar Heels, as Paige, Joel Berry II, Brice Johnson, and a whole roster of extremely talented players fell just one final shot short. Paige and Berry combined for 41 points in the shocking defeat. Johnson had 14 points and eight rebounds.
For Villanova, Phil Booth was the surprise X-factor off the bench, as he led the team with 20 points. Arcidiacono added 16 and Jenkins had 14, but more importantly, the two combined for the shot that sealed this matchup as an instant March Madness classic. Josh Hart added 12 points and eight boards.
How It Went Down
First Half
The two sides were neck-and-neck in the opening minutes, each with an answer for a score on their defensive end. Ryan Arcidiacono scored seven of Villanova's first nine points and the Wildcats strung together a Daniel Ochefu bucket and a three by Josh Hart to grab an early 14-9 lead.
Brice Johnson then got on the board, scoring a ferocious and-one alley-oop to cut the deficit to two and on the next possession kept it at one possession with a second midair score, laying in a Theo Pinson lob to make it 17-14.
And next the Tar Heels miraculously began to rain down shots from long range. Justin Jackson, Marcus Paige, and Joel Berry II knocked down three-balls to give UNC a 25-23 lead with seven-and-a-half minutes to go in the first, and Berry and Jackson didn't stop there.
The pair heated up, both going 3-3 from beyond the arc in the first half, and the Tar Heels trudged forward to snatch a 39-32 lead with 40 seconds remaining after Jackson's third and final triple of the half. But the Wildcats picked up some key momentum to end the half, stuffing a fastbreak attempt from Jackson. On the other end, Booth hit a jumper to end the half and make him the fourth player on Villanova with seven points through 20 minutes.
Berry stood out in the first, leading UNC and all scorers as the only player in double digits at the half with 15 points. Jackson had nine midway through while Nova received evenly spread-out contributions from five of their players. Ochefu, Hart, Arcidiacono, and Booth had seven at the half while Jenkins had scored six.
North Carolina, despite being the worst statistical three-shooting team in program history, was 7-9 from deep at the half and caught Nova off guard. Meanwhile, the Wildcats were forcing plenty of loose balls and trying to enforce their tempo. Ochefu was a presence defensively, forcing the Tar Heels to stick to the perimeter game and rendering Brice Johnson a non-factor.
Second Half
Johnson scored the Tar Heels' first four points of the second half, but the Wildcats stuck with UNC and quickly found enough momentum to take the lead. After Johnson's second bucket made it 43-38, Villanova pieced together a 15-3 over a span of seven minutes to grab a 53-46 advantage and put North Carolina in the catch-up role.
Villanova would fight to protect that precious lead as the final ten minutes of the game commenced; they did one heck of a good job containing the Tar Heels. Marcus Paige scored seven points on a stretch of three Carolina possessions to try and bring the game back even, but the Wildcats were on fire from the field and couldn't miss a shot.
Kennedy Meeks made it a three-point game, 60-57 in favor of Villanova, with seven minutes to go, but Arcidiacono's Wildcats manufactured seven unanswered points to bring it to a double-digit lead at 67-57 with five-and-a-half to go.
As the game closed in on the four-minute mark, North Carolina found a bit of a spark, cutting the lead to six on a second-chance slam by Johnson. Jay Wright immediately signaled for a timeout, but that didn't stop Joel Berry II from draining a three-ball right out of the break to make it one-possession affair.
Phil Booth brought the lead back to five at 69-64 with a clutch jumper, and after another timeout, missed free throws began to plague both sides. Kris Jenkins split a pair at the line with approximately 110 seconds remaining to make it a six-point lead.
But senior Marcus Paige and the Tar Heels were not done yet. Paige drained a big three with 1:35 to go and it was back to a three-point margin. That deficit became a slim one with exactly 60 seconds left as Brice Johnson converted a key jumper to make it 70-69.
Booth danced around and drew a controversial foul call with 35.7 seconds left in regulation, and he made sure to make the most of the opportunity by knocking down both of his shots from the charity stripe.
Paige had seemingly sunk UNC's hopes on the next possession as his short attempt from the middle of the paint rolled out with under 30 seconds to go, but the little man emerged from the commotion with the board and put the ball back up and in the basket to close the deficit back to one.
After Josh Hart nailed two more Nova free throws, North Carolina had 13 seconds to bring the ball up the court and tie it up with a three, and Marcus Paige did just that, but in the most remarkable fashion. The senior caught the ball and took one dribble closer to the arc before leaping, pump-faking midair, and firing a wild three-point shot right into the bucket to tie the game at 74.
Villanova just wouldn't let it get to overtime. Ryan Arcidiacono sprinted down the floor, gave the ball off to Jenkins.
Jenkins fired and sunk a dramatic three-ball as time expired to win the national championship with a 77-74 victory in front of a packed Houston crowd.
Houston, we have a problem. The college basketball season is over.
But if it could end in any way, this remarkable ending was better than anyone could possibly hope.